Housing
Rent strike begins, but rent or mortgage relief remains uncertain
Federal aid is likely needed to make rent or mortgage cancelation feasible.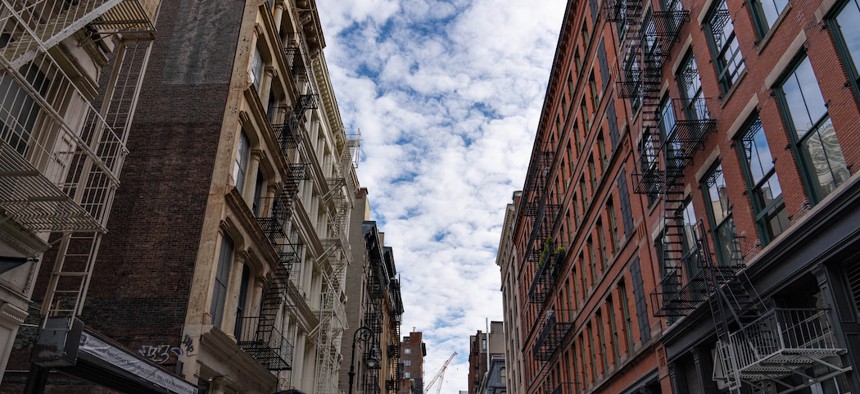 Thousands of tenants have pledged not to pay rent today as part of a massive, statewide rent strike organized by tenant advocates. The goal, according to the housing activists, is to spur action from Gov. Andrew Cuomo and other state leaders to universally cancel rent, utility and mortgage payments for the duration of the coronavirus crisis. But with a reticent governor, an inactive Legislature and a state government facing billions in lost revenue, renters are unlikely to see the relief they seek without federal intervention.
As of Thursday afternoon, over 12,000 people, in New York City and across the state, pledged to participate in the rent strike in some way. According to Cea Weaver, campaign coordinator for the tenant advocates' coalition Housing Justice for All that helped organize the rent strike, that includes at least 57 buildings where tenants have collectively decided not to pay rent. She added she's not aware of a rent strike this large in the past 100 years. Weaver said that the majority of those participating are tenants who will not be able to pay rent regardless. So the organized strike serves as a call to action while creating broader solidarity among tenants facing uncertain futures. "We're taking a moment of deep uncertainty and inability and a widespread economic crisis, and making it a political one," Weaver said. Last month, about 90% of tenants paid rent, which is lower than normal, but landlords were concerned that number would increase.
In addition to rent cancelation – meaning that payments due during the crisis will never have to be paid – Housing Justice for All is also calling for a $10 billion affordable housing investment and the immediate rehousing of homeless New Yorkers, who are especially vulnerable to the coronavirus. The coalition is also calling for a landlord hardship fund to assist small and nonprofit building owners who may face financial hardship from lack of rent. Weaver said she and other housing advocates are hoping for action from the governor in the form of an executive order. She also hopes that with tenants putting pressure on the politically powerful real estate industry, its members could then put pressure on Cuomo and lawmakers.
But Cuomo has repeatedly expressed that he has no immediate plans to issue a new executive order regarding rent and mortgage relief. In March, Cuomo placed a moratorium on evictions for 90 days. While that protects tenants in the short term, tenant advocates worry it sets up a situation where tenants may face eviction if they can't immediately pay their back rent when the moratorium is lifted. 
When asked on Thursday if he planned to take additional action to aid renters who may be unemployed or otherwise struggling financially due to the pandemic, the governor reiterated his claims made in the past that he has already addressed concerns about renter hardship. "No one can be evicted for nonpayment of rent," Cuomo said at his daily press briefing, punctuating each word. "I'm not saying people shouldn't pay the rent – if you can pay the rent, pay the rent. If you can't pay the rent, you're not going to be evicted."
Cuomo acknowledged that when the moratorium ends in several weeks, "then we'll have to figure out what to do," suggesting that additional action is not coming much before then. When asked in a follow-up question about the potential of providing rental assistance, Cuomo effectively wrote off the prospect due to the state's $13 billion deficit. 
Without action from the governor, the onus would fall on the state Legislature for any statutory relief efforts. Since the crisis began, several different proposals have been introduced offering different approaches to rent relief, although Weaver said the Housing Justice for All coalition does not currently back any specific legislation. However, she said the group backs a federal bill from Rep. Ilhan Omar that would cancel rent and mortgage payments across the country.
State Sen. Michael Gianaris has introduced two bills with Assemblywoman Yuh-Line Niou. The first would cancel rent for any tenant who has lost income due to the COVID-19 pandemic, while suspending mortgage payments for landlords based on the amount of lost rent. This would likely still result in a loss of profit for those landlords as well, potentially impacting building maintenance and tax payments. The pair of lawmakers also have a second bill, introduced more recently, that would allow tenants to pay no more than 30% of their current income and would set up a fund for cash-strapped landlords not receiving other forms of federal, state or local aid. In an interview with City & State, Gianaris said the new legislation is meant to reflect that some people who did not have income at the end of March may now be receiving unemployment and are capable of paying at least some portion of their rent. However, he added that executive action from Cuomo would still be the best option because it would be the easiest and most expedient way for tenants to get relief.
But Gianaris and Niou's bills would leave single-family and some small multi-unit homeowners out in the cold if they got laid off. Mortgage suspension or assistance included in their legislation only applies to homeowners who stand to lose rental income, and is only proportional to that. Cuomo has suspended mortgage payments and foreclosures for 90 days, but it has caused confusion and will still leave homeowners on the hook for those payments at the end of the suspension, just like the eviction moratorium does with rents. 
State Sen. Julia Salazar has introduced the Emergency Coronavirus Affordable Housing Preservation Act of 2020. Like Gianaris' first bill, this legislation would cancel rent for anyone facing a loss of income as a result of the pandemic, but includes a provision that tenants provide some form of documentation proving the financial hardship if it is demanded. Landlords could then write off a portion of the lost income from their property taxes or have mortgage payments suspended. The bill would also provide direct relief to landlords and property owners that can prove a more than 10% loss of rental income, as well mortgage relief for small homeowners who are not landlords. Salazar, while supportive of other rent relief legislation, believes that her bill is the most comprehensive one yet introduced to address the rent crisis, for renters and suffering landlords and homeowners. Her bill "addresses the needs of anyone who is going to be impacted – except aside from the banks – by loss of rent," Salazar told City & State. 
State Sen. Brian Kavanagh took a different route and has proposed a rental assistance program that would provide vouchers to tenants unable to pay rent as a result of the coronavirus crisis. This would offer direct payments, including for utilities, to landlords for at least three months from the time the bill is enacted, with tenants still responsible to pay 30% of whatever their income is at the time. Establishing a rental assistant program like this is the most preferred form of intervention for the landlord group Community Housing Improvement Program, whose members are generally small landlords who own rent-stabilized and affordable buildings. "Vouchers are the best option to solve the problem," Michael Johnson, the groups' spokesman said. "Trying to figure out a way to give money directly to renters who need it is king of the simplest way to keep the housing market stable."
Additionally, state Sens. Brad Hoylman and Liz Krueger and Assemblyman Jeffrey Dinowitz have introduced a bill that would prevent landlords from evicting tenants for nonpayment of rent during the period of the statewide emergency declaration and for six months afterwards.
The problem with almost all of the legislative proposals is that right now, they partially or completely rely on unfunded relief programs that would require additional unrestricted aid to the state. And even if that aid comes in the next federal relief package, it's no guarantee that Cuomo would approve of the additional state aid being used for rent relief.
Another problem is whether or not the state Legislature will be able to pass any legislation soon. Gianaris said members of the state Senate have been meeting over web conferences in order to formulate a comprehensive tenant and housing relief package. But the state Legislature – neither chamber of which has held a public meeting since it passed the budget in early April – likely won't meet until mid-May, according to Gianaris. And that's no guarantee that both the state Senate and the Assembly will have a matching bill that with majority support in both chambers. When asked if Cuomo would be open to signing a rent relief package if passed by the Legislature, a spokesman for the governor referred back to Cuomo's comments at Thursday's press conference, but would not comment further without seeing specific bill language.
Some landlords have been working with tenants in order to figure out fair rent payment plans during the crisis. Johnson said many of the Community Housing Improvement Program's 4,000 members have been in communication with their tenants and are trying to work with them. But that's not always the case. In a Wednesday evening Zoom call with tenant organizers and rent strikers, many took to the comments section to describe landlord harassment to pay rent, landlords unwilling to negotiate and in one case, a landlord who agreed to a half payment of rent, only to demand the rest days later. 
Related Companies, one of New York City's largest landlords, recently put out a letter that its tenants can pay rent with a credit card. But that simply shifts the costs for tenants down the road, while likely racking up credit card debt, as Related continues to receive its rental income. The move also reeks of hypocrisy because Equinox gyms, which Related owns, didn't pay their commercial rents in April. A group of large landlords are also working with real estate groups to help affordable housing tenants pay rent, but it's unclear how much a dent those efforts would realistically make in a severe public health and economic crisis. And Gianaris wrote off other floated proposals, like using a security deposit for rent or spreading out payments, because they don't address the root problem –  people need relief from "the financial obligation of rent" when the pandemic has caused a loss of income.
It seems that for struggling tenants engaging in the May rent strike, salvation hinges on federal action, whether that's additional monetary aid to the state, or federal legislation suspending rent nationwide.
Correction: This article originally misstated the intent of a bill from state Sens. Brad Hoylman and Liz Krueger, and Assemblyman Jeffrey Dinowitz.
Powered By
NEXT STORY: Can de Blasio ever win on homelessness?