Criminal Justice
Why arrests plummeted during New York's COVID-19 peak
It wasn't only because people are staying at home.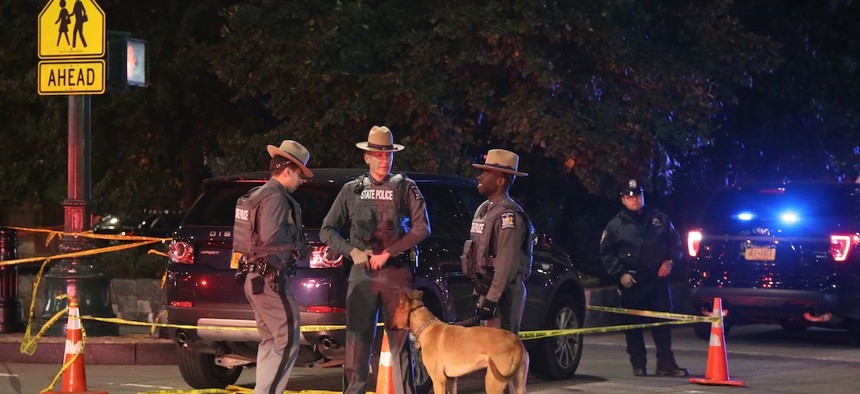 Arrests were down by double digits in every county of New York during March and the first half of April – by more than two-thirds in some areas – while the COVID-19 pandemic escalated and met its projected peak in the state.
Statewide, the number of arrests dropped by 48% in that time period compared to last year, according todata from the state Division of Criminal Justice Services.
And the reason seems obvious: Most people were staying home, so there were fewer opportunities for crime to happen. With bars closed, fewer people were likely to drive under the influence. Burglary is less common when no one leaves the house.
Members of law enforcement said in a series of interviews that self-isolation was the biggest driver of the drop in crime, but not the only reason arrests were down this year.
It's a combination of things, said Albany County District Attorney David Soares, whose county saw a third of the arrests this year during March and the first half of April as it did last year. Only 319 arrests were made during that time this year, down from 950 in 2019.
For one, it's likely that lower-level offenses aren't a priority for law enforcement right now, Soares said. That doesn't mean they're not happening, it just means members of law enforcement have other things to worry about.
"I think law enforcement, in an effort to flatten the curve, is certainly using greater restraints in terms of what they exercise discretion over and what they don't," Soares said. "I don't think we're seeing a lot of petty offenses, quality of life offenses, being charged right now because people are really prioritizing the threats to public safety."
That's for a few reasons, members of law enforcement said. Officers have recognized that the more they come in contact with the public, the more likely they are to catch the coronavirus. That increases their chance of spreading the disease, knowingly or not.
In Washington County, Sheriff Jeffrey Murphy said he has gone as far as telling his deputies to avoid interacting with the public unless they absolutely have to.
"My instruction to our deputies was that minor offenses, traffic issues, things like that, I'm not concerned with numbers and not concerned with arrest or tickets or anything like that," Murphy said. "I'm concerned with keeping our employees safe and healthy."
Smaller law enforcement offices, like Murphy's, face a unique challenge in dealing with COVID-19. If someone in the office contracts the disease, it could spread to others and leave rural communities with a shortage of law enforcement.
That's why Murphy also set up an online system for Washington County residents to report non-emergency incidents. The form even provides a way for residents to send the department files, and other evidence, to support their case.
But for other members of law enforcement, avoiding minor crimes and contact with the public isn't always a choice.
Orange County District Attorney David Hoovler said a series of criminal justice laws that went into effect in January – revising criminal discovery deadlines and the use of cash bail – have given members of law enforcement more to do, but not more time to do it.
That means local law enforcement agencies, and the prosecutors who bring their cases, were spread more thin this year than last, and that's likely contributed to a drop in arrests, Hoovler said. He doubles as the current president of the District Attorneys Association of New York.
"The criminal justice reforms in January caused a slight dip," Hoovler said. "I think that as a result of those reforms and the added workload, a lot of prosecutors decided that certain crimes, they weren't going to necessarily prosecute as much as they did in the past." 
Those laws were approved by the state Legislature last year to place tighter limits on when prosecutors had to disclose evidence to defendants ahead of trial, and restrict the use of cash bail. Both laws placed new mandates on law enforcement without any additional funding. 
This year's state budget, approved in early April, provided a $40 million funding stream for law enforcement agencies to handle the new requirements for criminal discovery, but prosecutors started the year without any firm funding commitments from Cuomo and state lawmakers. 
The budget also changed the state's new bail laws again, allowing more charges to be eligible for cash bail, and loosened the new discovery requirements. Prosecutors will now have 45 days after arraignment to comply with discovery demands, up from 15 days under the previous law.
Prosecutors have also, since January, had to comply with new laws surrounding a defendant's right to a speedy trial. That law essentially requires judges to confirm when a prosecutor is ready for trial. Some prosecutors have been accused of saying they're ready for trial before the defense, which can disrupt the speedy trial clock.
The new criminal justice laws changed how some defendants enter the criminal justice system as well. Those accused of lower-level crimes are now often given desk appearance tickets, rather than arrested. That means they wouldn't show up in the state's count of arrests, prosecutors said.
"It's going to be very different, the way that we measure," Soares said. "In other words, in 2020 it's an entirely different series of comparisons because the process by which people get into the system changed so much."
The data shows that a few rural counties saw the number of arrests decline by more than two-thirds in March and the first half of April, with Yates County reporting the largest drop.
Arrests in Yates County were down about 84% compared to the same time last year, according to state data. But that should be taken with a grain of salt; the county reported a total of six arrests this year compared to 39 in the same time period last year. Other counties had hundreds, if not thousands, of arrests in the same time period. 
In Hamilton County, only three arrests were reported this year in March and the first half of April. That's compared to 12 from last year, which technically means arrests were down three-quarters this year versus last.
Rural counties also saw the smallest change in arrest rates this year compared to last. Jefferson County, in the North Country, saw a 14% decline in the number of arrests in March and the first half of April. Schoharie County reported a 16% drop.
Areas of New York City saw a drop in arrests ranging from about 32% on Staten Island to 44% in Brooklyn. Each of the other three boroughs fell somewhere in between.
Most counties – 33 of the state's 62 – saw the number of arrests decline by at least half, according to the state's data. And in most of those counties, misdemeanor arrests dropped more than felony arrests. 
One of them was Erie County, where District Attorney John Flynn said he doesn't feel like there's less enforcement of lower-level crimes, but that the work of law enforcement has changed since the COVID-19 crisis began. A significant number of arrests usually stem from traffic stops, Flynn said. With fewer cars on the road, those arrests aren't happening as often.
"A lot of the crimes that we see, especially a lot of our gun crimes and a lot of our drug crimes, are if a police officer pulls over a car for a traffic violation," Flynn said. "Those traffic stops now have lessened dramatically."
But there's also a flip side to the COVID-19 crisis. Some areas of crime have seen an unfortunate uptick since the beginning of March, partly as a result of self-isolation.
Chief among them are reports of domestic violence, which increased by 30% in April, according to the state. That's been attributed to victims and their abusers being forced to commingle more often than usual.
Flynn said the economy of the state, and the resulting financial hardships of its residents, have only made matters worse.
"You put that into a relationship that is maybe toxic to begin with, while they're cooped up at home, and that is a recipe for domestic violence disaster," Flynn said. "And we are seeing that"
New York in early April set up a free hotline for victims of domestic violence to call if they need help. Victims can also take advantage of a secure chat feature online. The state has said housing is available for victims who need to escape a dangerous situation.
Hoovler said he has also seen an uptick in substance abuse crimes, likely for the same reason. People out of work are under an unprecedented amount of stress right now, he said, and have turned to drugs more often than usual.
There was one day, he said, when three people died from drug overdoses within hours of each other in Orange County, a rural county in the suburbs of New York City.
"I try to spend a lot of my time and effort as DA, and even resources that we have, focusing on prevention," Hoovler said. "So, that's what we're trying to do during this period with alcohol, substance abuse and overdoses."
There's a silver lining to all of this, each prosecutor said. For one, it's forced them to find new ways of doing their jobs at a time when the access to justice in New York looks different than it did just a few months ago.
For most of the last two months, courts in New York were closed to the public. Essential matters were still handled, but through virtual appearances. Attorneys, for the most part, worked from home and couldn't meet their clients in person.
Most courts in upstate New York are now starting to reopen after several regions were allowed to enter the first phase of the state's reopening plan. That means judges, and some staff, are returning to those buildings for normal proceedings.
But the state's justice system will be anything but "normal" for the foreseeable future, with new social distancing and personal protective guidelines in courts. That raises a slew of different questions, like how to balance public health with the right to a jury trial.
And there's also the impending avalanche of litigation that has the potential to clog the state's court system in the coming months. Nonessential lawsuits were paused during the height of the pandemic, meaning a backlog in those cases is possible down the line.
In the meantime, prosecutors said they've learned things along the way that could translate to whatever the access to justice in New York looks like post-pandemic. Those ideas range from workflow to big-picture items related to the criminal justice system.
In Erie County, Flynn said their experience could start a larger conversation about how to treat defendants accused of lower-level crimes while preserving public safety.
"Maybe we continue to think about ways that we can not bring people into the court system, but maybe get them into another system, whether it's mental health, alcohol, or drug counseling, instead of bringing them in the court system," Flynn said. "So this, now, I think, will facilitate that conversation." 
Powered By
NEXT STORY: Is Elon Musk more flash than substance?