Transportation
Forget flying cars. The future of transit is a train without coronavirus.
Experts propose outside-the-box solutions for a healthy commute.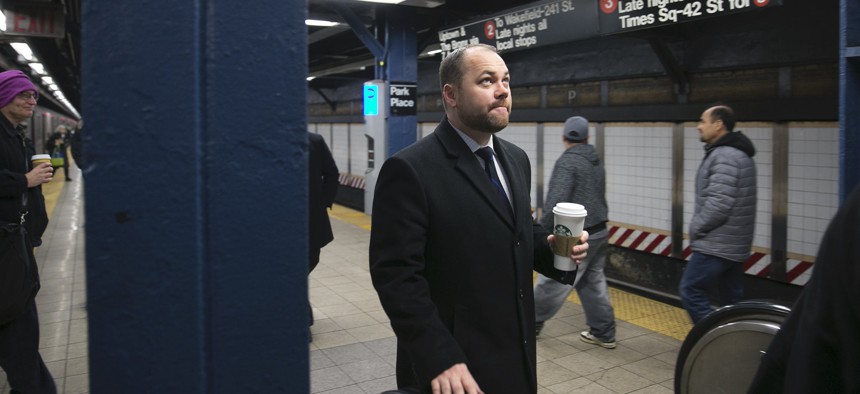 Six months ago, when we talked about "transportation of the future," we were imagining self-driving cars. But amid a pandemic, transportation leaders in New York City are focused less on moving New Yorkers around in cutting-edge vehicles than they are on keeping passengers healthy.
At a City & State webinar on Tuesday, New York City Council Speaker Corey Johnson, city Transportation Commissioner Polly Trottenberg and Long Island Rail Road President Phillip Eng weighed in on how New Yorkers will commute as the city reopens but the threat of a second wave of the coronavirus lingers. Some of those proposed solutions include fast-forwarding plans to build more bike and bus lanes, embracing options like e-bikes and e-scooters, and leveraging technology in existing transit networks to help transport riders as safely and smoothly as possible.
One initial step Johnson suggested is accelerating open-streets plans, allowing for more bike and pedestrian traffic – a move he said addresses the short-term challenge of avoiding dense transit options, as well as longer-term challenges like climate change and vehicle congestion."The pandemic, I believe, has really shown how important it is to be flexible and to be able to adjust our streetscape to fit new transit needs," Johnson said. "So we have to keep working towards the goals of the streets master plan, and in some areas, look to implement things like bus lanes and bike lanes even faster, as people need more options to commute safely."
In response to the pandemic, New York City has moved to open 45 miles of open streets, including nine miles of temporary bike lanes – a fact Trottenberg highlighted. But access to bikes – especially the shared Citi Bike program – is still unequal, with the concentration of Citi Bike docks much higher in the lower half of Manhattan than in outer boroughs.
Trottenberg said Tuesday that the city and Lyft – which owns Citi Bike – are still working on growing the bike share's presence in outer boroughs, including the Bronx. "We've been expanding the Citi Bike system up into the rest of Manhattan, into the South Bronx, looking to do infill stations in Manhattan and expanding membership, including giving a lot of one-year complimentary memberships to health care workers and frontline workers," she said. 
And while the Legislature recently legalized e-bikes and e-scooters across the state – adding another option that could allow commuters to travel farther than when using traditional bikes – the law specifically prohibits e-scooter sharing in Manhattan. 
But Johnson said Tuesday there is enthusiasm in the City Council behind legislation sponsored by Councilman Fernando Cabrera to start a pilot e-scooter sharing program in the city. "I'll say that there is wide support in the council for it," he said. "We're going to be working with Polly (Trottenberg) and her team on what implementation looks like, and come up with a plan that works for New York City, while still abiding by the limits that the state Legislature put in."
Still, while bikes can help New Yorkers get around – especially if we're talking about e-bikes, which can be more accessible, as they're easier to ride – they can't completely take the place of subways, buses and commuter rail for all riders. Technology will be an integral part of preparing those transit networks for the future of commuting, speakers said in the webinar. 
One of the biggest questions has been how to allow for – and enforce – social distancing on the normally crowded subways, buses and commuter trains. Eng, president of Long Island Rail Road, celebrated the debut on Tuesday of a new feature on the LIRR's TrainTime app, which now allows passengers to see how crowded each train car is before choosing which car to board. That data is available on the LIRR's fleet of electric cars – the M7 and M9 – which calculate the weight of each train car. "What we've done is we've taken that, and instead of using it for acceleration and braking – which it still does – we're now using that to get real-time information to the phone, on the personal app, right in their hands," he said.
Eng added that the LIRR is working with the rest of the Metropolitan Transportation Authority – including Metro-North – to share the system they're using to measure crowds.
While MTA Chairman Pat Foye raised the possibility of a "Ticketmaster-like" reservation system for subways and other rail as a means to limit crowding, Eng said that such a system is more viable for something like Amtrak than it is for the LIRR. "Commuter rail, Metro-North, Long Island Rail Road or the transit system, because these are open systems and because of the way we're required to operate our trains, it's a much greater operational challenge," Eng said. "It's not that you couldn't implement a system to sell tickets for a particular train, but operationally it is problematic," he added – though he didn't go into detail on what those operational challenges might be.