Long Island
Long Island, land of beaches, Billy Joel and protests against police brutality
Anti-racism activism isn't just in big cities and liberal college towns any more.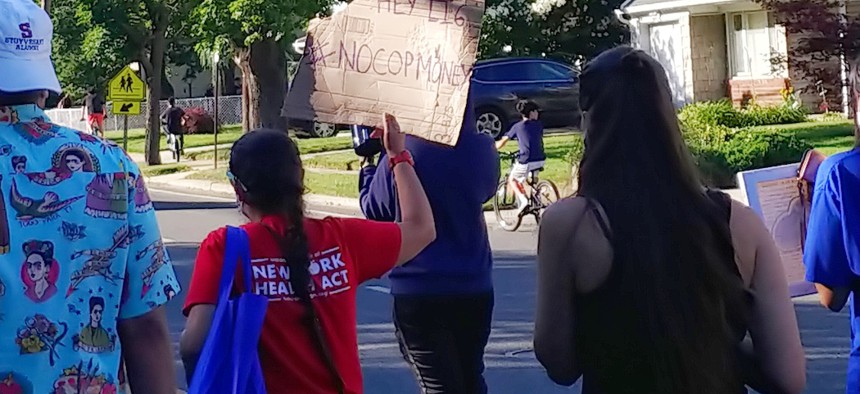 In the late afternoon on June 14, a small crowd of people – maybe 30 or 40 – gathered in New York to protest police brutality and racism in the aftermath of the police killings of George Floyd in Minnesota and Breonna Taylor in Kentucky. It was just one of thousands of nationwide protests since Floyd's death on May 25. But the protest was not in Brooklyn or Manhattan, nor in a racially diverse city like Buffalo or Rochester. The protest took place in the small, conservative, largely white village of New Hyde Park on Long Island. 
After a short rally outside Village Hall, protesters marched for about three miles down major thoroughfares, flanked by police on all sides, both in cars and on foot, who were shutting down streets on the fly for the small group. Marchers chanted "defund the police," "fuck these racist ass police" and "How do you spell murderer? NCPD" in reference to the Nassau County Police Department. These were not words one normally would expect to hear in New Hyde Park, a middle class suburb that generally votes Republican.
Although protests against police brutality and systemic racism are typically associated with inner cities – and perhaps the occasional progressive college town – the last few weeks have seen an unprecedented crop of demonstrations in white, wealthy and conservative enclaves of the famously segregated Long Island, where racism and police misconduct are major problems. The New Hyde Park protest was just one of over 100 protests that have occurred on Long Island in the weeks since Floyd's death. And even more are planned for the coming days. 
Marchers chanting "fuck these racist ass police" here in this small, fairly conservative village on Long Island pic.twitter.com/e2cC8kzrud

— Rebecca C. Lewis (@_rebeccaclewis) June 14, 2020
Long Island's modern history of racism and segregation dates back to the very inception of post-World War II American suburbia. The nation's first mass-produced suburb, Levittown, was built on Long Island and its developers refused to sell houses to black people. 
While such blatant discrimination is now illegal, housing discrimination continues, creating the extremely segregated neighborhoods and school systems that still make up Long Island.
Several of the protests have been scheduled in largely black and Latino neighborhoods, including Roosevelt, Freeport, Wyandanch and Hempstead. But many took place in largely white and sometimes very affluent parts of the island, including the Hamptons and in the Nassau County neighborhoods of Rockville Center, Oyster Bay and Manhasset. Marches often moved through multiple neighborhoods, illustrating stark contrasts between neighboring communities, like the majority-black and Latino Freeport and the majority-white Merrick. Wyandanch and next door Dix Hills is another example.
The majority of arrests of protesters and alleged rioters and looters have happened in New York City, as have complaints of excessive use of force against protesters. 
But Long Island is not immune. Three protesters in the white suburb of East Meadow were arrested last week, with video apparently showing police violently arresting peaceful protesters. The Nassau County Police Department said the arrests were made because the protesters were not listening to police commands to remain on one side of the street and were purposely "going off course." But in video of the second arrest, it appeared an officer stopped short in front of a marcher, causing the marcher to brush against the officer. As soon as that happened, several police rushed to the protester and wrestled him to the ground. Another video showed a third protester arguing with police about the second arrest, before he was arrested himself. Nassau police have opened an investigation into the arrests, although County Executive Laura Curran defended the police. 
Eleven protesters were arrested at a June 6 protest in Merrick as well. There have not been reports of alleged brutality related to those arrests, although two officers were reportedly injured. The protest that day had been on Sunrise Highway and some marcheres had attempted to make their way onto the Meadowbrook Parkway as well, reportedly causing the confrontation. About 250 people were marching on June 6. Just days before, an estimated 6,000 demonstrators turned out in the Merrick, with a breakaway group of about 500 shutting down part of the Southern State Parkway.
Alleged police brutality and misconduct is nothing new on Long Island. The Suffolk County Police Department had a major reckoning in recent years, in part because of the assault of a suspect by then-Suffolk Chief of Police James Burke. What started as Burke losing his temper at a suspect who allegedly had broken into his police car spiraled into a cover-up, two federal investigations and the uncovering of a deeply entrenched web of corruption in Suffolk's criminal justice system. In January, the Nassau Police Department was the subject of a civil lawsuit for alleged brutality against two teenagers in Roosevelt.
Some of the recent demonstrators were met with backlash. During the New Hyde Park march, at least two drivers slowed down to shout "fuck you" at protesters out the window. A man yelling "blue lives matter" heckled marchers when they were stopped outside the police precinct. And several other people passed on the street or who came out of their homes countered protest chants with "all lives matter" or more quietly offered their support to officers as they passed. And that was tame compared to other protests. 
Demonstrators were met by a considerable number of mostly white counter-protesters in Smithtown on June 7, leading to a confrontation between the two groups, although it did not escalate to violence. In the village of Merrick, where many large protests have taken place and which demonstrators from the neighboring Freeport would often march into, marchers were met with mostly white hecklers June 2 demanding that police redirect protests away from their village and yelling at them to "go home." Rallies and marches only grew in Merrick after the confrontation.
On Sunday afternoon, the protesters from New Hyde Park marched to the Nassau County Police Department Third Precinct station house, in the nearby village of Williston Park, which is also conservative and even whiter than New Hyde Park. They were greeted by a large police presence, with officers lining the entire block outside the precinct along with police tape to prevent entry. When asked about the number of police guarding the precinct – a presence that appeared to outnumber the protesters – a deputy inspector with the Nassau police said it was a precautionary measure because, as he said, some protests could get nasty. "You never know," he said.