Coronavirus
NY should brace itself for a COVID-19 resurgence
The state's reopening, warmer weather and protests could all contribute to an uptick in coronavirus cases.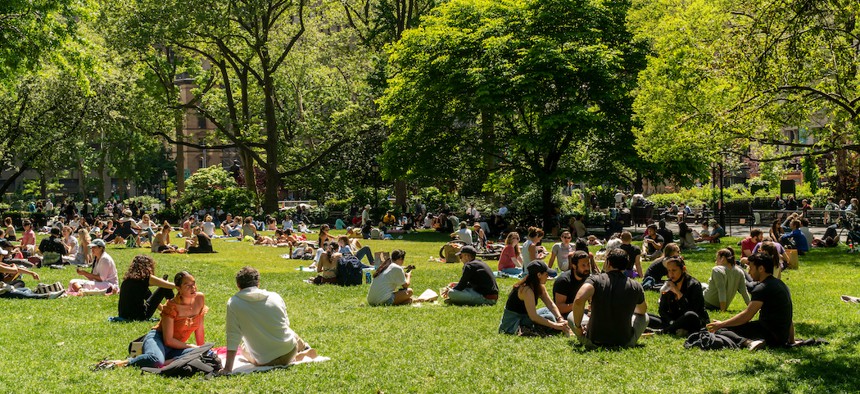 Since the onset of the U.S.'s coronavirus crisis, public health experts have warned of a second wave of infection, should states lift their strict social distancing measures too quickly.
As protests against police brutality and systemic racism have occurred daily in New York for nearly two weeks, some are concerned that there will be an uptick in coronavirus cases. And there may well be more cases soon, but there are multiple potential contributing factors, including the state's reopening and more socializing due to warmer weather, lockdown fatigue and laxer attitudes among the public. 
As the state's regions have entered into the beginning phases of Gov. Andrew Cuomo's reopening plan, it has become apparent that not everyone is entirely clear on what this means. More and more people are leaving their homes – where they have been confined for several months – often without masks, to enjoy the warm weather despite the active threat of COVID-19. "Before phase one started on Monday, I would say that 80% of the people on the street had a mask on and on (the first day of) Phase One day, I would say that was down to at least 50 or 60%," Dr. Robyn Gershon, clinical professor of epidemiology at NYU School of Global Public Health, told City & State. "So just in that one day, I saw a visible difference myself."
Fourteen states that began reopening in mid-May have already seen a concerning spike in COVID-19 cases. Texas, one of the first states to lift its stay-at-home orders, has had a 36% spike in coronavirus cases since Memorial Day. If the trend continues, New York will see a resurgence in infections in the coming weeks. On Thursday, according to The New York Times reporter Dana Rubinstein, New York City Mayor Bill de Blasio noted that the rate of positive tests for coronavirus had increased. 
Three percent of New Yorkers tested for coronavirus are now testing positive, Mayor de Blasio says, up from 1 percent a day or two ago

— Dana Rubinstein (@danarubinstein) June 11, 2020
It can take two to three weeks for any sign of the virus to appear, and it's recently been discovered that some can remain infected with the virus for months at a time. This makes connecting a rise in coronavirus cases to any particular cause extremely difficult.
Research has indicated that the coronavirus is hard to contract or transmit while outside, making the outdoors the safest place to interact with others. However, it is still possible that individuals can become infected if they do not maintain proper social distancing measures or are without masks.
The large number of protesters hitting the state's streets are another concern for public health experts. "Yes, the protests are outside, but they are all really close to each other, and in those cases, being outside doesn't protect you nearly as much," Dr. Howard Markel, a medical historian who specializes in pandemics, told The New York Times. "Public gatherings are public gatherings — it doesn't matter what you're protesting or cheering. That's one reason we're not having large baseball games and may not have college football this fall."
But it would be difficult to peg an uptick in COVID-19 cases on the demonstrations alone, considering the sharp rise in cases that have occurred in other states that are more likely tied to Memorial Day celebrations than the protests. "I think it was around (May) 27th that the first marches started," Gershon said. "So I would say that in about five days we'll start seeing the first of any kind of increase (in coronavirus cases) related to those marches."
"I mean, we should all be marching but now we have to be very careful," she added.
Public experts have also suggested that the use of tear gas at protests, which can trigger coughing and sneezing, causing protesters to take off their masks, could also contribute to a higher risk of infection. Many New York City Police Department officers have also often been neglecting to wear face masks at protests which could make transmission more likely if they're infected. Arresting protesters and crowding them into jail cells, where they are unable to socially distance, could also spark a number of infections. 
Regardless of what causes an uptick in COVID-19 cases, Gershon says that she feels confident that the state is monitoring new cases very closely. In the event of a coronavirus resurgence, the state now has moreextensive testing capabilities – performing 50,000 tests per day, and contract tracing programs, according to Gershon, which have been instrumental in containing the virus in other countries.