Education
Cuomo overrules de Blasio on reopening schools
This isn't the first time during the pandemic that the governor has rebuffed one of the mayor's ideas.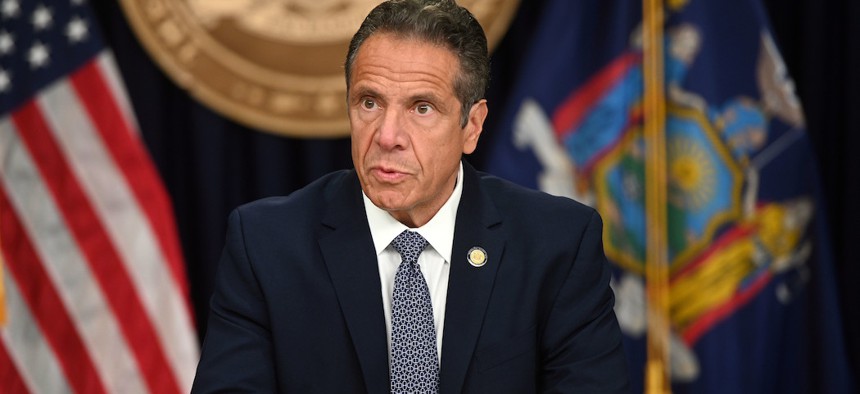 President Donald Trump is pressuring governors to reopen schools across the country in the fall. On Wednesday, New York City Mayor Bill de Blasio announced that the nation's largest school district would only partially reopen for the start of school in September. But the guy who actually gets to decide – Gov. Andrew Cuomo – is still not so sure about whether that is such a good idea.
The state will issue reopening guidelines by July 13, and then school districts, charter schools and private schools will have until the end of the month to submit their plans to the state. Final decisions will be made in the first week of August, the governor said at a Wednesday press conference in Manhattan.
"We're doing everything to be ready in September," Cuomo said. "If anybody sat here today and told you that they could reopen the schools in September ... that would be reckless and negligent."
Public health experts say that there are a number of reasons why schools should – and should not – be reopened this year. Asymptomatic students and staff could add to the community spread that is still happening across the state, even though hospitalization and death rates are at their lowest levels since mid-March. There is also the ongoing mystery of how the coronavirus has contributed to a mysterious Kawasaki disease-like ailment that has killed several children in New York.
Yet, the latest research suggests that children do not spread the coronavirus as easily as other respiratory diseases. There are also the opportunity costs of keeping children at home, which affect child nutrition, social learning and the ability of parents to work outside of the home. "The evidence is FAR clearer about shutting schools hurting kids, than about shutting bars & movie theaters hurting adults," one doctor wrote in a Twitter thread that gives a good overview of the prevailing public health issues.
The governor says he is leaning toward allowing schools to reopen, which would prevent a showdown between the state and the federal government after the president threatened to take federal funding away from states that do not reopen schools. "Threaten me. Threaten me. It's not the first time," Cuomo said in response on Wednesday. "I'm still here." A similar dynamic could play out with de Blasio, who the governor has repeatedly overruled during the pandemic.
The city plan is not ready to be judged on its merits, Cuomo said while insisting that the state has nonetheless worked closely with local leaders on the issue. New York City officials, parents and students will simply have to wait until the governor is ready to make a decision.
"The plan will be reviewed, and then we'll accept or deny the specific plan or ask for alterations ... and then make a global decision as to whether or not any school district will reopen," he said. "That will be the first week of August."