NYPD
NYPD disciplinary records put in quarantine
A federal judge temporarily blocked their release until mid-August.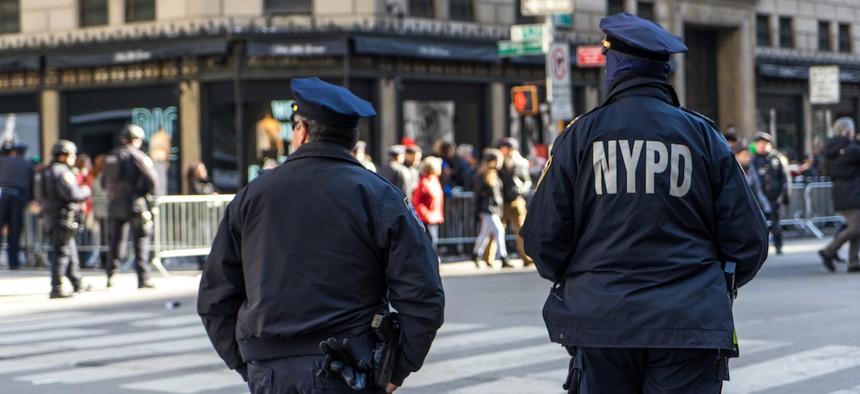 On Wednesday, a federal judge temporarily blocked the public release of thousands of New York City Police Department disciplinary records.
Judge Katherine Polk Failla issued a restraining order to block the release of the records until Aug. 18, when she will hear arguments from the police unions that filed a lawsuit to prevent the records from being released. "I believe there to be serious issues that transcend reputation, that affect employment, that affect safety," Failla said Wednesday evening.
Her decision upheld a state judge's ruling last week to hold the release of all unsubstantiated complaints until the case could be moved to federal court.
The New York City Police Benevolent Association, along with several other police unions in the city, filed a lawsuit on July 15, to prevent New York City Mayor Bill de Blasio from publicly releasing a database of the records, arguing that the release of complaints that have not been vetted could harm the reputation and safety of police officers. 
"It takes no evidence to make a complaint against a firefighter, corrections officer or police officer," the unions wrote in the lawsuit. "Baseless claims can be levied for any number of nefarious motivations."
The temporary hold was announced the same day that the city was planning to release the database of disciplinary records.
In June, the state Legislature repealed the 50-a law, which barred the release of all disciplinary and misconduct records for police officers, firefighters and corrections officers, after the death of George Floyd renewed interest in the contentious law. Since then, government transparency and criminal justice advocates have been putting pressure on the de Blasio administration to release the records in an online database. This is a part of a yearslong fight for police transparency that dates back to 2016, when de Blasio began referencing 50-a while protecting the outcomes of police disciplinary cases.
The New York City Civilian Complaint Review Board, the police watchdog agency that possesses a significant number of NYPD disciplinary records, said that the ruling is preventing it from "making the public aware of complaints against the people who are supposed to be protecting them."
Failla's ruling also prevented the New York Civil Liberties Union from releasing the records it obtained. However, the organization is challenging that portion of the decision. "The federal court has no authority to bar us from making it public," said Christopher Dunn, the group's legal director. "With the repeal of Section 50-a, the public is entitled to have access to complete information about police misconduct, and we have an absolute right to share with the public the information we have."
Powered By
NEXT STORY: Young people are becoming a bigger share of coronavirus infections