Education
Can New York colleges safely bring students back?
New York has more out-of-state students than anywhere. Will reopening be a disaster?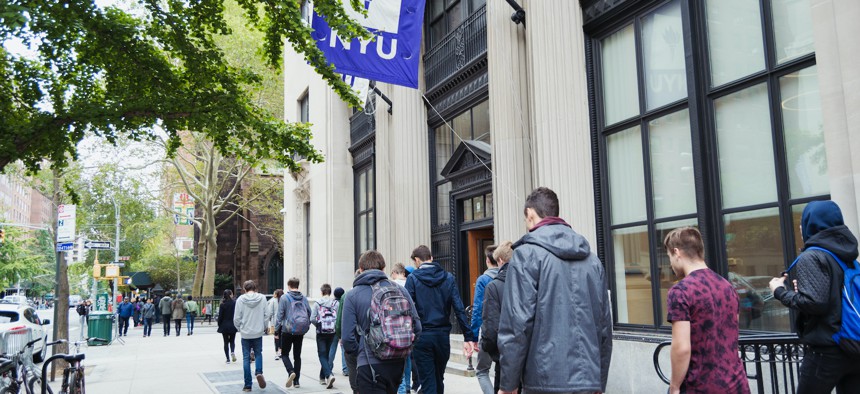 Plenty of factors drove Lucy Kuhn to return to Vassar College. Not going would have meant losing her work-study job on campus, which she could only offset by working at a grocery store or in retail in her home state of Kansas. As a chemistry major, in-person classes would be a major part of her education. And with cases on the rise in Kansas, New York generally seemed like a safer place to isolate, even with the influx of students coming to campus.
She followed all of Vassar's safety precautions. After testing negative before leaving home, she and her parents began driving to Poughkeepsie, New York, on Aug. 13 and arrived on campus two days later. She was tested again and settled into her on-campus apartment, where she was prepared to abide by New York's mandated 14-day quarantine well before classes were set to begin at the end of August. Within a day, she found out she tested positive for COVID-19.
"I think if any college can successfully be on campus, it's Vassar," Kuhn, who was staying in isolation housing without exhibiting symptoms, told City & State. "But I don't necessarily know if any college is going to be successful on campus."
New York attracts more out-of-state college students than any other state. While usually a point of pride, that statistic now presents immense challenges for the colleges and universities that are attempting to bring students back to campus. Though New York's coronavirus infection rate has remained low, an influx of students from around the country could lead to a spike in cases. Outbreaks at the University of Notre Dame and the University of North Carolina at Chapel Hill – which have since canceled in-person classes – have prompted others to follow suit in transitioning to online classes. Ithaca College and Columbia University were among the New York-based institutions that decided to cancel in-person learning in mid-August.
The state mandated a 14-day quarantine for all travelers, including students, from 31 states and U.S. territories to mitigate the spread of the virus. About 60,000 of the 140,000 out-of-state students that attend private colleges in New York would be subject to the quarantine according to an estimate by Mary Beth Labate, president of the Commission on Independent Colleges and Universities, though the list of states subject to the quarantine has been changing on a weekly basis.
It also presents logistical challenges for students and their families, who have to plan to come in earlier and pay for housing to abide by the quarantine. Administrators are also trying to figure out how much financial support they should give students to help them quarantine.
Cornell University, for example, initially planned to give students space to isolate and offer them meals. But as the list of quarantine states expanded, Cornell University President Martha Pollack told The Ithaca Voice in early August, it became clear they lacked the space to do so.
"We would have ended up putting them in hotel rooms as far away as Syracuse and Binghamton, and that was not safe," she told the news site. "I wasn't going to put 17-year-olds away from home for the first time in a hotel room hours away." Now, students who must quarantine have been scrambling to book hotel rooms and Airbnbs, or they are being pushed to learn remotely.
The quarantine requirements also forced Ithaca College to initially require students from high-risk states to attend classes virtually.
"We had made the decision to not allow students from restricted states to come to campus, since we did not have the space or other resources to quarantine such a large number either on campus or off campus in the community," Dave Maley, a spokesperson for Ithaca College, wrote in an email. "Of course, once we made the decision to go virtual that issue became moot."
Higher education institutions also have to grapple with how strictly they enforce the quarantine for students. "We don't want to be so draconian that students will be tempted to break it," Labate said, noting that the responsibility ultimately came down to students. 
The question of enforcement also applies to numerous other health and safety guidelines, such as wearing masks and preventing large gatherings. Parties on and off campus at various colleges have driven several outbreaks of coronavirus cases.
Students at Syracuse University, a school with a reputation for partying, already began to break the school's rules prohibiting large gatherings, congregating on the quad without wearing masks or abiding by guidance to maintain distance from each other. School officials ended up suspending 23 students before classes began for participating in the gathering.
Even with the many plans colleges and universities have put forward, some research indicates it may not be enough. One study found that the way to manage the spread of the coronavirus on campus comes down to providing all students a rapid test every two to three days. "We acknowledge that regularly testing all students sets a very high bar – logistically, financially and behaviorally – and that that might be beyond the capacity of many universities and the students in their care," the researchers wrote for CNN. "But in the absence of regular testing, the consequences of an outbreak might be deadly."
Vassar College President Elizabeth Bradley has said frequent testing isn't the only effective strategy to keep cases low. In addition to requiring testing upon arrival and a mandatory quarantine period for all students, Vassar is largely banning students from going off campus and preventing outsiders from entering. Access to dorms and academic buildings will be limited to students and employees. But otherwise, the policy relies on students to follow the rules. In a scenario where a student accrues multiple or serious violations, that person may be told to leave campus and continue the semester remotely.
Bradley credited New York's overall success in keeping cases down and the state's policies for making reopening a safer process. "Lastly, we have some characteristics that we hope will help us manage the crisis," she said in a statement. "For example, we are a 1,000-acre campus with only about 2,000 students on campus this semester. That alone puts us in a different position than other larger schools that are located in a more metropolitan setting."
Some students are certainly feeling apprehensive about the fall semester. Itamar Ben-Porath, a senior at Vassar, has already seen Facebook posts about students leaving campus and others with students not wearing masks. "My biggest source of hope – and it's a grim one – is that they said they would close the school once case rates hit about 5% of the campus testing positive."