Education
Reopening schools part-time challenges working parents in New York City
Who is supposed to watch kids when they're not in school and other logistical questions remain unresolved.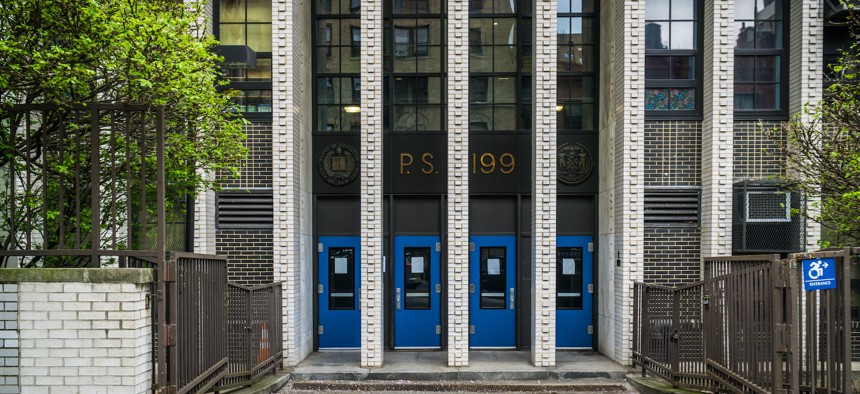 Rudy Beckford of Queens says parents are knocking at the door of Emmanuel Pentacostal Church everyday looking for some salvation from a tricky childcare situation. New York City is reopening schools part-time on Sept. 10 and more than a few essential workers are hoping that the newly-expanded child care program at the Central Brooklyn church will be able to watch their kids on the days when they are not going to school. 
"They're essential workers," Beckford said, of the parents that are turning to the church for child care help. "They're home health aides. They work in nursing homes. They work in hospitals." In other words, they have to go work in-person and that is making their stress levels skyrocket, according to Beckford, who volunteers at the church in Flatbush. Parents across the city do not even know yet when and where their children will attend classes. "They're so anxious right now," adds Beckford, who will also be keeping an eye this fall on two granddaughters as their mother heads to work as a medical assistant. "On a scale of one to 10, I can tell you, most parents are out of nine to 11." 
Reopening schools only part-time, without federal aid, amidst the ongoing dangers of the coronavirus is making some New York City parents tear their hair out. Fresh outbreaks have happened in areas of the country where schools reopened full-time, such as school districts in Georgia and Mississippi. Districts in other major cities, including Los Angeles and Chicago, have opted to start the year without in-person learning, but New York City Mayor Bill de Blasio and the city Department of Education are trying to find some middle ground by having kids return to classrooms half-time. 
The success of the school reopening depends to a huge degree on parents' ability to work around an academic schedule that has kids in schools on some days and learning at home on others. That is no easy task when many New Yorkers in essential jobs or blue-collar occupations that have gone back to work during reopening – waiters, sales clerks, construction workers – cannot stay home with their kids on their remote-learning days. 
The benefits of in-person learning are substantial compared to the online learning model quickly deployed during the early weeks of the pandemic. Research shows that children learn best in a classroom environment and their social skills improve when they are directly around their peers. Schools also play a key role in the city network of social services that provides food assistance, mental health and child welfare services in a school system in which more than 70 percent of students qualify for free or reduced lunch, based on their family's income. (New York City currently serves free lunch to all students regardless of need.) 
Many students could not even access virtual learning this past semester because they lacked internet services or devices at home. "We have a choice and the choice was, do you have children in a school where they can get the support of educators, where they can have a positive adult presence in their life, the mentorship, the tutoring, the guidance, the mental health support, the physical health support, the food," de Blasio told reporters on Aug. 25.
While teachers, elected officials and parents have criticized the city's approach to reopening, hundreds of thousands of families are nonetheless sending their kids back to school in mid-September. "I tell everybody: 'Can we stop with the conversations about not opening the schools?'" said Adriana Aviles, a retired mother of three who serves as president of her local parent teacher association in Bayside, Queens. "The mayor is going to open them whether we like it or not, and I don't agree with it, but we have to get ready." That is one reason why she has her three children wear masks for six hours every other day so that they know they can endure classrooms in the new normal where students will have to follow strict hygiene standards.
The economy, like parenting, tends to thrive on consistency. Reopening schools, however, includes a litany of variables. Roughly 700,000 children are heading back into classrooms this month, according to the DOE. Another 300,000 more are attending virtual classes full time. Any outbreaks of the coronavirus could quickly scramble the equation as more teachers and students head back home. Some already have, as organized labor continues to push for a delay to the beginning of the school year out of safety concerns. Union leaders have even threatened to strike, a violation of state law, unless the de Blasio administration agrees to meet their demands for expanded coronavirus testing in the school system. 
This leaves working parents' own working plans on hold. While some have the flexibility to still work from home moving forward, that does not mean they can tend to their careers and oversee their children's virtual learning at the same time. "I'm going to have to work my schedule around my children," said Sonia Arora, who works as a reiki healer. "My husband also works and he cannot help me with the child care, because there's no way that he can take the time off during his workday to help with the kids." 
For parents who cannot stay at home, or lack a parent or friend who can watch their kids, their only choice is to find child care services. Wealthier parents may hire tutors or nannies, assuming they aren't afraid of exposure to the coronavirus through them. Many less affluent parents, however, are stuck improvising. With no family and a modest salary, social worker Carolyne Odada, who can work from home three days a week, says her daughter could have to spend two days of eight grade per week at her side as she commutes from Harlem to Brooklyn to help manage a local clinic for people living with H.I.V. Not only does that mean her daughter will be at greater risk of contracting the coronavirus, it is hardly the type of middle school experience she was hoped by for her daughter when she immigrated from Kenya five years ago. "It is never easy in New York City," says Odada, who is hoping that some type of city-support child care might come to her rescue as she waits for her kid's school to announce its schedule.
The mayor has vowed to make 100,000 revolving slots available for the children of working parents at "learning labs" run by local community-based organizations across the city. The idea is that students would go to these community centers run by nonprofits, which would provide supervision and assistance while students do their online learning on days when they are not in school. Many of these organizations already have experience providing child care on behalf of the city during the pandemic, through the city's efforts to help essential workers in recent months. Yet, officials at some of these nonprofits say they have yet to receive the final details from the city about when and where their services will be needed this fall. "We're trying to be very flexible with our families," said Willing Chin-Ma, deputy executive director of the nonprofit Grand Street Settlement, which expects to serve more than 1,000 children in Lower Manhattan this year. 
Organizations are also waiting for crucial guidance on staffing. Months-long delays with background checks is another example of where city planning falls short of effective execution, according to Mary Cheng, the director of childhood development services of the Chinese American Planning Council, one of many nonprofits involved in the effort. "I do think it might work," she said of learning labs. "You can't hire (staff) before those clearances come back because it's unsafe for the kids. But if you're not getting (background checks) back to us in a timely fashion. How do we run the program successfully?" 
Some parents, however, have children with unique health care challenges that require them to stay at home full-time until the pandemic subsides. "I don't think that they have the capabilities of keeping the (school) environment as safe," said Carmen Andino, a private school teacher and Little Neck, Queens resident, whose son has respiratory issues. "I'm going to be definitely depending on my mom to be stepping in – and being grandma and teacher – all at the same time." Yet, her mother will not be able to do that every day, added Andino, who said she would be able to use paid family leave to take some time off from her job at a reduced salary. 
Other parents could be in the same position if and when any positive cases of the coronavirus require individual classes, or even schools, to quarantine for two weeks. Widers outbreaks could make schools do the same. A systemwide infection rate that exceeds 3% could end the whole reopening effort this year. If that were to happen, then working parents across the city would have to once again figure out what to do about their kids. 
Compounding the worries for parents is how the coronavirus might spread through classrooms – daycares they attend on remote-learning days – once school starts. One recent study suggests New York City has one of the lowest levels of transmission among children, the fastest growing demographic for cases nationwide, but some parents worry there will be slip-ups among students, teachers and staff with wearing masks, washing hands, and adhering to other public health guidelines.
Yet, that would be a worst case scenario under a city government that appears committed to continuing in-person learning at some level moving forward. "Even if it is two days a week, three days a week, even one day a week helps," de Blasio told reporters at an Aug. 25 press conference. "It all helps compared to nothing. And the more needy a child is, the more it helps that they get something rather than nothing, because remote learning just can't do for a kid what in-person learning can do."
If the mayor and the city DOE succeed in their effort to open schools and keep them open for the coming months, then New York City will become the largest U.S. city to successfully reopen schools in the pandemic. But if they fail, working parents could be left with the mess they leave behind – and that in turn would mean that New Yorkers' nascent comeback from the pandemic will end before it even really gets started.