Small Business
Slow start for New York's $100 million small businesses loan program
Reach is limited by its focus on small businesses, landlords and nonprofits who haven't received federal support.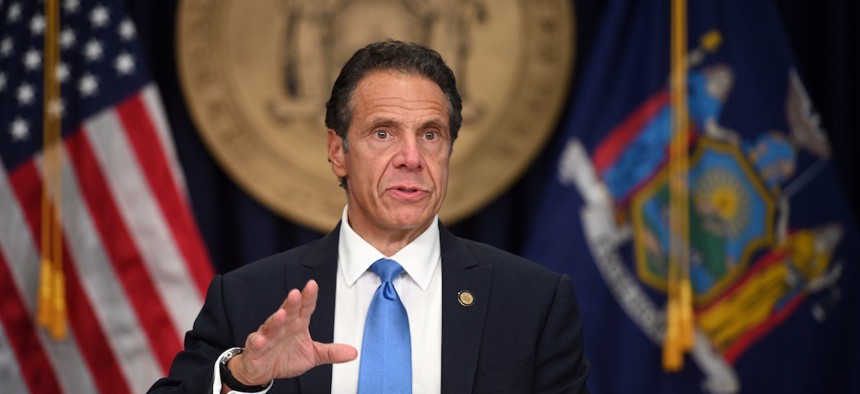 Small businesses since the beginning of the COVID-19 pandemic have been encouraged to access federal relief loans. But many needy ones in New York struggled to receive that funding. In New York City, only 12% of businesses received a loan through the federal Paycheck Protection Program, according to a report from the New York City Comptroller's office.
So in May, Gov. Andrew Cuomo announced a $100 million loan program funded by the private sector – including institutions such as Apple Bank, BNB Bank and the BlackRock Charitable Fund – specifically for businesses that hadn't been able to get support through the Paycheck Protection Program or Economic Injury Disaster Loans offered by the U.S. Small Business Administration. The New York Forward Loan Fund is open to small businesses, residential landlords and nonprofits, who can access a maximum loan amount of $100,000. Through community development financial institutions working with the state as lenders for the program, eligible small businesses and landlords can get the five-year loans at a 3% fixed interest rate while nonprofits can access them at a 2% rate. 
But more than two months into the program's launch, only a small fraction of the money has been given out. More than $2.3 million in loans have been given to 61 borrowers with the support of community development financial institutions, amounting to about 2% of the overall funds available.
The program has been limited in part by its design, which restricts access for recipients of federal loans. One barrier is an applicant may be in the middle of applying for a loan through the state fund, but at the last minute will finally get federal funding that disqualifies them, said Ann Finnegan, president of the Community Impact Loan Fund at National Development Council, one of the state's lending partners for the program.
While the state has closed on more than $2.3 million in loans so far, she said that community development financial institutions "probably went through, and even maybe underwrote, applications of maybe 20 or 30 times that dollar amount."
A state official overseeing the funding initiative said that many small businesses have applied for various streams of funding at once to see whichever came first, which is part of why not all applicants may continue with pursuing a loan with the state. "We have gotten comments, like, 'Oh, thanks, I'm not interested anymore, I got a PPP loan, or thanks I got an EIDL loan,'" said Pravina Raghavan, executive vice president for small business and technology development at Empire State Development, which is running the program. "So we are monitoring that as well. But really, if you look at the stats for PPP and EIDL, there's a lot of small businesses that didn't get either and that's really who we're targeting."
Trisha Kusinitz, owner and founder of tkSolutions Coaching, a career coaching business, received a New York Forward loan two weeks ago. She has been operating her business online for years but was planning to open a brick and mortar location called the Work-Shop to do more in-person programming in March. She was denied a PPP loan because her physical business hadn't been open long enough, which led her to pursue a loan through the state.
One of the biggest barriers for her was the delay in being eligible for the loan, since her business could only officially apply once her region hit Phase 4 of reopening. But now, she's planning to open up this month. "In comparison to everything else I applied for, it was much easier," she said. 
More than 300,000 businesses and organizations in New York received PPP loans, but the funding hasn't been able to cover every business and the Small Business Administration's other emergency loan program has also run into delays and confusion for applicants. When the New York Forward Loan Fund was created, the future of the Paycheck Protection Program was more uncertain, whereas now it looks like both congressional Democrats and Republicans are interested in continuing the funding. 
Beneficiaries of the state program are also still able to apply for federal loans after their state loans are finalized, just not before the fact. That is meant to make sure organizations that haven't accessed federal funding get prioritized in state funding, without shutting them out of other relief efforts in the future. 
Finnegan said she hoped the state would offer some flexibility for applicants in the future, since the federal programs haven't been proven to be a panacea for the state's small businesses. "I think we just need to hone that policy a little to be more reflective of what the small business needs are. A little PPP in May is not helping them in August."
Other factors have also slowed down the process somewhat. Unlike the popular Paycheck Protection Program, the New York Forward Loan Fund requires a more in-depth review which can take more time – anywhere between one week to several weeks depending on the borrower. Particularly because the applicants are from small businesses and nonprofits, they may often take longer to return needed paperwork. "Some of the delays are really based on the process of underwriting versus just writing a two-page application," said Raghavan, referring to the more comprehensive evaluation lenders are taking of businesses' finances through the state program, compared with the Paycheck Protection Program.
Some of the slowness for processing applications can also be attributable to delays on the borrowers' end with filing paperwork or lenders' trying to prioritize borrowers from certain high-need areas according to the state's requirements. 
The New York Forward Loan Fund has succeeded in attracting interest from minority- and women-owned businesses. Those made up nearly 90% of the loan recipients thus far, and represent around 60% of the more than 9,300 eligible applications remaining. This is particularly noteworthy given how many businesses owned by people of color and women have been financially struggling. And many have been shut out of federal relief efforts. Only 12% of Black and Latino business owners who applied for aid through the Small Business Administration received the funding they asked for, according to a survey conducted by Global Strategy Group in May.
There has otherwise been broad interest from various industries across the state in the fund, which has been accessible to various institutions according to when they are allowed to reopen. Now that all of the state has reached Phase 4 of reopening, most businesses with 20 employees or fewer are eligible to apply. And with nearly $98 million up for grabs, the state and lenders are hoping the money will land in the pockets of more struggling small businesses soon.