Zellnor Myrie
State Sen. Zellnor Myrie takes on the rise in gun violence
The Brooklyn lawmaker wants to hold gun manufacturers accountable with a proposed change to the state's criminal nuisance law.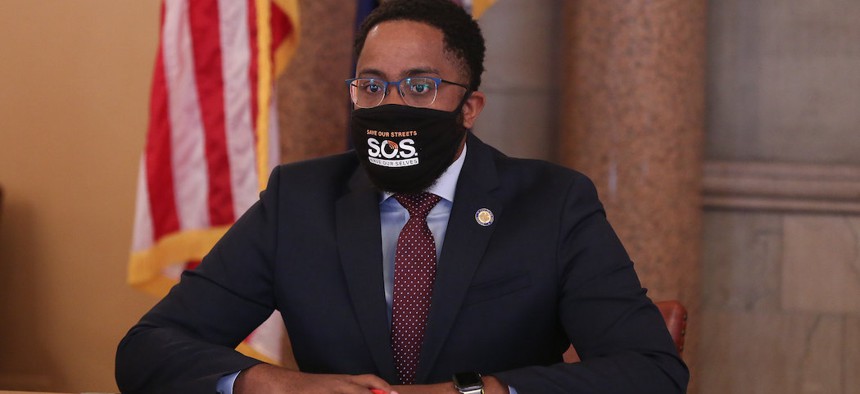 Last week in New York City, 76 people were injured and 14 were killed in shootings. State Sen. Zellnor Myrie planned to introduce legislation on Monday that would allow victims of gun violence to sue gun manufacturers. The legislation is intended to hold manufacturers accountable as the city faces a sharp increase in gun violence.
"In the wake of a gun violence epidemic plaguing the city, state and nation, we have a duty to hold all responsible parties accountable," Myrie told the Daily News. "While communities of color have died disproportionately from gun violence and COVID-19 over the past five months, gun manufacturers have seen their stocks and profits soar. Something isn't right with that equation."
The legislation would amend the state's criminal nuisance law, which states that individuals are prohibited from engaging in reckless or unlawful behavior that may violate the health and safety of others, to include the sale or manufacturing of products that endanger people's health or safety, like guns.
The Brooklyn lawmaker's proposal comes a week and a half after state Attorney General Letitia James filed a lawsuit to dissolve the National Rifle Association following an 18-month probe into the organization. "This is an unconstitutional, premeditated attack aiming to dismantle and destroy the NRA – the fiercest defender of America's freedom at the ballot box for decades. We're ready for the fight. Bring it on," NRA CEO Wayne LaPierre said in a statement responding to James' lawsuit.
In mid-July, New York City Mayor Bill de Blasio unveiled his End Gun Violence Plan to combat shootings in the city, which included deploying more NYPD officers to areas with increased gun violence, organizing gun buybacks and working with violence prevention organizations.
The city has already had more shootings this year than in all of 2019. While de Blasio and New York City Police Department Commissioner Dermot Shea have blamed the uptick in shootings on the coronavirus pandemic, recent protests and new bail reforms, experts have pointed to a decline in gun crime arrests. Several big cities, such as Chicago, Dallas and Philadelphia, have also been experiencing an increase in gun violence this year. However, the exact cause for the surge in violence isn't clear and is likely due to multiple factors.
Powered By
NEXT STORY: Carmageddon is nigh