Transportation
Will Trump let congestion pricing happen?
New York needs the revenue from Central Business District tolling more than ever, but it's unlikely to stay on schedule.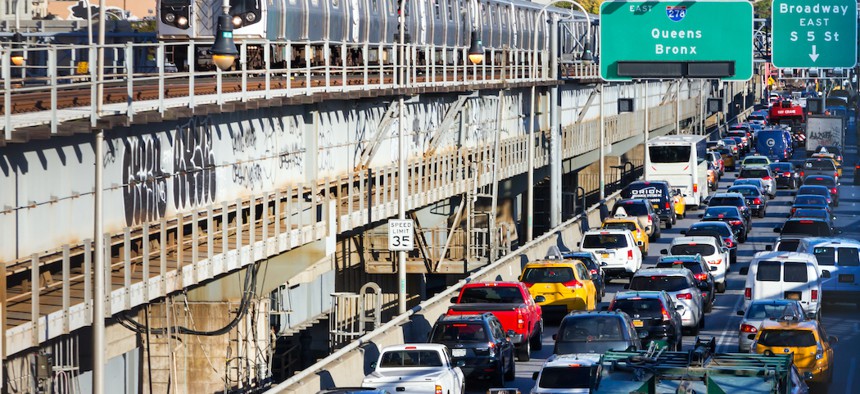 The Metropolitan Transportation Authority could really do with an extra $1 billion right about now. The MTA expects to face a $16 billion shortfall through 2024, and that's on top of long-neglected infrastructure modernization needs that congestion pricing was supposed to fund with $1 billion per year in revenue from tolling drivers entering Manhattan south of 60th Street at peak times. But any hopes of the state's congestion pricing plan delivering that kind of dough have been dashed for the foreseeable future. 
State lawmakers in 2019 passed a law that would have made New York the first American city to implement congestion pricing, which has raised revenue and eased traffic in European cities such as London and Stockholm. There was not a set start time for the program, but the earliest it could begin is Jan. 1, 2021. But now, because of a federal holdup that critics believe is political punishment for a blue state from the Trump administration, the program is stalled. 
When congestion pricing is in operation vehicles driving into the Central Business District will be tolled once a day, likely somewhere in the range of $11 to $14. The idea is not just to raise revenue for the MTA that would help fund the agency's five-year capital plan, but to reduce traffic in the most congested parts of Manhattan, in which average vehicle speeds can be as low as five miles per hour. The legislation passed by the state and signed into law by Gov. Andrew Cuomo last year requires a six-member panel, along with the Triborough Bridge and Tunnel Authority, to nail down the specifics of how the toll will be enforced, how much it will cost and whether any groups will be exempt. (So far just a few exemptions are included in the law; emergency vehicles and vehicles carrying people with disabilities, for example, will not have to pay the toll. 
The earliest congestion pricing can start is Jan. 1, 2021. First, the bridge and tunnel authority and the six-person panel is supposed to recommend a fee structure between Nov. 15 and Dec. 31 of this year – or no later than 30 days before tolling starts. And while that timeline may have been ambitious, the MTA's head of capital construction, Janno Lieber, said in July that the state could be looking at early 2022 instead of early 2021 for a start date because of the federal delay. 
Specifically, the hold-up has to do with a required environmental impact study on New York's congestion pricing program. Because some of the roads that will be tolled have received federal funding, the Federal Highway Administration – a division of the federal Department of Transportation – can require an environmental review be conducted by the state before the policy can be implemented. The federal government can determine what level of environmental review is necessary or decide that none is needed at all. But despite having the materials it requested from the state to make that evaluation since January, the federal government has provided no guidance to New York on what the project requires. The MTA hasn't heard back one way or the other, Aaron Donovan, an agency spokesperson told City & State. "It's paradoxical to me that congestion pricing, central business district tolling, which is a huge environmental, social good, reduces congestion, funds mass transit and reduces emissions is being held up," MTA Chairman and CEO Pat Foye added in an emailed comment. "All we want from USDOT, and all we've ever wanted from the beginning, is for them to follow their own required process and tell us what the environmental process is so we can pursue it." Foye added that the MTA has met at least 20 times with the USDOT and Federal Highway Administration, and continues to be in conversation with them.
"It's completely political." – Tom Wright, Regional Plan Association president
In February, Cuomo suggested that the Trump administration could hold congestion pricing and other infrastructure projects "hostage," over political issues with New York. Back in February, the disagreement was over New York's Green Light Law, a state policy that allows undocumented immigrants to apply for driver's licenses, and which largely prevented the state Department of Motor Vehicles from sharing information with federal immigration authorities. President Donald Trump sought retribution by banning New Yorkers from participating in Trusted Traveler Programs, but recently backed off after the state amended the law to allow some information sharing. The Department of Homeland Security acknowledged it made false statements in a lawsuit over the issue and restored New Yorkers' access to the Trusted Traveler Program. While the dust has to some extent settled on that issue – though New York is now seeking damages over the ban – approval of congestion pricing is still mired in federal inaction. Representatives for the Federal Highway Administration did not respond to a request for comment.
Despite suggestions from the Federal Highway Administration that the process is taking a long time because it's conducting a thorough review, many see it as a political move. "It's completely political," said Tom Wright, president of the Regional Plan Association, a New York City-area urban planning think tank. "Because the bureaucracy knows how to do this."
This is not the first time New York had a major infrastructure project prevented by the federal government. A lack of federal funding for the Gateway Tunnel is perhaps the most recent ongoing example. Under the Obama administration, New York and New Jersey reached a deal to share the cost of constructing the new tunnel under the Hudson River with the federal government, but Trump effectively killed the deal when he took office, and has used funding for the project as a political bargaining chip in the years since. New York City Mayor Bill de Blasio, who came around to congestion pricing in 2019 after originally opposing the idea, suggested that if Trump loses the presidential election in November, a new administration led by former vice president Joe Biden could clear up any federal delays. "There is an election in four months," de Blasio said last month. "So things could change very soon in terms of the federal government's views on congestion pricing and the federal government's willingness to help New York City."
But even if Biden wins and the project receives federal clearance to proceed next winter, New York still faces a difficult and potentially thorny task in actually setting the fee structure and exemptions for congestion pricing. Even before federal approval became an issue, the MTA was criticized for being slow to appoint the six members of the Traffic Mobility Review Board. In response to a question about when those members will be appointed, an MTA spokesman said the issue was "moot" absent federal approval on the environmental review. 
"There is an election in four months. So things could change very soon in terms of the federal government's views on congestion pricing and willingness to help New York City." – New York City Mayor Bill de Blasio
Some suggested, however, that the task ahead of the MTA is a more formidable one than the federal hold-up right now. "I just don't think they're showing they're very serious about this," Nicole Gelinas, a senior fellow at the Manhattan Institute, said of the MTA's stance on congestion pricing. "I mean, the state Legislature passed enabling legislation. It is still basically up to Cuomo to pull the trigger." 
Even before the pandemic, many regions or industries were clamoring for exemptions. But with the coronavirus pandemic and the recession it has triggered, calls for exemptions could get louder. New Jersey residents who are already tolled at Hudson River crossings, for example, have raised concerns about being tolled twice for entering Manhattan. And essential workers, such as health care workers and cops, could end up asking for exemptions too, arguing that if they're risking their lives to show up to work in the middle of a pandemic, they shouldn't have to risk getting on public transit or pay a toll to do so. Eric Goldwyn, a research scholar at New York University's Marron Institute, suggested that the issue will become political. "I think if you're the governor, people are hurting, people lost jobs, things are uncertain. And you probably don't want to be like, 'You know what, now I'm going to slap on $10, $15 in congestion pricing fees,'" Goldwyn said. "So I think there's a rational component (and) there's an emotional component to all of it that just makes for a tough political decision."
"If you're the governor, people are hurting, people lost jobs, things are uncertain. And you probably don't want to be like, 'You know what, now I'm going to slap on $10, $15 in congestion pricing fees.'" – Eric Goldwyn, research scholar at NYU's Marron Institute
Then there's the task of actually setting up the system that will exempt or rebate certain drivers. Last fall, the MTA selected the company, TransCore, that will build the infrastructure, and it will end up working a lot like E-ZPass. Tolling equipment will hang mostly off of existing street furniture such as light poles, meaning that overhead gantries won't need to be installed. Donovan, the MTA spokesperson, told City & State that congestion pricing is on track from a "project point of view" but the agency did not address whether building the equipment needed for congestion pricing could be done in the middle of the pandemic. MTA spokesman Ken Lovett told Gothamist last month that the agency is still working on the program while waiting for federal approval. "We continue to move forward internally with all we can do, including preliminary design work, to be ready once the federal government makes a decision," Lovett said.
No one watching this situation unfold expects to be charged $14 for driving into Manhattan on Jan. 1 of next year. While the MTA losing a revenue stream couldn't come at a worse time, the agency needs far more to compensate for the current drop-off in ridership. But congestion pricing is not just about the revenue it would generate. It's also about disincentivizing car use, moving traffic more quickly and improving air quality. "The moment we get a green light from the feds, then the burden is going to shift to the MTA to implement this policy as quickly as possible," Wright said. "I know that January is the earliest it can be, and it probably can't even be then, but I think the sooner the better."