Andy King
Andy King likely to be kicked out of NY City Council
The Committee on Standards and Ethics unanimously recommend expulsion for multiple charges of misconduct.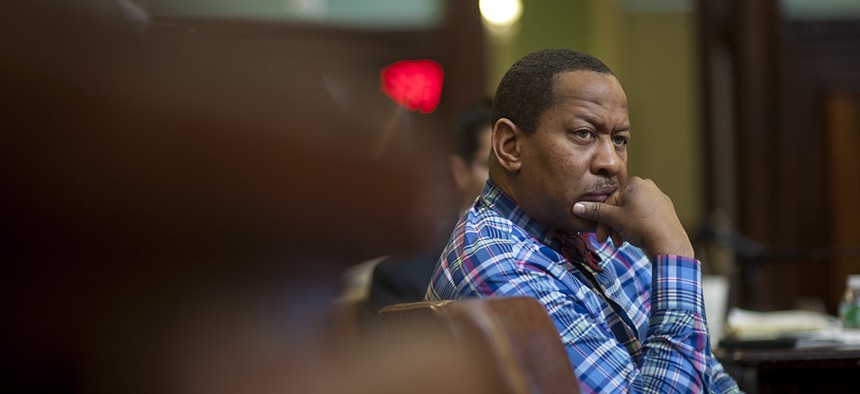 New York City Council Member Andy King will likely be expelled from the City Council next week, after the body's Committee on Standards and Ethics recommended that as punishment for several instances of alleged misconduct. On Tuesday, the committee substantiated four misconduct charges against King, including demanding a $2,000 kickback from a staffer and harassing his employees. The committee also charged that King refused to pay the fine or complete the training that the Council imposed on him after a previous ethics investigation that ended in 2019. 
City Council Member Steve Matteo, chair of the Committee on Standards and Ethics, announced the charges Tuesday morning, saying that the committee agreed in a unanimous 5-0 vote to expel King, a Democrat who represents northeastern Bronx neighborhoods including Wakefield, Eastchester and Co-Op City. Matteo, a Staten Island Republican, said he expected the full Council to meet next week to vote on whether to expel King. The next meeting of the full Council is currently scheduled for October 15. The committee's full report will be released to the full Council and to the public either later on Tuesday or Wednesday morning. 
King was first elected in a 2012 special election, after the previous City Council member for District 12, Larry Seabrook, was expelled from the body after getting convicted on fraud charges. 
The ethics committee's report is expected to lay out the charges in more detail, but Matteo gave a basic outline at the meeting. The committee found that King had harassed and discriminated against a female staffer from 2017 to 2018. After the employee told King she had to receive emergency medical treatment for menstrual bleeding, the council member treated the condition as a joke, and put her on unnecessary, unpaid and indefinite medical leave. After three months, she felt forced to resign. 
King was also found to have "misappropriated funds for his personal gain." After he awarded $9,500 in public funds to a staffer sometime around July 2019, Matteo said King "demand(ed) that staffer kick back $2,000 of it to him."
And Matteo said that King all but ignored the punishments doled out to him after the Council sanctioned him for other ethics violations in October 2019. He never paid the $15,000 fine, refused to pay for and take the anti-harassment training, and did all he could to sideline the internal monitor the Council assigned to his office – including "subjecting her to profanity and sexist remarks."
In addition to those punishments, the Council voted to suspend King for 30 days without pay. At the time, 12 of King's fellow members, led by City Council Member Jimmy Van Bramer, voted to expel King from the Council rather than suspend him. King avoided that fate then, but is expected to be expelled this time. Committee recommendations are almost always followed in the Council. And when the ethics committee first opened this case in February, City Council Speaker Corey Johnson said King should be expelled if the charges were to be found true. 
This is King's third brush with the ethics committee. He was made to undergo sensitivity training after a sexual harassment claim against him was substantiated by the committee in 2018.
If King were to be expelled, it would create a vacancy that would likely lead to a special election to fill his seat. As many as five special elections are expected in early 2020. King is term-limited out at the end of 2021, and three candidates have already filed to run for his seat. King told City & State last week he was supporting his budget director, Brian Melford. "We've done a lot in the last eight years, and this young man was with me every step of the way," he said. 
But King might not give up his seat easily. He has retained a lawyer to represent him before the ethics committee, and may have grounds to at least slow down the wheels of justice. No City Council member in recent memory has ever been expelled without first being convicted of a crime – as happened most recently with former City Council Member Ruben Wills, expelled in 2017 after being convicted of stealing public funds. King has not been charged with breaking any laws, just internal Council rules. Last October, Johnson said the Council had referred King's case to outside law enforcement agencies, but no agency has acknowledged an investigation in the 11 months since then. 
King did not immediately respond to a request for comment, but as recently as last week, King said he was fighting the charges against him. "I didn't do anything wrong," he said. "My goal and my prayers is to continue serving the people of the 12th District until the term is up. So I'm just doing the work that the people ask me to do."
But Matteo said Tuesday that King has done enough harm already. "Last year, the committee made every effort to provide Council Member King the chance to rehabilitate himself and remediate the hostile, unacceptable situation in his office. But he frustrated all of these efforts," Matteo said. "Now this committee finds the situation to be beyond remediation, and therefore finds no alternative but to recommend expulsion."