Labor
Overtime pay for farmworkers still in dispute
The overtime threshold could be lowered to 40 hours a week, but farm owners say it would make labor costs too burdensome.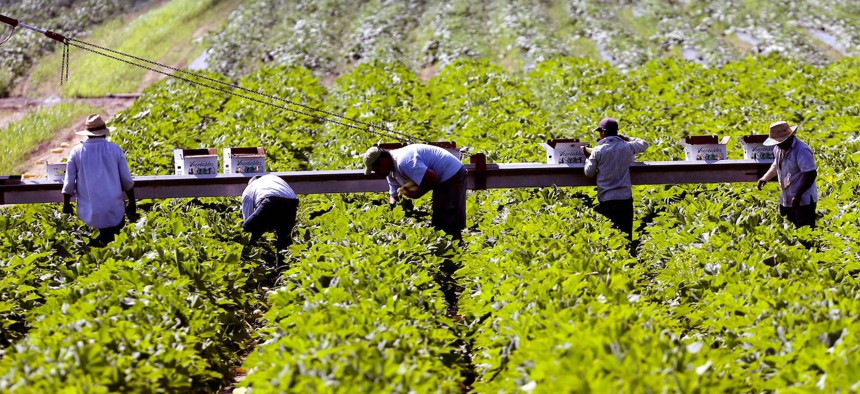 Last year, New York state passed a law guaranteeing workers at more than 35,000 farms rights that most other workers already had, including access to overtime pay, guaranteed time off and the ability to engage in collective bargaining. 
Now, a state wage board has until the end of the year to decide on potential changes to overtime rules under the Farm Laborers Fair Labor Practices Act. The new law requires farms to pay overtime at one-and-a-half times the normal rate when farm workers work more than 60 hours in a week or on their guaranteed day of rest as of this year. The board could lower that threshold to 40 hours per week to match overtime rates in other industries. Farm owners are calling to keep the 60-hour threshold, which they say has already proven onerous and led them to cut workers' hours, while advocates for farm workers are pushing for overtime pay past 40 hours a week of work to provide equitable treatment for workers. 
The law created a farm laborers wage board to hold hearings and consider whether the overtime threshold should be reduced. It's a particularly important issue for agricultural workers, about 42% of whom work more than 41 hours a week compared with just 26% of the average private-sector employee. The three members of the wage board – which includes one member each from labor and the agricultural industry – have until the end of December to deliver a report on recommendations for the state Legislature and governor. 
Farm owners have been cutting hours for workers since the law's implementation to bypass the overtime rules, arguing it creates too great an expense. The nature of farming's dependence on weather conditions make them different from many other industries, farmers argued, during the wage board's recent hearings, saying they may need to work longer hours when the weather is better. 
Will-O-Crest Farm, a dairy farm in the Ontario County town of Clifton Springs, has paid out 3,000 hours of overtime, costing an additional $20,000, for example. "These numbers do not include our corn harvest, which is starting soon and is our biggest labor demand," Hannah Wordon from the farm said during the Aug. 26 hearing. A threshold lowered to 40 hours a week would create a 7% increase in the farm's labor costs, which is already its second highest cost, she said.
But organizers and advocates for workers have argued that agriculture isn't unique in being weather dependent – as the construction industry faces similar challenges – and shouldn't be exempt from guaranteeing similar worker rights. "The financial burden shouldn't be put on the shoulders of the worker," said Angel Reyes, Long Island coordinator at the Rural and Migrant Ministry, which advocates for farmworkers. "It perhaps should be something the state should negotiate through state credits. … Maybe they could find some creative ways to not make the worker pay the price for it."
Several farm owners have argued that their workers are complaining about cuts to their hours made to avoid paying overtime. Brian Reeves, president of the NYS Vegetable Growers Association and owner of Reeves Farm, said his 63 employees are working under H-2A visas for seasonal work and would prefer to work longer hours – which could mean as much as 75-hour work weeks – to make more money. "Most of my guys, as of Aug. 28 in 2020, they will have less money in their pocket than they had on Aug. 28 in 2019, because they worked more hours (last year)," he said. 
But advocates have said that the whole point of the law is to ensure workers don't have to work relentless hours to earn enough money. "If people could work 40 to 50 hours or 60 hours and earn overtime, they wouldn't have to work 70, 80, 90 hours a week to earn the same amount," said Emma Kreyche, advocacy director at the Worker Justice Center of New York.
Crispin Hernandez, a former dairy worker and organizer with the Worker's Center of CNY, also said the recent hearings which have largely featured the perspective of farm owners are often inaccessible to farmworkers who may be interested in offering input. "They're using COVID to advance their own agenda and there isn't even equal accessibility to participation because they do these hearings in the middle of the day while people are working," he said through a translator, noting that many people also lack internet access to attend the virtual meetings.
Several farmworkers continue to remain unaware of the rights guaranteed to them under the law, organizers told City & State, and cases have popped up in which employers aren't following several of the provisions, such as requiring a day of rest each week for workers. Outreach, education and organizing around the law – especially early on in the coronavirus pandemic – often took lower priority as organizations scrambled to find financial support and health resources for farmworkers. "A lot of workers do not get that notification from their employers," said Fabiola Ortiz Valdez, who coordinates with the New York Immigration Coalition's member organizations involved in workers rights in Central New York. The Rural and Migrant Ministry's mask distributions at farms, however, created an opportunity to also give out information on worker rights. "That was one of our biggest outreach efforts ever," Reyes said.
The next step to supporting farmworkers comes down to additional legislation, advocates said, after outbreaks swept through many farms upstate. Workers reported that they lacked sufficient personal protective equipment, and access to health care was often hampered by limited transportation, language barriers and fears of deportation. Several have come out in support of state Sen. Michael Gianaris's proposed legislation to require the state Department of Labor to come up with enforceable health and safety measures essential businesses must follow to combat the spread of the coronavirus. Others have also called for the state to step in to offer relief for undocumented immigrants, who have been cut out of unemployment benefits and federal stimulus checks.
"We've always been essential, not just during this pandemic," Hernandez said. "Every day of the year, there are farm workers working."
Powered By
NEXT STORY: New York City's history of public sector strikes