Health Care - Up to 2020
Pandemic drives New York's Medicaid enrollment up
Increased reliance on Medicaid could further increase the state's spending, though federal aid has helped offset the burden.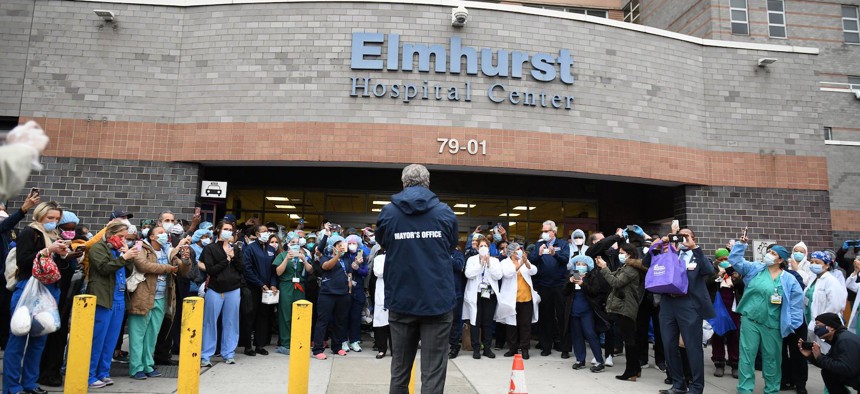 Rising Medicaid spending had proven to be a strain on New York's budget before the pandemic, fueling a significant part of the state's $6 billion budget gap. Gov. Andrew Cuomo approved cuts to the program in April, though their impact was hampered by restrictions on changes to Medicaid stipulated under federal COVID-19 relief legislation. But as the pandemic is driving New Yorkers who have lost their jobs and health insurance to enroll in the program, costs may rise even further. 
New York's spending on Medicaid is expected to increase by 6% this year, according to an analysis from the Empire Center for Public Policy published in late August, reaching an $80.3 billion total for fiscal year 2021. Much of that increase is being fueled by factors which have boosted spending in recent years, such as growing coverage of more costly home care, said Bill Hammond, a senior fellow for health policy at the think tank. 
"I would say the previous drivers are a bigger factor, at least they are for the time being," Hammond said. "Enrollment is going to start making a difference over the next several months."
Indeed, increased enrollment in Medicaid from people who have lost their jobs – and their health insurance – already appears to be a factor. Enrollment rose by about 4% from February to May, the largest spike since the Affordable Care Act took effect in 2014. Approximately 470,000 more New Yorkers were on Medicaid Managed Care plans in August compared with February this year. 
Elisabeth Benjamin, vice president of health initiatives at the Community Service Society, said enrollment was more likely to be driving increased spending rather than increased use of medical services, as many people have been avoiding doctor's visits to avoid COVID-19 exposure. "The other thing is normally we lose people every month because of the annual recertification process," she said. "Under the CARES Act, which New York state is complying with, those folks are being automatically renewed. So we're not losing as many people as we normally would."
The federal government has pitched in more aid than usual to New York's Medicaid program, with coronavirus relief legislation offsetting a significant burden on the state. "Congress did provide about $2.2 billion to the State through an enhanced reimbursement rate that the State is accepting as we need every cent we can get as the Federal government has still not provided the state with any funding to offset our revenue losses, which amount to $62 billion over four years," Freeman Klopott, a spokesman for the state's Budget Division, wrote in an email. Cuomo himself hasn't said much on any trends regarding Medicaid spending or what cuts if any the program may face down the line in recent weeks. However, the stalled COVID-19 relief bill passed by the House of Representatives would ease up restrictions that prevented the governor from pursuing some of the cuts and changes to Medicaid he pushed forward earlier in the spring. 
If New York does seek further Medicaid cuts, one option that the state has more control over is reducing fees paid to hospitals, doctors and nursing homes, Hammond said, though that option would be politically contentious. Having been on the frontlines during the worst of the COVID-19 pandemic, many health care providers are now seeing declining revenues as medical visits drop off. And across-the-board cuts would likely hit safety net hospitals and institutions that serve more Medicaid patients in vulnerable communities harder.
"Their long-term existence is questionable at this point," state Sen. Gustavo Rivera, who chairs the Senate's health committee, said about the safety net hospitals and other institutions. "It drives me up a friggin' wall because that's not what we should be talking about right now. We should talk about reinforcing those safety nets."