Criminal Justice
What's next for the police reform movement
While NYC has quieted down, activists are gearing up for their next big fights.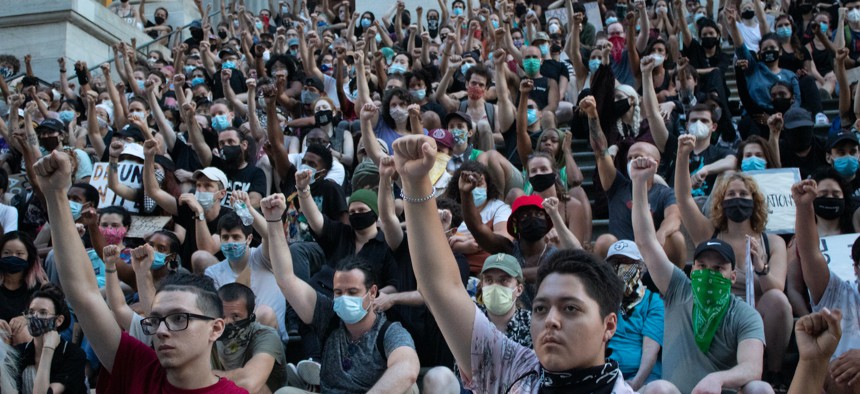 Since July, the intensity and volume of protests against police brutality in New York City have decreased and the protesters who occupied City Hall Park demanding cuts of at least $1 billion to the New York City Police Department budget have gone home. But both criminal justice advocates and sympathetic lawmakers are confident that the summer's energy is merely hibernating and they are planning their next moves. Activists are educating the public about police reform and preparing for the 2021 New York City Council elections, while lawmakers refocus on reforms that have not yet passed.
The June protests in New York and nationwide outrage over George Floyd's death at the hands of Minneapolis police caught the attention of lawmakers. The state Legislature reconvened to pass a landmark package of bills that included repealing the controversial 50-a law, which kept police disciplinary records secret, and enacting a statewide ban on the police use of chokeholds. New York City passed its own laws, including one criminalizing the use of chokeholds by police. Protesters even managed to influence the city budget, which shifted some funds away from the NYPD, although most police reform activists agreed the cuts did not go far enough and did not actually hit the minimal goal of $1 billion. Some left-wing activists urged Council members to vote no on the budget until it included greater and more substantive cuts, but only a handful voted no on those grounds.
The fight over defunding the NYPD is far from over, but with no budget to negotiate in the immediate future, noise around the issue has been more of a low drone than the loud roar it was over the summer. The weather is getting colder, kids are heading back to school and a variety of other issues – especially those related to the coronavirus pandemic – have begun to take precedence for now. "Some of the momentum has died down, but it seems that it's died down more so just because there has been an ever-changing response to COVID," London Arnold, an organizer with the anti-police violence community group Justice Committee, told City & State. But she considers this more of a pause than complete dissipation. "Even if the momentum dies down, I'm doubtful the movement will die down." Arnold added that New Yorkers' struggles related to the pandemic illustrate the need to defund the police in order to better fund social services. 
Abolition Park community members, who in part organized the City Hall Park occupation, have been working in the weeks since their encampment was disbanded to show what a shift in investments could look like. They have been continuing on-the-ground mutual aid work that evolved out of the original direct action prior to the budget vote, connecting New Yorkers in need with resources and housing. "What we are more focused on is actually just providing the resources that we would have been able to (have) had the police been defunded," Tameer, an Abolition Park community member who only gave his first name, told City & State. "We want to show the world that it's possible to live in a society without cops by providing these resources." Abolition Park does not currently have any plans for their next direct action.
Public education work has also been a key part of what Communities United for Police Reform, a coalition of advocacy and community groups, has been doing both over the summer and more recently. "The public is the people we're really trying to influence, because we want Council members to listen to the public," Anthonine Pierre, deputy director of the community group Brooklyn Movement Center and a spokesperson for Communities United for Police Reform, told City & State. The coalition has been advocating for what it calls budget justice since well before the recent national calls to defund the police, and advocated for the repeal of 50-a and other police reform legislation that passed in June. Pierre said that Communities United for Police Reform has helped lay the groundwork for the kind of reform movement seen over the summer, and that its members are gearing up for the next phase of the campaign. "We're quiet, but we're not asleep," Pierre said.
The fiscal year 2022 budget is due June 30, 2021, which means negotiations would take place around the same time as the June 2021 Democratic primaries that will effectively determine who wins most of the seats in the City Council. With that convergence in mind, Pierre said that "it would be hard for us to not engage in the election."
Pierre said that her group Brooklyn Movement Center, which is based in Central Brooklyn, would help community members organize in order to pressure Council candidates in that area to back police reform and cuts to the NYPD. "I can't say that we have all of our plans laid out, but three Council members that represent Central Brooklyn voted yes for that budget despite our membership and our base being really energized to move money into social services," Pierre said, referring to Council Members Laurie Cumbo, Robert Cornegy and Alicka Ampry-Samuels. Only Ampry-Samuels is up for reelection. Cornegy is running for Brooklyn borough president.
The New York City Chapter of the Democratic Socialists of America, which helped propel to victory its entire slate of state legislative candidates in June, plans on making defunding the NYPD their number one issue for the 2021 City Council elections. Sumathy Kumar, a co-chair of the DSA-NYC, called a commitment to defund "the most important issue" for the upcoming campaigns, and expects it to play a major factor in deciding who the group endorses.
The DSA is gearing up to have a serious impact on the makeup of the next City Council, the majority of which will consist of freshmen, thanks to term limits. Kumar said that it's too early in the process to say whom the group might endorse, but issued something of a warning to lawmakers who voted to approve what DSA members considered insufficient cuts to the NYPD. "I think anyone who voted yes on this budget should be nervous either about returning to the City Council, or the rest of their political careers," Kumar said.
But those elections are still a long way off, as is the next budget battle. A lot can change in nine months, and keeping control of the narrative can be difficult. A recent spike in gun violence has already given opponents ammunition to reshape the public conversation, sowing fear about public safety and the impacts of reducing police presence on the streets. Other parts of the country have seen similar spikes in crime, and progressives have attributed it in part to record unemployment and financial insecurity caused by the pandemic. But the surge has given Republicans a law-and-order platform to run on and police unions a justification for doubling down on their anti-defund and anti-reform rhetoric. 
Arnold admitted that rising crime has made educating people about the benefits of divesting from police a little more challenging. "(Police presence) may be making them feel safer, even though that may not be what in reality is bringing safety," Arnold said. "The defund movement can be hard to understand for people, if they haven't imagined a world without police."
Continued support from lawmakers, despite the spike in shootings potentially causing a shift in Key officeholders say they are still committed to continuing the work that started in June. City Council Member Donovan Richards, chair of the Committee on Public Safety and one of nine to vote down the 2021 budget on the grounds it didn't go far enough to cut police funding, said he's hoping he can continue steering the City Council towards greater reforms before he leaves the body. He's all but assured to become the next Queens borough president next year – he won the Democratic nomination earlier this year and will presumably win the general election in the heavily Democratic borough in November – so he only has until January. 
Richards has a package of legislation he's working on that he hopes the City Council will consider before he leaves. The top priority for him is reforming the NYPD's controversial DNA database, which he says has been used to unjustly collect the DNA from minors and people of color who have never even been accused of crimes. Richards acknowledged that the spike in shootings will create a "tricky balance" between public safety and reform for Council members as the data influences public opinion. But he said it'll be up to leaders in the movement to continue pushing back against anti-reform narratives. "Even as there's push back on reform, the public is still largely demanding safer and fairer policing," Richards said. "And I don't think that will fizzle out."
Richards has received criticism from criminal justice reform advocates for what they see as his attempt to roll back the recent chokehold criminalization law. He introduced a bill softening the language in the portion of the law about compressing someone's diaphragm by sitting or kneeling on someone's back, raising the threshold for criminality. Although in past interviews he referenced an alleged police slowdown in protest of the new law as his reason, Richards told City & State his amendment is not a rollback, but is instead meant to avoid potential legal challenges that could overturn the entire law.
State Sen. Jamaal Bailey also told City & State that he's continuing to push for reforms at the state level to continue to build on the historic legislation passed earlier this year. "However historic the package was, it's something we can't rest on our laurels with," Bailey said. Specifically, he's focused on bills to ensure that minors always have the right to counsel when they are interrogated, ending qualified immunity and making it harder for officers with misconduct complaints to simply be transferred to new agencies. Bailey said he feels confident that his fellow members will still have a drive for reform when a new session that will have many new members begins in January. "The knee on the neck of George Floyd was a knee on the collective neck of Black and brown America, and it has woken people up who are not part of Black and brown America," Bailey said.
Pierre, Arnold, Tameer and Kumar did not offer any specific legislative goals for their respective groups for the immediate future in terms of bills they would like to see passed. Arnold added that June's landmark achievements still resonate and that maintaining them in the face of potential challenges takes precedent. However, Communities United for Police Reform still lists other bills beyond those that passed as part of its overarching Safer NY Act, including legalizing marijuana and reducing arrests for ticketable offenses. Black Lives Matter of Greater New York, which did not return requests for comment, also has a long list of legislative demands, many of which have not been met yet. They include the establishment of an Elected Civilian Review Board in New York City to investigate police misconduct, disbanding police unions and ending qualified immunity, a legal doctrine that makes it difficult to hold police liable for misconduct in civil court. 
But much of this is reliant on the reform movement's continued energy. The work of activists between now and the next budget fight will be crucial to ensure that lawmakers remain committed to reform. "I think folks have really hit a breaking point in this point in time," Arnold said. "As long as people that are at the forefront of the movement continue… to advocate on behalf of the things that we know are necessary and make these demands, there may be moments that the momentum fluctuates, but I am very skeptical (that) it would die down."
Powered By
NEXT STORY: Why COVID-19 remains a concern in prisons and jails