Health Care - Up to 2020
Why children are in pediatric nursing homes, separated from family by COVID-19
Disability advocates point to a nursing shortage, among other causes.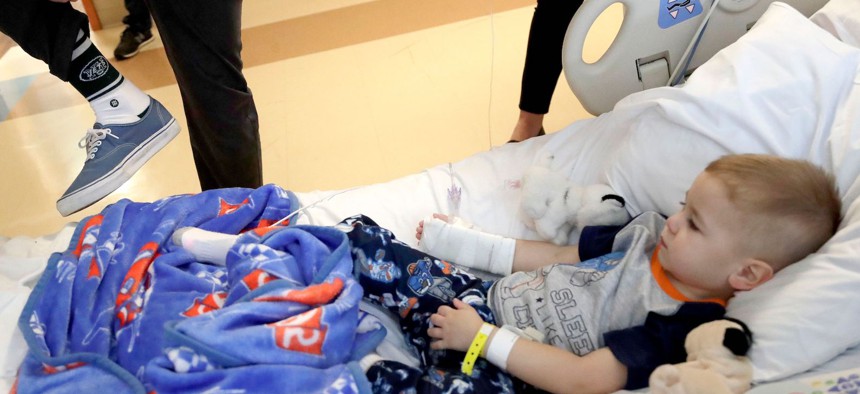 As The Wall Street Journal recently reported, many residents of New York's pediatric nursing homes, who are medically fragile children under the age of 21, have been unable to see their parents since the onset of the state's COVID-19 crisis. The state's strict nursing home guidelines mandates that visitors cannot be allowed into these facilities unless there have been 28 days without a positive coronavirus case. Many parents have been advocating for the state's protocols to loosen so they can visit their children, who they fear are being emotionally harmed by the prolonged separation. Children are comparatively much less vulnerable to the disease than elderly individuals in nursing homes. 
The state has said that any facility classified as a nursing home must follow the state's nursing home protocol, although families may make appointments to visit their children if there is a medical reason for doing so. Jill Montag, a spokesperson for the state's Department of Health, told the Journal in a statement that the guidelines' "main priority is doing everything possible to keep children in nursing homes safe and protected from Covid-19."
However, some disability advocates feel that the actual issue here is not the state's strict protocols but the fact that there are so many children growing up in these long-term care facilities to begin with. If they were able to live at home, they wouldn't be enduring a months-long isolation from their families.
There are currently 12 pediatric nursing homes and units in the state, which contain 594 beds altogether. In 2013, there were nine pediatric nursing homes with a total of 501 beds. It's a slight increase but one that concerns advocacy groups that feel it is unhealthy for children to grow up entirely in medical or nursing home settings. Many have argued that living with their families is far more beneficial to the emotional and mental well-being of medically fragile children. And if living with their parents is not an option, living in smaller communities that are able to cater to their needs is ideal. Of course, there are many children with severe medical conditions who need to live in a hospital setting in order to stay alive, but some children with conditions such as autism or Down syndrome, that are not dependent on medical equipment, could live at home with the right amount of support.
Pediatric nursing homes, like nursing homes across the board, are often severely understaffed because the state doesn't have a required staffing minimum – something that a revived bill in Albany known as the Safe Staffing for Quality Care Act is trying to change. 
Families of children in pediatric nursing homes also tend to rely almost exclusively on Medicaid to provide care for their children. While Medicaid does pay for at-home private duty nursing, the wages it pays at-home attendants have been so paltry that it's often hard to find a private duty nurse. This often makes pediatric nursing homes the only viable option for some parents unable to find at-home care, who cannot afford to pay for it themselves. However, the state has recently increased the pay of many private duty nurses, which may ease the burden being placed on families looking for at-home care. However, there is still a statewide nursing shortage to contend with, which Margaret Mikol, director of Sick Kids need Involved People of New York, says is also to blame for the proliferation of pediatric nursing homes in New York, as well as the lack of nurses who are well-versed in caring for medically fragile children. 
"No parent should be forced to institutionalize their child in order to get them the care they need." DRNY Executive Director Tim Clune told City & State in an email, "Children should not be growing up in a nursing facility."
Some advocates also say that finding the right government assistance to keep one's child at home is difficult because the Department of Health's website is a confusing labyrinth. At the end of the day, just setting up a more user-friendly and transparent website for families could help. In response to these concerns, Montag, of the state DOH, sent City & State the following statement: "The Department actively provides assistance to families and caregivers experiencing difficulties finding a private duty nurse. The Department is launching a new webpage dedicated to private duty nursing services in the Fall of 2020. The webpage will include a Private Duty Nursing Directory to help families and caregivers navigate and locate private duty nurses throughout the State. This new initiative was included in the FY 2021 budget."
The importance to a child and his or her parents of being able to live at home cannot be overstated, according to families with medically fragile children and their advocates. "We took our daughter to Cape Cod, we took her everywhere, she would have it no other way … It was such a tremendous life and it was a short life but it was a rich life," Mikol said, reflecting on her own experience raising a daughter who had Severe Combined Immunodeficiency Disease. "What makes me sad is that that should be a childhood for everyone. Why is it so out of reach, when we know it isn't?"