Coronavirus
Will essential workers have enough PPE for a second wave?
Mixed messages and flimsy regulations could leave nurses and others defenseless again.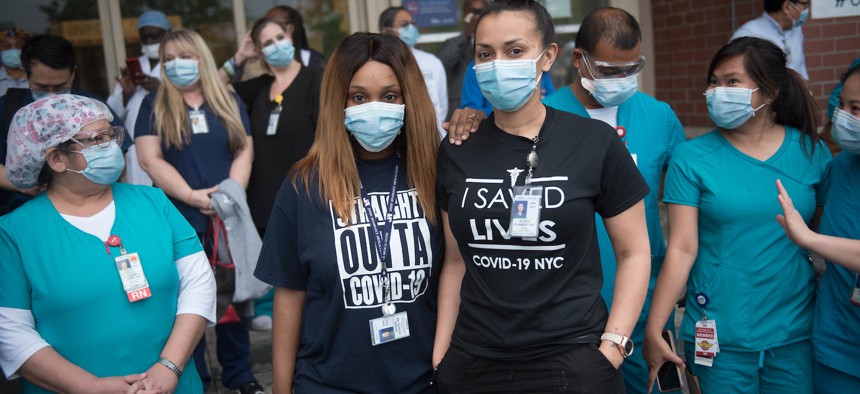 During the height of the coronavirus pandemic, governments, hospitals and essential workers scrambled to find personal protective equipment. Health care workers – especially nurses – said they did not have an adequate supply of equipment, forcing them to reuse N95 masks and, at one Manhattan hospital, use garbage bags when they ran out of gowns. Even with the coronavirus currently under control in New York, workers are still struggling to make sure they're safe on the job.
While workers who interact with the public are now provided with face masks by their employers, a hodgepodge of rules, guidance and executive orders has left employees in a tenuous position. Hospitals continue to struggle to procure enough equipment in advance of a potential second wave of the coronavirus, while other workers who want to speak out against unsafe working conditions remain unprotected by state legislation that stalled. And even if the state passed new laws to make employers' duties more clear, global supply chain issues remain a significant hurdle.
However, when asked, state Health Commissioner Howard Zucker told the state Legislature during a hearing that, despite media reports and lawsuits from the New York State Nurses Association, health care workers had access to enough protective equipment during the height of the pandemic. "We provided 24 million pieces of PPE, and there was available PPE to all those who needed it – granted there were different policies put into place about how to preserve some of the PPE equipment," Zucker said last month.
A big question to come out of Zucker's controversial comments was whether hospitals should be judged on traditional usage standards for equipment or whether they should be judged by the crisis rationing standards that were put in place when hospitals started depleting their stockpiles.
"The disconnect has been in that word 'enough,'" New York State Nurses Association Executive Director Pat Kane told City & State, referring to Zucker's comments. "I think the first thing we have to do is kind of agree that there isn't enough. … As long as we are using these conservation methods, that means there isn't enough in the supply chain, by definition." Kane said that even now some nurses are still reusing their protective equipment.
While the Centers for Disease Control and Prevention did issue guidance about the reuse of protective equipment, it acknowledged that the equipment was not designed for such use and that it was not as safe as using new supplies. The CDC's optimization guidance was meant to be used when a hospital's supplies "are stressed, running low or exhausted," according to its website.
Gov. Andrew Cuomo issued a directive on April 13 that required all hospitals to provide at least one new N95 respirator to health care workers per day upon request. Kane said while the move was appreciated, one new mask per day still did not meet conventional guidelines for the use of protective equipment. In a traditional setting, that same N95 mask would be thrown out in between patients. Even so, The City reported that some hospitals could not comply with that minimal requirement. And last month, an anonymous video from nurses at one Dutchess County hospital alleged that the hospital was repackaging used sterilized masks as new masks. Because of how much hospitals have struggled to build up a stockpile of supplies, it's unclear if they will be sufficiently prepared to avoid the widespread reuse of equipment if a second wave of the virus occurs.
In May, Cuomo said he would require hospitals to create a 90-day stockpile of protective equipment to prepare for a second wave. Hospitals that failed to do so would risk losing their license.
The state Health Department said the 90-day supply must be enough to match the rate that hospitals used protective equipment between April 13 and April 27. "This regulation is based (on) a utilization rate that is far higher than current levels and reflects peak demand so that NYS hospitals are prepared for any future outbreaks," state Health Department spokesperson Jonah Bruno said in a statement to City & State.
At one point in late March, Northwell Health was using about 25,000 N95 masks per week, according to Politico New York, significantly more than the 20,000 per month on average it used prior to the pandemic. But even that huge number was limited due to rationing.
It's for that reason that Kane expressed doubt that the mandated stockpile would actually provide an adequate amount of supplies, since rationing was so common at the height of the pandemic. A 90-day supply of equipment at the rate it was used in April could mean that hospitals would continue to ration equipment at a similar rate, which concerned experts at the time.
The Greater New York Hospital Association did not return a request for comment about how common this is among its member hospitals, although some lawmakers said at a legislative hearing that they had heard about hospitals struggling to meet the stockpile mandate.
Kane said the state could require hospitals to gather a stockpile that didn't factor in the rationing of equipment, but at the very least she said the state could also be more transparent about what it is doing and why. "They could say the supply chain's bad and, you know, that means that less conventional guidelines have to be used, so be it," she said.
Kane suggested that hospitals could invest in reusable protective equipment to help with the supply chain issues. "This means it's actually more cost-effective when you look at the cost of disposables," Kane said. "And it means we don't have to chase the supply chain. Once you give everyone one of these – you're done."
Essential workers in other industries are facing their own problems, but they have even less support to ensure their safety. Nothing is technically stopping the state, whether through legislation or executive action, from implementing COVID-19 health and safety measures since the federal government has not issued its own through the Occupational Safety and Health Administration, or OSHA. Virginia became the first state in the nation to issue workplace safety standards during the pandemic. New York is in a slightly more tricky situation though. Unlike in Virginia, OSHA handles workplace safety enforcement within the state. While Cuomo has issued executive orders, and state agencies have given official guidelines in light of federal inaction, the state lacks the enforcement apparatus. And federal employees cannot not enforce state guidance.
State Sen. Michael Gianaris and Assembly Member Karines Reyes recently announced legislation to help remedy the situation – the New York HERO Act. It would create enforceable safety regulations, including for protective equipment and sanitation, for industries to follow to prevent the spread of COVID-19 and protect workers. This would go beyond the current guidelines and provide the state Labor Department with the authority to issue fines for workplaces found not in compliance and allow workers to be involved in the enforcement of safety protocols. "If we empower workers to have input over their own space and have the ability to monitor and report on violations that are occurring in ways that affect them directly, that will be much more comprehensive," Gianaris told City & State. The legislation has not been introduced yet, but Gianaris hoped that it would be ready to be passed the next time the Legislature meets, which could be in the fall.
Another part of the enforcement problem has been the rapidly changing and unclear guidance. For instance, on April 12, Cuomo issued an executive order that required employers to provide face masks, at their own expense, to essential workers. The order didn't include any information on minimal compliance for employers and no enforcement mechanisms aside from giving localities the authority to enforce the order, which was standard for public health mandates issued during the pandemic. A couple days later, the state Health Department issued guidance for that executive order, but still did not say how often employers had to provide masks, while adding that the inability to obtain face coverings did not relieve employers of their requirement. It also did not include information about how the order would be enforced. Newer regulations issued in July expanded the employer mask mandate to cover any worker who interacts with the public. According to the state Health Department, employers who violate this or other safety regulations could face fines of up to $1,000 and up to $10,000 for willful violations.
While reopening guidelines for different industries had certain minimal requirements for general safety, the rules did not include a mandate that employers would be responsible for providing protective equipment to their employees besides masks.
Employment and labor lawyer Miriam Clark previously told City & State that the amorphous safety guidelines provided little recourse for workers who faced retaliation for speaking out about unsafe working conditions. Clark said improving what she considered the state's inadequate whistleblower protections was critical to ensuring that employers would be held liable if they were not protecting their employees. The state Legislature did not pass two pieces of legislation over the summer that would have changed the state's whistleblower laws to better protect workers.
The state Labor Department said it had conducted about 30,000 inquiries related to COVID-19 and that about 90% of those cases were closed, often voluntarily once an employer was told about any requirements they were not meeting or rules they were breaking. However, the agency did not say whether any of the complaints were about the mask mandate. According to the department, one of the reasons an employee could file a complaint is if an employer was not following health and safety guidelines, including not providing protective equipment for those that interact with the public.