Education
Are in-person classes safer than expected?
New York City tested a significant portion of its students and teachers in early October. Out of 10,676 tests only 18 were positive.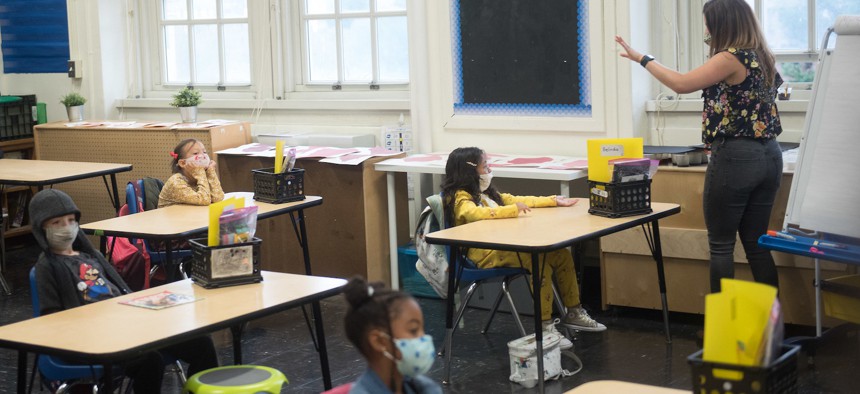 New York City began testing between 10 to 20% of students and staff across its 1,600 public schools, not including charter schools, on Oct. 9. 
According to the first round of data collected from the city's testing initiative, 15,111 were tested for COVID-19. Of the 10,676 results that the city has gotten back, only 18 tested positive. Of those who tested positive for the virus, 13 were adults and five were students.
The surprising new results contribute to the mounting scientific evidence that suggests young children are less susceptible to contracting and transmitting the virus. The results may also indicate that the city's approach to reopening its public school system – the largest in the country – could potentially become a model of in-person schooling best practices. However, many public health experts feel that it's too soon to jump to any conclusions about the preliminary data, saying that much more random testing is needed to prevent future outbreaks moving forward.
Before classes were scheduled to begin in September, the city's powerful teachers unions pressured the city to delay the start of the school year over health concerns. Now the city's hybrid model for in-person teaching, which has students' learning divided between coming into class a few days a week and participating in remote lessons, is in full swing. While many teachers and parents have been holding their breath as all levels of schooling reopened, no major outbreaks have occurred yet. 
This new data may suggest that in-person teaching is not nearly as hazardous and conducive to the spread of the virus as once was thought. "That data is encouraging," Paula White, executive director of Educators for Excellence, told The New York Times. "It reinforces what we have heard about schools not being super spreaders."
Still, it is important to recognize the pivotal role that COVID-19 testing has had in preventing outbreaks in schools across the globe, such as Germany and Italy, where mass testing is prevalent. Currently, the city is randomly testing students and staff enrolled in in-person classes once a month. Students need parents consent to get tested, but only 20% of parents throughout the city have signed consent forms for mandatory testing.
Some public health experts feel that students and staff should be tested multiple times per week, while others believe that 50% of the city's school population should be tested twice a month to improve its chances of catching an outbreak. "The outbreaks could be quite large by the time they are detected by the monthly, 10-to-20 percent testing," Anna Bershteyn, an assistant professor of population health at New York University's Grossman School of Medicine, told the Times.