New York City
Can NYC prevent ICE agents from impersonating the NYPD?
Their own training manual says they shouldn't do it.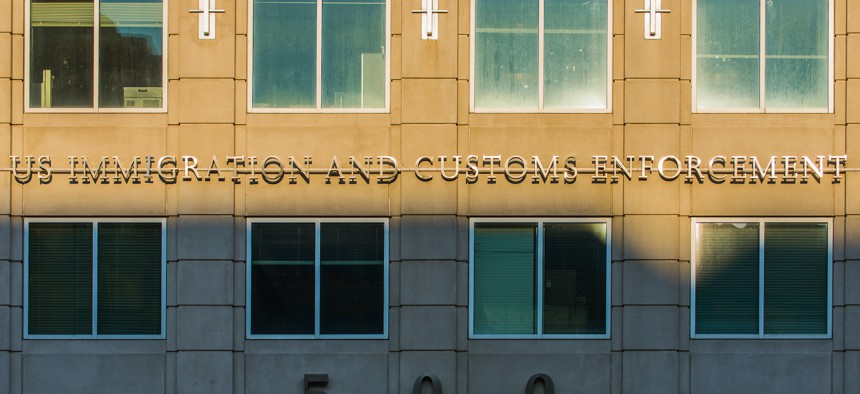 On Thursday, U.S. Immigration and Customs Enforcement agents arrested Inwood resident  Fernando Santos-Rodriguez, after dressing up as New York City Police Department officers and getting his family to help locate him under false pretenses.
On Saturday, New York City Mayor Bill de Blasio sent the federal agency a letter asking that it discontinue the practice of masquerading as NYPD officers, citing "numerous reports" of this behavior. The mayor noted that immigrant communities will be afraid of helping the police solve crimes if they don't know whether the person they're talking to is a real officer or a federal immigration enforcement agent. "These types of activities jeopardize the willingness and comfort of immigrant New Yorkers in interacting with the NYPD on crucial matters involving public safety and local law enforcement," de Blasio wrote.
For years now, ICE agents have been impersonating NYPD officers in order to detain immigrants. For example, in 2018, a mother of three was detained by agents at her home in Brooklyn after they forced their way into her home, claiming to be "detectives." Impersonating other government officials is known as "ruses" within the agency. 
Agents don't just impersonate local law enforcement, they also disguise themselves as members of other local and federal agencies. While the practice is technically legal under federal law, many immigration experts feel it's unclear if this allowance means that ICE agents can pretend to be local officers. ICE agents are allowed to use ruses to gain access to immigrants but there's still some uncertainty over whether or not agents are allowed to impersonate local law enforcement. According to their training, while they cannot state that they are with a specific local police force, they are allowed to identify themselves as "police" – which, of course, might lead suspects to believe they are with the NYPD – or "federal officers." 
It is illegal under New York state law for anyone, including federal agents, to impersonate a police officer. However, because federal law preempts state law, such a state law may be unenforceable, as California state legislators who passed a law expressing their disapproval of federal immigration enforcement impersonating local police acknowledged.  
The Americans Civil Liberties Union, however, argues that federal agents impersonating local law enforcement violates the Fourth Amendment of the U.S. Constitution. 
The NYPD in particular has been opposed to agents posing as NYPD officers, as this practice makes their crime investigations more difficult and threatens the trust built with immigrants over the years. Nonetheless, in Fort Greene, Brooklyn, a federal immigration agent was recorded attempting to enter an apartment while wearing a NYPD jacket. 
Other New York City politicians, including Brooklyn Borough President Eric Adams and City Council Members Ydanis Rodriguez and Carlos Menchaca, also spoke out against the agency's actions. "This is a violation of our law," Adams, a former NYPD officer, said about the ICE arrest that took place on Thursday. "You cannot state that you are a municipal police official. You cannot violate the law to carry out the law."
The city has been in longstanding conflict with the federal immigration enforcement agency. New York is a sanctuary city, which means that the city has chosen not to cooperate with ICE's arrests and detainments. The NYPD has also stated in the past that it would not work with ICE,  so that members of the city's large immigrant population would continue to cooperate with police investigations. 
It's uncertain, however, what recourse the city or state would legally have to stop the agency from utilizing "ruses." 
This story has been updated to clarify the distinction between state and federal law.