Health Care
How accurate are rapid COVID-19 tests?
What we know about the 400,000 15-minute tests New York is sending to schools, hospitals and local governments.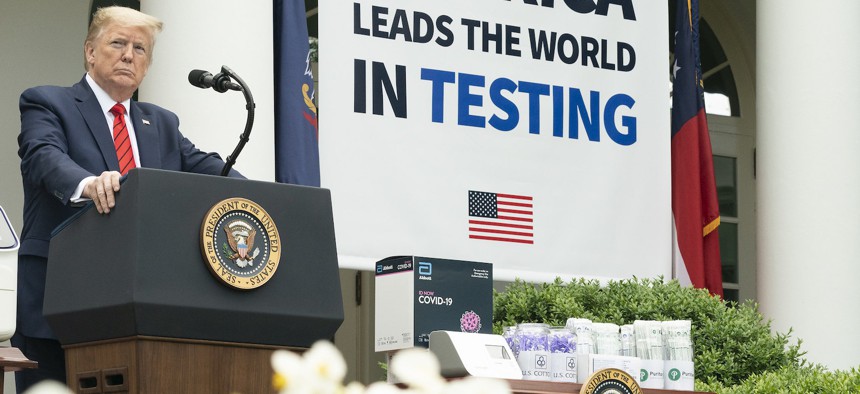 An either confused or deceptive man once said, "When you do more testing, you find more cases," arguing that a rise in COVID-19 cases this summer was solely attributable to an increase in testing for the coronavirus. Of course, that was not the case, and medical experts and epidemiologists are in widespread agreement about the importance of increased testing to help control and contain outbreaks of COVID-19. 
It's promising then, to see states like New York continue to ramp up their ability to test for the coronavirus, especially in hot spots where the positive infection rate has risen in recent weeks, or in environments like schools, where staff and students have returned to a semblance of in-person learning. Earlier this month, Gov. Andrew Cuomo announced that the state would start sending out 400,000 rapid testing kits to local health departments, hospitals and other health care providers as part of that effort. The tests will also be available to schools in "yellow zones" in New York City, where weekly testing is now required. 
"Rapid" is not a misnomer here. The tests being used promise results in 15 minutes, compared with the 24 to 48 hours – if not longer – that has been the typical return time for the "gold standard" reverse-transcription polymerase chain reaction – or PCR – tests in New York City. The rapid tests also cost a fraction of the widely used PCR tests , with one maker's test costing just $5 apiece. 
That means that rather than taking a COVID-19 test and waiting days to get the results – possibly infecting other people in that waiting time – these tests can deliver a result within minutes. Expanding the use of these 15-minute tests would allow not only faster results, but increased testing; some scientists have argued rapid tests can and should be used to test virtually every American every day. The problem is that there are still major questions about how accurate the 15-minute tests are, and how they should be deployed.While a recent small study on the accuracy of one such test compared with PCR tests shows some promising results, some scientists are concerned about relying on these tests – which are less sensitive to identifying the virus – and their potential to produce false negatives if used incorrectly.
Here's what we know about the accuracy of rapid tests and how New York is deploying them so far. 
What kind of rapid tests is New York using?
New York is using two kinds of rapid COVID-19 tests – the Abbott ID NOW test and the Abbott BinaxNOW test – Jonah Bruno, a spokesperson for the state Department of Health, told City & State. Both those tests are made by Abbott Laboratories and promise results in 15 minutes or less. These kinds of tests are often referred to as "point of care" tests because they take a swab – typically a nasal swab – that can be read and deliver results on site, instead of a sample having to be sent to a lab.
The first test, ID NOW, was used to screen staff at the White House this spring. More recently, the White House has been relying on the latter of those tests – the BinaxNOW. In September, President Donald Trump announced plans for the federal government to distribute 150 million of these BinaxNOW tests to states. It's from that federal distribution that New York has acquired its own supply of BinaxNOW tests, Bruno said.
How are rapid tests being deployed in New York?
While Cuomo only announced the push to deploy 400,000 rapid COVID-19 tests this month, rapid tests have already been in use in the state, including in response to outbreaks in Western New York and at SUNY Oneonta. Abbott testing machines have also been sent to hospitals, local health departments and some medical practices, Bruno said. 
Last week, Cuomo announced that 200,000 rapid tests will be made available to schools in yellow zones in New York City. As part of Cuomo's strategy to fight rising infection rates by closing schools in COVID-19 "hot spots," the state now requires weekly testing for staff and students at schools in "yellow zones" surrounding hot spot zones. But officials in some of those yellow zone areas have said that they don't have the capability to comply with the testing mandate. The extra rapid tests being sent for use in schools is aimed at increasing that capacity. 
Some local officials have also called for additional guidance, training and staffing to help to administer the rapid tests, which still require that a health professional perform them. Cuomo said last week that the state is ready to provide those resources.
What do we know about the accuracy of these tests?
Getting COVID-19 test results within 15 minutes is great, but so far, scientists have found that rapid tests don't live up to the PCR tests, which can take days to deliver results. "The rapid tests are less sensitive, and you can get results quickly, but the accuracy is more of an issue," said Dr. Howard Koh, a public health expert at Harvard University. While the PCR tests also aren't 100% accurate, some studies have shown that Abbott ID NOW can miss infections 20% to 30% of the time, though Abbott has said that they perform "in the mid-80s to mid-to-high-90s" when used as instructed. The BinaxNOW test, while also less sensitive than the traditional PCR test – meaning that it may be less able to identify an infection – was just a part of a study that found it could be nearly as effective as a PCR test, especially when it came to identifying patients with high viral loads. While researchers noted that PCR is still the gold standard, the results of the study suggest that the rapid test could be effective in identifying the most infectious people – a helpful step if the goal is to quickly isolate those most likely to spread the virus.
But a crucial part of deploying rapid tests, experts say, is making sure that they're used only as intended. "One thing to stress is that the rapid tests are actually authorized only for symptomatic people," Koh said. "In schools and colleges, it's being widely used on asymptomatic people, so that could challenge the accuracy of the results even further." On top of only being cleared to test symptomatic people, the BinaxNOW's emergency use authorization from the U.S. Food and Drug Administration also says that they should only be tested on people within the first seven days of experiencing symptoms. 
In an emailed statement, Bruno said that each rapid COVID-19 test being deployed in New York comes with specific instructions on how they should be used. "All COVID testing platforms should be used as federal and state guidance directs," he wrote. "Each COVID testing platform has unique advantages and health care providers and local governments should follow all guidance to ensure they are used as directed by these protocols."
What's the risk of false negatives?
The danger of false negative test results – incorrectly telling an infected person that they are negative for the virus – is pretty clear. Sending infectious people into environments like schools because they receive a negative result on a rapid test could put others in that environment at risk. After all, these rapid tests were used at the White House event that is presumed to have become a coronavirus cluster. (Some health experts have pointed out, however, that the White House did not deploy the rapid tests responsibly, because it relied on the tests alone, instead of in combination with other important protocols like mask wearing and social distancing, and because it used the tests on all visitors, rather than just those with symptoms.)
The risk of false negatives is why Koh said it's important to not just go off of what the test readout says, but also to analyze other signs that may point to infection. "If somebody tests negative, but they have symptoms that are highly suggestive of COVID, it would be reasonable to either test again or get the PCR test in combination," he said. 
What's the bottom line on these rapid tests?
While the slower PCR tests still constitute the gold standard of testing for now, Koh said that doesn't mean the country can go on relying on PCR alone or should shun rapid tests entirely. "I really hope articles like yours won't say a black or white, yes or no reaction to these," Koh said of rapid tests. "Because we have to have more timely tests. Relying only on PCR has gotten us into the challenges of longer lines and delays that everybody knows too well."
What needs to happen next, he said, is comprehensive data collection and analysis of how effective rapid tests are as they continue to be used, followed by coordinated guidance on how they should fit into the nation's overall testing regimen. "We don't have a unified plan for this part of the pandemic response, or hardly any of it," Koh said. "It's every city, state and locale left on its own to try to determine the best way, and we desperately need more coordination and communication at all levels."