Coronavirus
How did the state fail in its health messaging to Hasidic Jews?
Public health experts said it should rely on trusted community leaders and avoid shaming to combat coronavirus misinformation.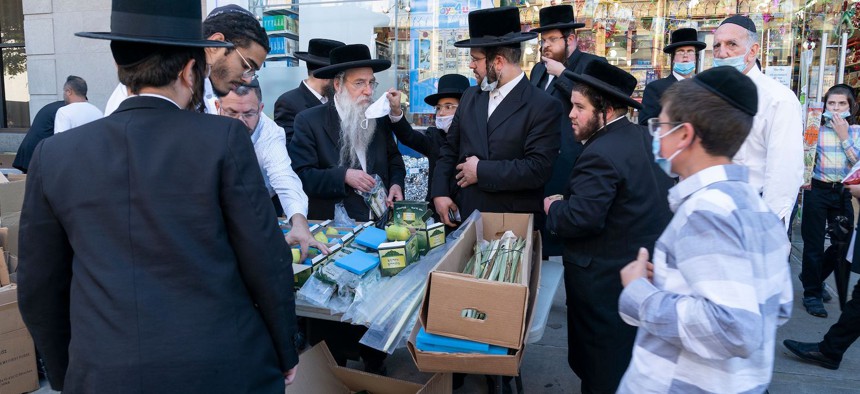 Sparse mask-wearing and minimal social distancing at large gatherings have played a role in New York's recent spike in coronavirus cases, particularly in ultra-Orthodox Jewish communities.
Public health experts have said relaying information through trusted community leaders and avoiding judgment are important to convincing reluctant people to adopt coronavirus safety measures. But it will likely be incredibly difficult to repair those lines of communication in the near future, given the protests on Tuesday night. Hasidic Jewish protesters in Brooklyn rallied to oppose new state restrictions on schools, businesses and religious gatherings. Some people started a bonfire and burned face masks, and the protest turned violent when a Hasidic man was beaten unconscious. After Gov. Andrew Cuomo spoke with Orthodox Jewish community leaders in advance of the state's announcement of new restrictions on Tuesday, several participants on the call reacted negatively to the discussion. Agudath Israel of America, an Orthodox Jewish umbrella organization, described the call in a statement as "largely a one-way monologue" with no mentions of the new plans. Elected officials including state Sen. Simcha Felder, Assembly Member Simcha Eichenstein and others criticized Cuomo for using what they called "irresponsible and pejorative" rhetoric when talking about Orthodox Jewish people.
Now seven months into the pandemic, it shouldn't be a mystery that wearing masks and avoiding crowds – especially indoors – are effective ways to mitigate the spread of the coronavirus. But even in New York City, which saw one of the country's worst COVID-19 outbreaks in March and April, some residents are still eschewing recommended precautions because of misinformation. Anonymous robocalls went out to Brooklyn residents of Borough Park and Williamsburg urging them not to get tested to downplay the extent of the outbreak last week, Gothamist reported. Misinformation has been a problem beyond the Hasidic Jewish community and the city. Pamphlets sent to households in Nassau County last month baselessly warned that COVID-19 vaccines would be tested on "minorities" and that parents sending their children to school should "be mindful of any and all documents or waivers they're asked to sign."
"What we've seen is that the more education, the more outreach … the more messages from community leaders, the more impact it makes," New York City Mayor Bill de Blasio said Tuesday. "But we are fighting against a situation – as I said, there are some parts of the community where there are negative messages being put out, telling people not to wear masks and that coronavirus is a hoax and all that."
Misinformation has been a problem throughout the pandemic and across the country – often even driven by the president himself. A recent Cornell University study found that President Donald Trump was the largest source of coronavirus misinformation during the first few months of the pandemic. He has continued to be lax about wearing masks and has held many large rallies throughout the pandemic, and recently contracted the virus. Research is still emerging on what specific populations have been more susceptible to mistrust of coronavirus health guidance, though surveys have shown that Republicans have been more likely to avoid wearing masks and have generally been less worried about the pandemic. As a Bklyner editorial pointed out, many of the initial outbreaks in New York City weren't just clustered around Hasidic Jewish communities but more broadly around areas that voted for Trump in 2016.
Even so, the problems plaguing public health officials now are not necessarily unique to the pandemic. Anti-vaccine sentiment, for example, has been another area where distrust in government and health providers has led to negative health outcomes. Misinformation about vaccines in part fueled last year's measles outbreak, which similarly largely affected ultra-Orthodox neighborhoods.
Experts say the best way to reach any community with distrust in government is to rely on trusted messengers and finding which groups within a community are being resistant. 
"I find it difficult to believe that 100% of the Hasidic community is against any public health measures," said Kasisomayajula "Vish" Viswanath, a professor of health communication at the Harvard T. H. Chan School of Public Health. Some people will always be against taking certain coronavirus precautions, but he said it's important to try to identify people who are on the fence or may have other doubts. And it's also important to avoid messaging that makes people feel shamed or penalized, which will make it less likely for people to voluntarily pursue safer behavior.
"You can force them to comply once, twice, three times," Viswanath said. "After that what happens? It's not like I can wear a mask four times out of 10 and be OK with it. I have to wear it 100% of the time."
Janet Yang, a professor at the University at Buffalo who has studied communication related to health, said her research on attitudes related to the pandemic in April found that people across the country who adhered to a more individualistic mindset and were more distrustful of government were less likely to say they would adhere to safety precautions. But what did resonate with people – regardless of their beliefs – more than messages of fear and anger were ones of solidarity and sympathy.
"This sense of sympathy and solidarity is really the emotion that gets you to want to do something for others and support those response measures, which probably limit their individual freedom or a lot of things you want to do," she said.
This is where public health is often at a disadvantage however, said Joe Smyser, CEO of the Public Good Projects, an organization that specializes in changing health behavior and has been tracking COVID-19 misinformation. Health officials are often encouraged to focus on sharing objective facts whereas messages appealing to emotion – as misinformation often does – tend to spread faster and more widely. "We can no longer argue that the traditional way of informing the public is effective," he said.