Housing
NYC could ban criminal background checks on potential tenants
The real estate lobby is opposed.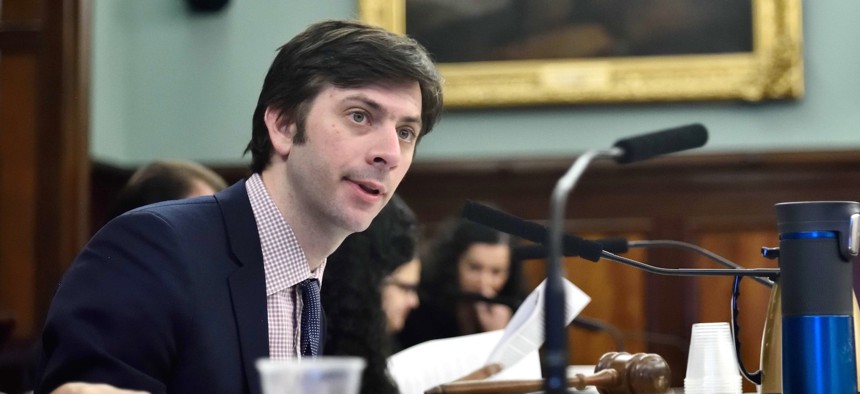 New York City Councilman Stephen Levin, with 18 cosponsors, has introduced a bill to ban landlords from running criminal background checks on potential tenants because it prevents formerly incarcerated individuals from securing stable housing. The proposed legislation applies to most rentals, leases, sublets, or any occupancy agreements. The main exception to the proposed regulation is if someone is renting out a space in the residence where their family also lives.
The bill, which would not supersede existing legislation on sex offender registration or regulations governing renting to those convicted of drug production, is being opposed by landlord groups including the Real Estate Board of New York and the Rent Stabilization Association, the latter of which has said the proposal puts other tenants' safety at risk and is too vague in its current iteration. 
Levin told City & State he introduced the bill now because of a renewed focus on the city homeless shelters in light of the risk of transmission of COVID-19 in them. There are more than 17,000 single adults currently in shelters according to the Department of Homeless Services, an increase of more than 7,000 people since five years ago at the same time of year. Levin noted the surge in the number of single adults in homeless shelters goes back more than a decade, but the crux of the problem is that many of these adults have been discharged from prison "without ever having stable housing … they're discharging them to a shelter."
Levin said formerly incarcerated individuals who have paid their debt to society and are meeting parole requirements deserve a fair chance at restarting their lives, adding that "our system of laws does not allow the state to punish people in perpetuity."
"I've heard this from constituents for years who have cried to me on the phone numerous times and they didn't have to deal with this issue (of a criminal record)," Levin, who represents northwestern Brooklyn, said. "The ability to have a stable life starts with having stable housing."

For Hilton Webb, who spent 27 years in prison after being convicted for muder and assault, it has been impossible. "I'm a fat, 65-year-old man, I'm not a threat to anybody," Webb told City & State. He said the last time he tried to get an apartment he was turned away by one landlord even before filling out an application after noting his last two former residences: the 30th Street Men's Shelter and the Ulster Correctional Facility in Napanoch.
Webb, who said he built up a credit score of 700 in the years since his release, has been getting his master's degree in social work at Lehman College. He has met all parole requirements and was even released from his obligations to check in with his parole officer and comply with drug testing early.
He considers himself lucky to have landed temporary housing with the Fortune Society, a nonprofit which helps the formerly incarcerated with housing, job searching, and adjusting to life after prison. Webb hopes that his credit score, whatever income he may be earning once he becomes a social worker, and using the Fortune Society residence in Harlem as his most recent address will be enough to get an apartment, but without protection from discrimination he is not sure. 
Webb explained part of his graduate research work is on the tie between a lack of secure housing and recidivism rates, especially for those who have spent time in prison for minor offenses. Without a stable residence, formerly incarcerated people may have trouble securing employment. Not having a job leads to less financial security and independence, which has been known to lead people back into a life of petty crimes or illegal employment in order to survive.
Part of the opposition to the proposed bill is that there isn't a lot of research on the effect of laws such as this. Fair chance ordinances in cities like San Francisco and Detroit were passed relatively recently. 
Groups like REBNY and the Rent Stabilization Association are arguing that the real success of these new regulations was public outreach, education, and training of property owners first and foremost – issues not necessarily covered in the proposed language. Basha Gerhards, vice president of policy and planning at REBNY, told City & State that while "it is important to discuss the intersection between the justice system and access to housing," this legislation needs to better "balance equal obligations to prospective and existing tenants." 
Landlords would need to be clearly informed of what their obligations are in terms of federal, state and city laws and if any of those conflict with the new law. Accepting Section 8 housing vouchers also requires some level of screening for drug use and certain types of criminal convictions like the production of methamphetamines, sexual assault or pedophilia, and also credit and eviction checks. 
The other concern brought up during the public comment period is what kinds of liability are property owners going to face, should the legislation pass. Supporters of the bill respond by noting that no landlord has ever been held liable for the failure to perform a background check.
Despite the opposition, Levin remains hopeful that the bill will pass and be signed into law by Mayor Bill de Blasio. "I've never had the (mayoral) administration be so enthusiastic and supportive of a piece of legislation," he said. However, neither City Hall nor City Council Speaker Corey Johnson's office responded to requests for comment. As far as a timeline for when the bill could pass, Johnson's spokesperson only said, "the bill is going through the legislative process." 
Correction: This article has been revised to clarify liability law precedent.
Powered By
NEXT STORY: Can NYC prevent ICE agents from impersonating the NYPD?