Housing
SoHo rezoning not a safe bet with Manhattan BP candidates
While most expressed at least theoretical support, missing details prevent them from fully committing.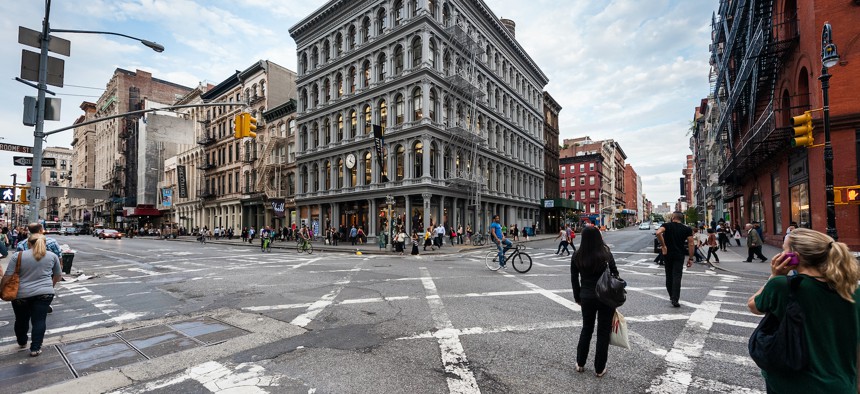 When it comes to controversial issues politicians are looking to avoid, upzonings are probably high on the list. One needs to look no further than the proposed neighborhood rezonings in Inwood, Bushwick and Southern Boulevard in the Bronx during New York City Mayor Bill de Blasio's tenure, and the intense backlash they elicited.
But recently mayoral contenders including New York City Comptroller Scott Stringer and Brooklyn Borough President Eric Adams have come out in favor of changing the zoning in SoHo to allow more housing development. White, wealthy neighborhoods should help address the city's shortage of affordable housing, they say. Some progressive tenants groups are getting behind the push as well, and de Blasio himself, after initial reticence, announced his intention to propose a rezoning that his administration said could create 800 units of affordable housing.
This puts Manhattan Borough candidates in the hot seat as they vigh to replace Gale Brewer, the term-limited incumbent. All candidates expressed at least theoretical support for an upzoning, something of a break with the past when backing increased density was often toxic to a campaign. But with details from the mayor scarce, several expressed skepticism that the de Blasio administration would present a proposal they would support. As pushback has already emerged from influential community groups, a rezoning of SoHo and NoHo, the architecturally similar sliver of Greenwich Village just north of Houston St. between Lafayette St. and Sixth Ave. faces a rocky path forward. Despite the apparent openness to a residential upzoning, the power of those who shout "not in my backyard" may not yet have dissipated.
While the borough president has only an advisory role in land use decisions, they can still wield tremendous power in shaping projects. Brewer notably helped get the Midtown East commercial rezoning approved in 2017 after initial community pushback, which created and modernized office space, adding more density and building height but also improving local subway stations and public spaces. 
Brewer, 69, is a liberal from the Upper West Side. While she supported the Midtown East upzoning to much acclaim, she has typically kept with the politics of Manhattan liberals of her generation opposed to projects that would add much taller buildings in residential neighborhoods. She sued the city in 2018 in an attempt to scrap three 70- to 100-foot tall buildings approved to be built on the Lower East Side after an outcry from members of the community. 
That approach hasn't totally fallen out of fashion. There are five declared borough president candidates: City Council Member Mark Levine from the Morningside Heights, Elizabeth Caputo, the former chair of Community Board 7 on the Upper West Side, private exercise trainer and Community Education Council District 3 President Kimberly Watkins, City Council Member Ben Kallos from the Upper East Side and state Sen. Brad Hoylman, who represents Greenwich Village, Chelsea and Midtown. None had a bad word to say about Brewer during a recent candidate forum or when contacted by City & State, and each said they aim to continue and build on her legacy on land use, which they said was community driven and grassroots.
All five candidates agree that the city must have more affordable housing, the main driver behind the push to rezone SoHo, one of the richest neighborhoods in New York City, which has seen no new affordable housing under de Blasio and has complicated, outdated zoning regarding building uses that date back to the area's mid-20th Century status as a manufacturing hub. Levine said that upzoning SoHo could make sense, giving perhaps the clearest support of any candidate for a potential upzoning. He said the city could add density around the edges of the neighborhood that are not part of the protected historic district and replace parking lots and abandoned buildings. This echoes the proposal from the pro-development group Open New York made last year. "We have to break with our years-long practice of upzoning almost entirely in low-income neighborhoods," Levine told City & State. Traditionally, wealthy neighborhoods have avoided land use decisions that would bring changes that they fear could damage their quality of life, from upzoning to homeless shelters, by using their political power to pressure city government. 
Levine's thoughts about spreading the burdens of rezonings away from just low-income neighborhoods is shared by some progressives, like Aaron Carr, founder of the tenants' watchdog group Housing Rights Initiative, who say it would enhance economic integration and opportunity for low-income New Yorkers. And it's one shared by fellow candidates Caputo and Watkins. "Every neighborhood needs to do its part, and I believe in that when it comes to the rezoning issue," Caputo told City & State. 
However, every candidate had caveats about the fact that details of the mayor's rezoning proposal have not emerged. They included how much affordable housing it would actually create, who it would be affordable for, the kinds of community benefits it would include, the windfalls for developers and the impact on the neighborhood's character. Caputo, for example, wanted to ensure that transportation and mobility options are improved with a rezoning to as a community benefit. 
All said they don't want to see new, supertall "luxury" towers and apartments being built – even though that's what the market will inherently provide in such an expensive and high-demand area as downtown Manhattan. Several praised a report released last year meant to help inform the creation of a neighborhood plan that came about after a six-month public engagement process, sponsored by Brewer, Council Member Margaret Chin, who represents the area up for rezoning, and the New York City Department of City Planning. Kallos said it included some good ideas about rezoning SoHo including protections for existing buildings and housing for artists, but was concerned that the city's plan would be too generous to developers. "The argument of we just need to build, build, build? We cannot build our way out of the affordable housing crisis," Kallos said, referring to the market-rate, often luxury, units developers generally seek to create. Chin, who could block the rezoning thanks to the Council's tradition of deferring to the member from the affected area, has tweeted that she is "excited to work with residents, stakeholders, and the Administration to take our dialogue on the future of SoHo and NoHo to the next level."
Kallos is also a supporter of capping building heights and has backed a 210-foot limit for as-of-right development in high-density areas of Manhattan and the city more broadly, which translates to roughly 25 stories, using additional height as incentive for including affordable housing. Tall new buildings are often a source of opposition to rezonings from neighbors who fear loss of light and views. 
Levine suggested that SoHo and other city neighborhoods could increase density without constructing new buildings wildly out of context with those around it. What exactly the height limit would be for different candidates remains to be seen. State Sen. Brad Hoylman expressed his concerns the most explicitly. "Relying on trickle-down housing policy is not going to solve our problems, and I'm afraid that is what the de Blasio administration is again proposing for SoHo," Hoylman said, referring to the fact that affordable apartments generally are created under de Blasio's Mandatory Inclusionary Housing program when a private developer builds them in exchange for the ability to develop more market-rate units. Hoylman said he wants to see 100% affordable buildings if an upzoning happens, saying that the current program, which requires smaller percentages of new units to be affordable, does not go far enough to address the city's housing crisis. Hoylman did not have an answer as to how he would get private developers to build 100% affordable buildings, aside from simply requiring it in order to qualify for certain tax incentives, if it isn't profitable. He said the city should be building more developments like Mitchell-Lama, which subsidizes rentals and co-ops for middle-income families through tax abatements, and said the city should also utilize the 420-c tax exemption for nonprofit developers to build low-income housing. Watkins also agreed that the current requirements for affordable housing in new developments is insufficient despite being "very much in favor" of the idea of rezoning SoHo. But neither the city nor the state currently has extra money to subsidize affordable housing. Moving ahead with current zoning rules and requirements would allow for more low-income housing without adding to the costs of a financially strapped city.
All candidates said that any rezoning must have deep involvement with members of the community, calling for more on-the-ground outreach and local input. Hoylman proposed what he called the "Manhattan Marshall Plan" to create a boroughwide plan for land use based on community proposals. Levine also said he would seek to create a similar comprehensive plan for all of Manhattan, based on neighborhood input. Kallos said that he would put in the work to help draft the land use applications while working with community members.
Some community members are already expressing opposition to rezoning. The proposal to bring more affordable housing to SoHo was met with incredulity at a community board meeting last year. Some speakers expressed fear that residents would be displaced and the character of the neighborhood would disappear. Andrew Berman, executive director of the Greenwich Village Society for Historic Preservation has already expressed staunch opposition to an upzoning. Kallos cited a conversation he had with Berman when expressing his doubts about a potential upzoning.
Berman told City & State that current zoning already permits buildings that he already considers out of character for the neighborhood. He added that SoHo's current industrial zoning and density, established in the 1970s to protect artists living in their loft workspaces while preserving manufacturing, is working fine and does not need updating. Berman argued that the city could be creating more low-income by requiring affordable housing for all buildings converted to housing. But whether Mandatory Inclusionary Housing  kicks in for conversions depends very much on the specifics of an individual project and is complicated, especially with SoHo's complex zoning rules. 
Berman also said the city should implement a new program that would require all new developments to come with affordable housing. "The city could do this in a way that would be completely non-disruptive to the neighborhood, keep new development in character, or at least no more out-of-character than the existing rules allow for," Berman said.
Berman did not say how much affordable housing this could create, or if it could create more than could come about from an upzoning, but he said that building new high-rise luxury apartments in order to get some affordable housing is a nonstarter.
Moses Gates, vice president for housing and neighborhood planning at the Regional Plan Association, which supports a SoHo rezoning, said that SoHo is a prime example of a neighborhood that would benefit from new zoning. Gates said that the current complicated zoning established decades ago makes it difficult to get more retail and housing and has led to a hodgepodge of individual land use applications. He also said that new construction is the best and easiest route to go in order to create more affordable housing. "If there are other ideas for providing truly affordable housing that are feasible, I think those should be added to the conversation," Gates said. "I don't think those should replace the upzoning conversation."
Gates ultimately feels confident that city officials, like the potential borough president, will ultimately work towards a successful rezoning. He said that discussions about how best to go about it, how much affordable housing to require and appropriate heights of buildings are welcome as part of a process that has been gaining support. "I think everybody realizes that the conversation has to happen," Moses said.
Another housing policy expert who spoke on the condition of anonymity due to the sensitive political nature of the issue, was far more skeptical about how much support a SoHo rezoning will actually get from the borough president candidates once the process gets underway. "I don't think people are showing their cards. There's a lot of elections going on," the expert said. "And we don't know what's actually going to happen until it gets down to kind of brass tacks of the details."
Once those details come out, perceived imperfections could be used to justify opposing the plan. Borough president candidates are already previewing the arguments they could make against the rezoning. "Negotiating around the terms of a neighborhood rezoning or a specific development is a way to signal support for housing in theory without backing a particular proposal," the expert said. "That can get awkward, because advocating for low income renters is politically helpful, but so is opposing new construction."
Editor's Note: This article has been updated to clarify state Sen. Brad Hoylman's and City Council Member Ben Kallos' positions on housing development.
Correction: An earlier version of this story incorrectly stated the name of pro-development group Open New York.
Powered By
NEXT STORY: NYC could ban criminal background checks on potential tenants