affordable housing
Lawmakers call on NYCHA to fix its ventilation issues
It could help prevent spikes in coronavirus cases as people spend more time indoors this winter.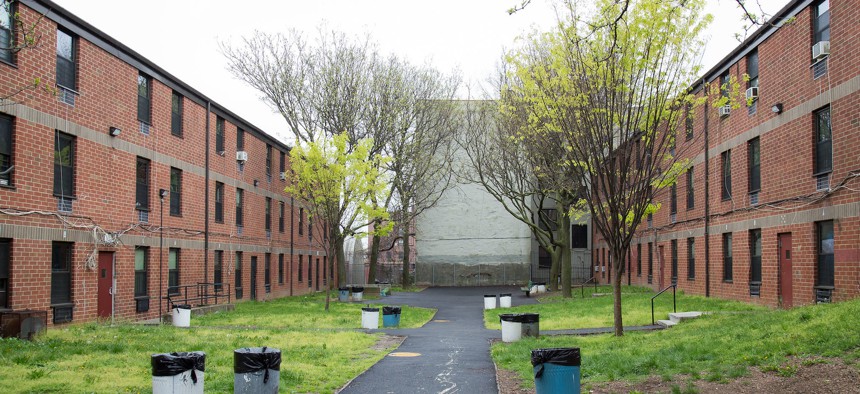 On Monday, U.S. Sen. Kirsten Gillibrand and Rep. Nydia Velázquez called on the New York City Housing Authority to conduct air quality tests in its apartments, as concerns over a second wave of the coronavirus loom.
Both lawmakers wrote a letter to NYCHA Chair and CEO Gregory Russ asking him to address the decrepit ventilation systems present in numerous NYCHA buildings, in addition to other pressing issues, such as mold, lead and other conditions that could increase the risk of coronavirus transmission. Gillibrand and Velázquez explained that as the weather gets colder, residents will spend more time indoors, making these issues far more profound. They also asked the authority to consult with scientific and medical experts on an air quality study in NYCHA units, as part of an effort to "overcome NYCHA's ongoing credibility problem."
One week prior, New York City Comptroller Scott Stringer held a press conference to call attention to the persistent issues facing NYCHA residents, from a lack of proper ventilation to broken elevators.
The comptroller, who is also running for mayor, alleged that NYCHA has not made any significant changes despite the city anticipating a second wave of the coronavirus this winter. "Winter is coming, folks. But we have no plan, we have no information, no accountability from NYCHA on how they intend to protect tenants from a second wave of COVID-19 in the colder months," Stringer said, outside of the Martin Luther King Jr. Towers in Harlem.
Stringer alleged that NYCHA has been given ample funding to remediate a whole host of problems within its housing developments but has yet to address key issues. The housing authority was provided with $3.1 billion in federal aid from the Federal Emergency Management Agency to repair housing that was damaged by Superstorm Sandy, but as of October had only spent 59% of that amount. NYCHA was also given $300 million in grants from the U.S. Department of Housing and Urban Development at the start of the year but had only spent 78% of those funds at the end of June.
NYCHA, however, has rebuked the assertions made by Stringer. "NYCHA disagrees with the comptroller's assessment, as it entirely dismisses the improved processes, increased resources, and demonstrable improvements the Authority has made over the past two years," Barbara Brancaccio, a spokesperson for NYCHA, wrote in an email to The City.
During the peak in coronavirus cases in the spring, 47 NYCHA housing developments experienced spikes in cases, and all but two of those developments had old ventilation systems. "At some of the NYCHA senior-only developments, infection rates reached seven residents per 100 residents – more than double the infection rates we're seeing right now in the micro-cluster zones," Stringer said. "They were micro-cluster zones before there were micro-cluster zones."
Dustin Duncan, an associate professor of epidemiology at Columbia University's Mailman School of Public Health, told City & State that the city should be mindful about how it can help prevent the spread of the coronavirus as winter approaches, "particularly for groups who may have less resources, like those who live in public housing and by definition have less resources."
Duncan also said that NYCHA developments don't exist in isolation and that if the city is concerned about mitigating future outbreaks, it needs to ensure that it takes care of those most at risk of contracting the virus.
Affordable housing Case Studies
Powered By
NEXT STORY: Tech rides to transit's rescue