Health Care
Are New York's nursing homes prepared for the second COVID-19 wave?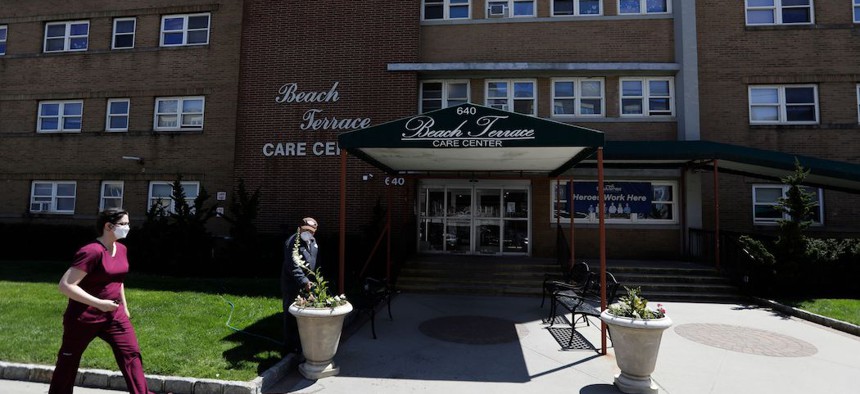 Nursing homes in New York and beyond have been devastated by the COVID-19 pandemic. Though long-term care facilities account for only 8% of coronavirus cases, they also have seen 40% of all COVID-19 deaths nationally. As the initial epicenter of the COVID-19 outbreak, New York has seen widespread outbreaks in nursing homes, particularly in the spring. Out of 27,307 total COVID-19 deaths statewide, as of Dec. 7, according to state data, 6,967 confirmed or presumed COVID-19 deaths in occured in New York nursing homes. That figure doesn't include nursing home residents who died in hospitals or elsewhere outside of long-term care facilities.
With cases and hospitalizations rising throughout New York, is it likely nursing homes will fare better during this next wave? Though there have been major improvements since the spring, there are still vulnerabilities that could leave nursing-home residents and staff at risk again. 
Problems that arose early on in the health crisis, such as having inadequate access to regular testing and personal protective equipment, will likely be less prevalent. Nursing homes have been testing all personnel for the coronavirus on a weekly basis, and twice a week in hot spots designated as yellow, orange or red zones by the state. Facilities have also been required to have a 60-day supply of personal protective equipment by Oct. 31. "Most, if not all, facilities have that supply on hand, so they're ready there," said Stephen Hanse, president and CEO of the New York State Health Facilities Association and the New York State Center for Assisted Living, which represents long-term care providers. And a controversial state directive, which functionally had nursing homes accept coronavirus patients from hospitals, was reversed in May, removing one driver of COVID-19 spread in the facilities. 
But there is broad agreement that staffing for nursing homes remains an immense challenge. Understaffing in such facilities has been an issue long before the pandemic, but outbreaks of COVID-19, stressful working conditions and low pay during the pandemic have exacerbated the problem. Fewer staff makes it more difficult to effectively help residents take health precautions, identify possible illness and overall can lead to worse care.
Jasmine Travers, a professor at New York University's Rory Meyers College of Nursing, said offered increased pay to staff could help. She pointed to a study which found that nursing home staff who split their time between several facilities could have contributed to some of the outbreaks. "Why are nursing assistants working multiple jobs? Because probably they don't make a living wage."
Hanse agreed that offering the extra pay was a good idea, but many facilities would struggle to afford it. "You're paying premiums, which – given the high Medicaid population of providers in New York – it's very, very difficult." 
Richard Mollot, executive director of the Long Term Care Community Coalition, which advocates on behalf of residents in long-term care, had several concerns about how COVID-19 cases will be handled. "I think that, for the most part, facilities are not prepared," he said, adding that low staffing and poor adherence to infection control strategies, such as regular hand washing, remained lacking at many sites. 
There are limitations to controlling outbreaks in nursing homes once cases and hospitalizations continue to increase. In parts of the state where coronavirus cases have recently exploded the most, nursing homes are increasingly grappling with outbreaks. In Western New York, where cases have grown significantly in recent weeks, nursing homes have increasingly seen test positivity rates exceeding 5%. Five reported rates above 14% in late November, and one even reached 70%. 
"The community needs to do its bit to keep the spread down in the community, to save peoples' lives in the nursing home, as well as other health care workers," saId Patricia Stone, director of the Center for Health Policy at Columbia University School of Nursing.
One source of potential relief is that New York's first round of COVID-19 vaccine doses will prioritize nursing home residents and staff. The state is on track to receive 170,000 doses by Dec. 15, which could potentially cover a significant portion of the 85,000 nursing home residents and 130,000 staff members throughout New York. 
But the distribution also hinges on people consenting to take it. "You're already seeing people are saying that they're not going to take it," Travers said. "Residents, they could say that they're not going to take it." She said tackling mistrust and promoting education around the vaccine will need to be handled together with distribution. 
Mollot said he was cautiously optimistic about the vaccine rolling out for nursing home residents because he had lingering concerns about how it would affect a particularly vulnerable population that is often reliant on multiple medications. "Assuming that they're safe, I'm glad to see the (Centers for Disease Control and Prevention) has recommended that caregivers and nursing home residents are among the top tier priority." He said a successful rollout even among the general public could make a huge difference for allowing more nursing home visits to resume.
"People are literally dying of loneliness," he said.