New York State
NYC to get over 500,000 COVID-19 vaccinations
However, many are feeling tentative about receiving the inoculation.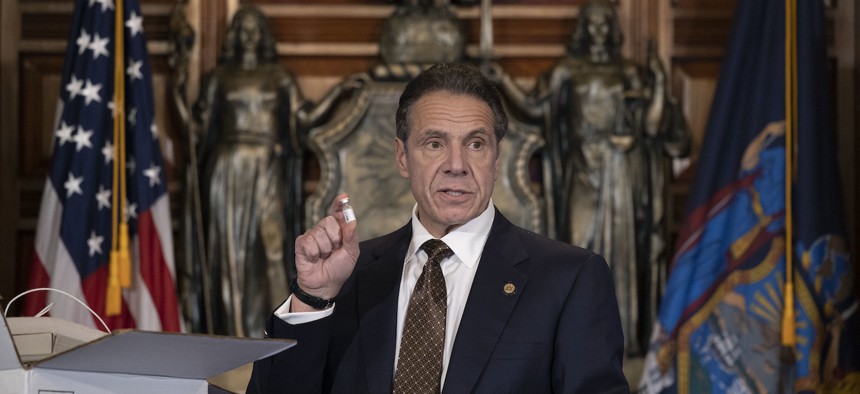 On Thursday, New York City Mayor Bill de Blasio announced that the city will be receiving close to half a million COVID-19 vaccines from Pfizer and Moderna later this month."Thank God the cavalry is coming," the mayor said during a press conference. "The moment we have all been waiting for is finally here. Vaccines are being approved, vaccines are being shipped. We expect the first shipments as early as Dec. 15."
This announcement comes just a day after Gov. Andrew Cuomo stated that New York would be receiving a first round of 170,000 vaccinations on Dec. 15, with a second round being delivered 21 days later. The governor also pulled out a mock-box of vaccines at his briefing, to give residents a sense of what the vaccines may look like when they arrive, much to everyone's confusion.
The vaccines will be given to health care and essential workers, and nursing home residents first and will be administered by the city's health department as well as medical care providers and volunteers from the Medical Reserve Corps. The city then plans to prioritize immunizing those living in some of the hardest hit communities, especially those living in public housing. The city's plan reflects the state's five-phase plan to get its many residents immunized. However, the governor is not currently aware of when the vaccine can be widely distributed throughout the state. 
Now the city and state must figure out how to get people onboard with getting vaccinated, despite uncertainty about the new drug. "We have a challenging history on vaccination in New York City," Council Member Mark Levine, a chair on the council's health committee, told Politico. "Even the flu vaccine, which is now routine and so well-established — we are getting barely over 50 percent."
While the vaccines created by both Pfizer and Moderna have yet to be cleared by the U.S. Food and Drug Administration, it has been reported that both are effective at guarding individuals from contracting the virus. Still, many city residents, including health care workers, are concerned that they're being used as "guinea pigs" to test the new vaccine. Sixty-six percent of physicians believe that hesitancy will be the biggest impediment to getting individuals vaccinated, according to a new survey conducted by the Medical Society of the State of New York. And 20% of the 920 physicians surveyed said that they would not get the vaccine once it becomes available to them.
Black and Latino communities in particular are feeling fearful of the vaccine, as they have a lack of trust in the city government. "There is tremendous distrust," de Blasio said on Thursday. "It's different in New York City in some very important ways, because people of color have also seen a series of changes to address disparity."
Dr. Maya Clark-Cutaia, a registered nurse who is currently working in Philadelphia and as an assistant professor at New York University's Rory Meyers College of Nursing told City & State that she's currently unsure of how to convince her patients to get the COVID-19 vaccine once it becomes available."Most of the patients that I work with have multiple chronic conditions," Clark-Cutaia said. "These are the patients who are getting and dying from COVID. These are also the patients who don't get vaccinated. How do I convince this patient population that vaccination is a good idea? And to trust that a vaccination that came out in five minutes, in comparison to every other vaccination, we've ever had, (how do I convince them) it's safe for them when they already don't trust us?"
Clark-Cutaia suggested that local governments need to do a better job of listening to communities that may be resistant to the vaccine, in order to address any fears they may become a barrier to widespread vaccinations. "If we could get an idea of what the factors or barriers are to vaccination, we might be able to come up with a campaign that addresses those," she said. "If it's truly something as simple as patients don't know what they're supposed to do, or where to go, or how to protect themselves, then that's what we put in the campaign ... Because I can tell you, my community has no idea what's going on with this vaccine."
Powered By
NEXT STORY: Front-line flashpoints appear in New York's battle against COVID-19