Housing
Renters, landlords both say the new eviction moratorium isn't enough
The new law is a temporary patch until lawmakers find a real solution.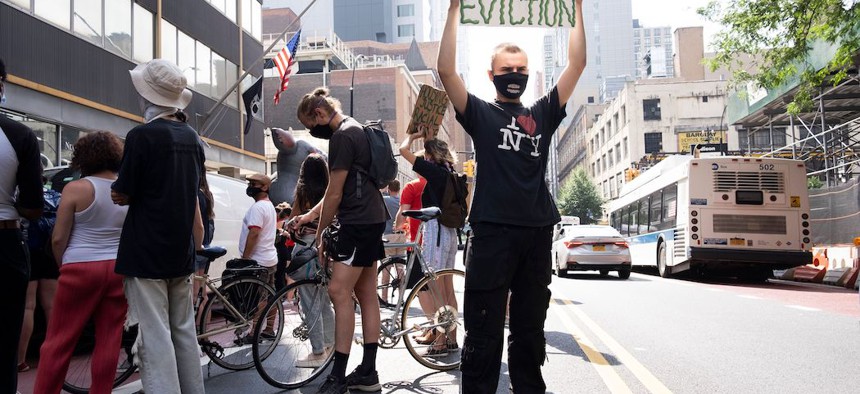 Housing activists and landlords don't agree on much – but they both say renters need more relief, even after the passage of a new moratorium on evictions.
The landmark legislation signed by Gov. Andrew Cuomo is considered one of the strongest tenant protections in the country, but it still leaves renters on the hook for hundreds or thousands in back rent, and small landlords short on income and money for keeping up their properties. So with a new session right around the corner and emergency provisions to keep renters in their homes for several more months at least, the next question for lawmakers is what rental relief might look like.
The new moratorium establishes a blanket halt on all new evictions for the next 60 days, and allows tenants to make a legally binding declaration of financial hardship or public health fears that will protect them from eviction until May 1. That applies to essentially anyone, even those with holdover eviction cases from before the start of the pandemic. The new law goes beyond the Tenant Safe Harbor Act, which provided protection for many tenants but still required them to make their case in court. "There's been 40,000 automatic defaults in New York since (housing courts began processing cases again on) Oct. 1," said Cea Weaver, campaign coordinator for the Housing Justice for All coalition. "And those are people who probably were qualified for aid under the Safe Harbor Act, but just didn't get it because they couldn't make it to court, which is crazy." The new law also simplifies a haphazard collection of laws, executive orders and court guidance providing eviction protections that at times was confusing to follow.
Tenant advocates like Weaver and lawmakers celebrated the new law, but acknowledged that this is the beginning, not the end, of the fight. "Because of the lack of financial relief provided, it's not nearly enough, and it's really just a temporary measure," state Sen. Julia Salazar said. Citizen Action of New York Political Director Stanley Fritz called the new law "an important first step by state leaders following months of organizing" in a statement. And they're not alone in demanding the state do more. One group representing small and rent-stabilized landlords expressed dismay that the eviction moratorium did not include aid to cover missing rent. "Renters need help, not a stall tactic," Community Housing Improvement Program Executive Director Jay Martin said in a statement. "No renter facing financial hardship should be evicted during a pandemic, but the cost of providing free housing cannot be fully borne by property owners."
Under the new stimulus package recently signed by President Donald Trump, the state is slated to receive $1.3 billion in Emergency Rental Assistance funding, which lawmakers, advocates and landlord groups are hoping to see provided to struggling tenants and property owners. Cuomo said on Monday that he's still awaiting guidance from the federal government on the exact dollar amount the state will actually receive and the regulations governing how to use those funds, so how the state will allocate them is still a wide-open question.
New York already has the Emergency Rent Relief Act program, passed in May, though the program's restrictions on eligibility requiring extensive documentation of income were so strict that only $40 million out of $100 million budgeted for it has been given out. Cuomo recently reopened and expanded the program slightly, but Weaver said the changes are so minimal that they won't make a difference. "That was a horrendous program," Weaver said. "That's why we wanted people to vote no on it."
The original sponsor of the legislation creating that rent relief program, state Sen. Brian Kavanagh, admitted it fell far short of what was needed. "The ERRA was very restrictive in various ways, partly just to reflect the fact that so little money was available," Kavangh said. "We're gonna have to design a much larger and more generous program in order to cover the rent of so many of the million households." He called the $1.3 billion the state is set to receive from Washington "a promising start."
Kavanagh said that the amount of back rent owed throughout the state is between $2.5 billion and $3.4 billion, based on an estimate from the National Council of State Housing Agencies. "That's a large figure but it's not inconceivable that we could fully fund that need, especially with some substantial federal help," Kavanagh said. He has a bill pending in the Legislature that predates the Emergency Rent Relief Act that would set up a more comprehensive rent voucher program that struggling renters could apply for. Community Housing Improvement Program spokesman Michael Johnson said that a voucher program that gives money directly to tenants is the best solution for the ongoing rental crisis. "The problem is that there are people who can't pay rent, and they need help, and vouchers are the easiest way to provide them relief," Johnson said. "We're optimistic that the $1.3 billion will quickly flow into the hands of tenants who need it."
But Kavangh's is not the only bill aimed at rental relief. One from Salazar, which is backed by the Housing Justice for All coalition, would cancel all rent for the course of the pandemic, which remains a controversial notion. Salazar's bill would also set up a landlord relief fund that building owners could apply to, putting the onus on landlords, rather than tenants, to seek relief. "The vast majority of the time, tenants have less resources in order to apply for that relief than their property owners do," Salazar said. "Putting the burden on tenants to apply has been a problem with existing and previously existing voucher programs actually being effectively implemented." Weaver added that Salazar's proposed relief fund is more scalable and would target small mom-and-pop property owners rather than large corporate landlords. "The idea of the cancel rent legislation is that Blackstone won't get paid and, like, Norma, would," Weaver said. Details of what exactly the landlord relief program would look like has not yet been laid out in Salazar's bill. 
Debates about rent relief will likely be at the top of lawmakers' agendas in January. What exactly that might look like, and the likelihood of passing new taxes to raise revenue during a pandemic-fueled fiscal crisis, remains to be seen. But Salazar says she's confident that the political will to pass something is there. "There is universal understanding at this point that there must be rent relief," Salazar said, based on conversations she has had with many of her colleagues. "And then it's a question of, do we do this by canceling rent?"
With reporting by Zach Williams.
Powered By
NEXT STORY: How should New York be preparing for the UK coronavirus variant?