Health Care
AG James: Nursing home deaths undercounted
A new report says the Cuomo administration may have undercounted COVID-19 deaths of nursing home residents by as much as 50%.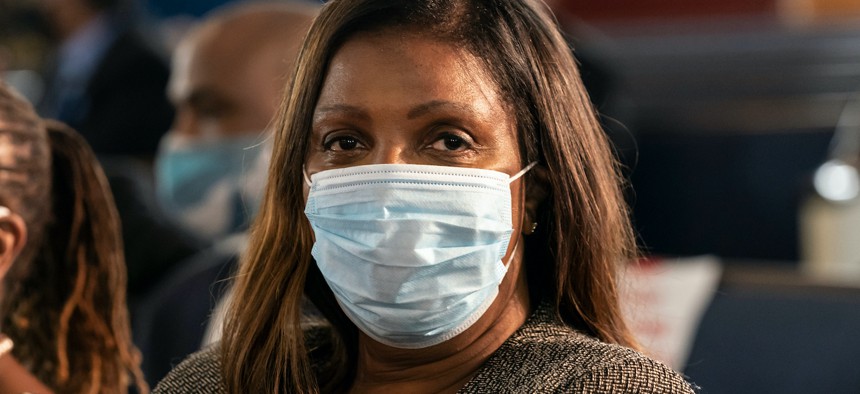 Gov. Andrew Cuomo has been slammed for a number of his choices during the coronavirus pandemic, but no criticism has stuck to him as much as allegations that his administration mishandled the spread of the virus at nursing homes and released only minimal data about the deaths of residents at those facilities. Now, a report released by state Attorney General Letitia James' office on Thursday affirms what many of those critics alleged: that the state has likely undercounted the COVID-19 deaths of nursing home residents.
James' report concludes that nursing home deaths may have been undercounted by as much as 50%. The state Department of Health has come under scrutiny for not including the deaths of residents who were sent to hospitals and died there in its count of nursing home deaths. So far, the official count from the state has only included deaths that occurred at nursing home facilities. 
But in James' report, which surveyed 62 nursing homes for deaths that occured on-site and in hospitals, those facilities reported far more deaths than the Department of Health has for those same nursing homes. At those 62 facilities – which is just a fraction of nursing homes statewide – the state reported 1,229 deaths, compared to 1,914 deaths reported to the attorney general's office. 
The report also found that a lack of compliance with health protocols at nursing homes put residents at risk and that facilities with lower staffing levels saw higher fatality rates. The attorney general's office is continuing investigations into 20 nursing homes whose conduct this spring "presented particular concern," James said in a press release. "As the pandemic and our investigations continue, it is imperative that we understand why the residents of nursing homes in New York unnecessarily suffered at such an alarming rate."
Representatives for Cuomo did not immediately respond to a request for comment.
Criticism of the Cuomo administration's handling and reporting of COVID-19 in nursing homes has been bipartisan, and that trend continued after the release of James' report. "The tragic situation in our nursing homes remains a heartbreaking reminder of the toll this pandemic took on this state," Senate Majority Leader Andrea Stewart-Cousins said in a statement. "Nothing will bring back our loved ones that we lost but it is crucial that information guides our responses so this will not happen again."
Meanwhile, Republican Assembly Member Rob Ortt called for the resignation of state Health Commissioner Howard Zucker. "By underreporting COVID deaths in nursing homes by as much as 50 percent, the Department of Health has betrayed the public trust," Ortt said in a statement.