Labor
Teamsters declare victory in Hunts Point strike
The produce workers who kept New York City fed during the pandemic finally see the fruits of their labor.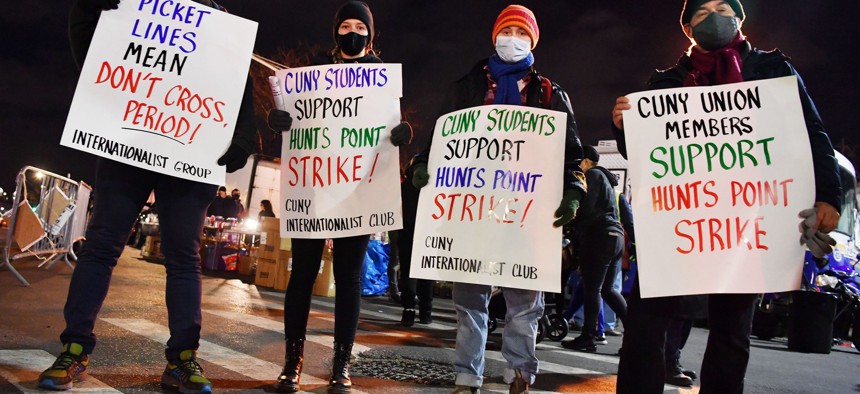 On the fourth night of their walkout, Hunts Point Produce Market workers stood around holding "Stop the War on Workers" signs, staying warm by bonfires and listening to Rep. Alexandria Ocasio-Cortez on a megaphone.
"Our entire city needs to stand by our essential workers," Ocasio-Cortez said. "It's not just enough to say 'thank you.' We have to support them in their demands for a better life."
She had spent several nights at the market, as did other politicians, handing out Cafe Bustelo coffee and hand warmers. That night, Anuel AA and Bad Bunny played on speakers, while fireworks went off in the background.
After seven days of striking, the Hunts Point employees reached an agreement with the owners of the largest wholesale produce market in the U.S. The Teamsters Local 202 workers got a raise of 70 cents per hour in the first year, and $1.85 per hour in total raises over the three-year contract. In the deal, the average base pay of most workers will rise to $20.42 an hour by the end of the contract.
Negotiations with management initially dissolved when members of Teamsters Local 202 were met with what they considered to be a substandard offer of pay increases and added health care contributions. Employees argued they had worked tirelessly throughout the coronavirus pandemic, risking their own health and safety to make sure New Yorkers had produce on the table – and that they deserved to be compensated accordingly.
Since the beginning of the pandemic, six workers from the market have died of COVID-19 and 300 to 400 have contracted the coronavirus. Some wake up as early as 2 a.m. to get to work, taking multiple buses because the subways are shutdown overnight. The market itself supplies over half of the city's produce, shipping leafy greens to city staples like CTown and Gristedes.
The striking workers, who earn between $30,000 and $40,000 a year, had threatened a walkout in mid-January before following through days later. The pre-strike calls for increased wages were supported by Assembly Member Amanda Septimo and City Council Member Rafael Salamanca Jr., who told WCBS 880AM that "a dollar is not a lot to ask for." Salamanca's father spent years working at the market.
On Jan. 18, former presidential candidate and current mayoral candidate Andrew Yang showed up with Rep. Ritchie Torres to support the strikers, tweeting that "essential workers deserve more." But the strike received national attention when Ocasio-Cortez arrived.
The New York City Democratic Socialists of America and their Uptown Bronx DSA chapter also helped distribute food and coffee to the workers.
Two days later, nearly a dozen New York City congressional Democrats wrote a letter demanding that the U.S. Department of Labor and the National Labor Relations Board look into the tense dispute.
During the pandemic, society's view of essential workers has changed, since they've been commuting to work and keeping the country moving by stocking shelves at grocery stores and delivering packages, while many white-collar workers stay at home.
Many essential workers have also had to fight for privileges that were already provided to other employees. Last year, the group representing state prison guards fought and won the right for their members to wear personal protective equipment at work. Grocery store and pharmacy workers won the right to participate in a city program that provided child care for other essential workers, like nurses.
The success of the Hunts Point workers could be the first sign of translating that widespread public support into material gains for essential employees. But many fear being forgotten again when this is all over.
As Nikki Kateman, Local 338's political and communications director, told City & State in April: "I just hope that this uplifting (of workers), that everyone remembers this when things 'go back to normal.'"
Powered By
NEXT STORY: State Legislature may restore voting rights to parolees