New York City
Is New York distributing COVID-19 vaccines equitably?
That state appears to be falling short on efforts to get people of color vaccinated against the coronavirus.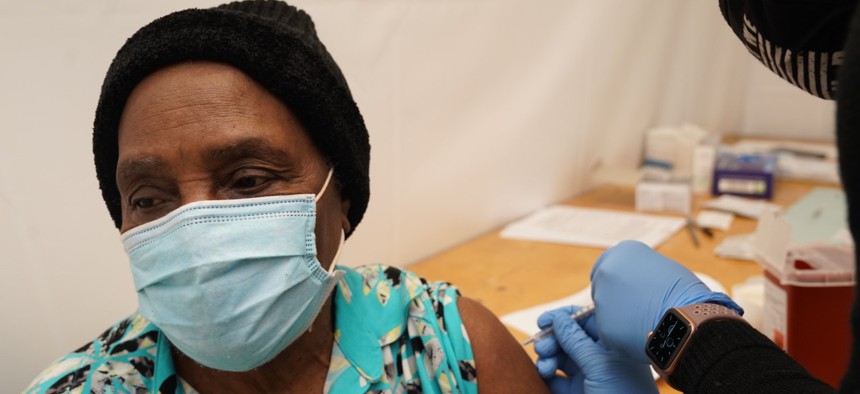 Gov. Andrew Cuomo has said that equity in the vaccine distribution process is key to addressing the racial and ethnic disparities exacerbated by the coronavirus pandemic, but New York state appears to be falling short of his two-month-old vow to have the most equitable distribution process in the nation. "If we do not take decisive action now, we will end up with herd immunity only in predominantly white communities," two nonprofit leaders wrote in the Daily News. "Residents of communities of color ... will continue to be hospitalized and die from COVID-19, for many months thereafter."
Both New York City and New York state have yet to release data on the demographics of the people who have gotten shots thus far – like 17 other states have done. There are growing signs that people of color are being left behind as worries grow that the vaccine distribution process will fail to tame the ongoing surge of COVID-19 cases anytime soon.
Polling continues to show how Black people in particular have concerns about the safety of new vaccines, which were approved for emergency use in record time. There have been reports of New York City suburbanites heading into the five boroughs to get their shots. City data also highlights how COVID-19 caseloads tend to be lower in wealthier, white areas of the city. And then there are the ways that language barriers and digital savvy create relatively high barriers for immigrant seniors.
Public health experts and elected officials have said that community groups and leaders are important to boosting access and overcoming vaccine hesitancy. Transforming state plans for an equitable distribution into action continues to be a work in progress months after such issues were first raised publicly. "I am working as hard as I can to get it here for you," Cuomo said Saturday. "We will make it available through churches, community groups, public housing." Making that happen at scale though is easier said than done.
The governor has named a task force to advise him on equity issues as the state continues to tweak its approach to vaccine distribution. On Saturday, gubernatorial staffers knocked on doors at the New York City Housing Authority's William Reid Apartments in Brooklyn to raise awareness about the vaccination site opening up downstairs as part of a new initiative to stage pop-up vaccination sites at churches and NYCHA complexes, according to tenant association President Serina Lezama. "There was a big turnout here yesterday," she said in an interview on Sunday. "But some of them are skeptical."
Historical inequities and personal experiences with racism make some residents distrustful of the government, Lezama added, but so does peeling paint and a lack of funding for security staff at the William Reid Apartments. "When I first moved into this development, it was beautiful," resident Ruby Johnson said in an interview. Bad information can also be challenging at a time when trust in the media is at an historic low. "A lot of foolishness," said Johnson, who lost a daughter to COVID-19, of misinformation she has heard about the vaccine from some people in her neighborhood.
Members of the state's equity task force are meeting each week to discuss how to improve distribution efforts while trying to contain the spread of the coronavirus, according to task force member Guillermo Chacón, president of the Latino Commission on AIDS and founder of the Hispanic Health Network. The Biden administration could also improve the situation by sending more vaccine supplies to New York at a time when the city and state are reporting shortages. "We need to give them at least three weeks to get their act together," Chacón said in an interview. All the vaccines in the world though make little difference if New Yorkers lack trusted sources of information. That is one reason why Black clergy are playing a growing role in boosting confidence in vaccines.
Experts have said that getting people vaccinated in communities of color ultimately comes down to increasing access and leveraging peer pressure to the advantage of public health. "It takes hard work to identify trusted community spokespeople and champions to provide them with the information so that they can share with their own constituencies," Wafaa El-Sadr, a professor of epidemiology at the Columbia University Mailman School of Public Health, told City & State in September. Four months later, releasing demographic data on vaccinations would provide a big boost to ensuring an equitable distribution process. "We desperately need the data to show how we're doing," she said in an interview Monday. "It's really important to know who is getting vaccinated."
Powered By
NEXT STORY: Canceled appointments are the latest vaccine headache