Health Care
Did New York let doctors get away with sexual misconduct?
Internal whistleblowers say a branch of the state Department of Health was reluctant to penalize accused physicians.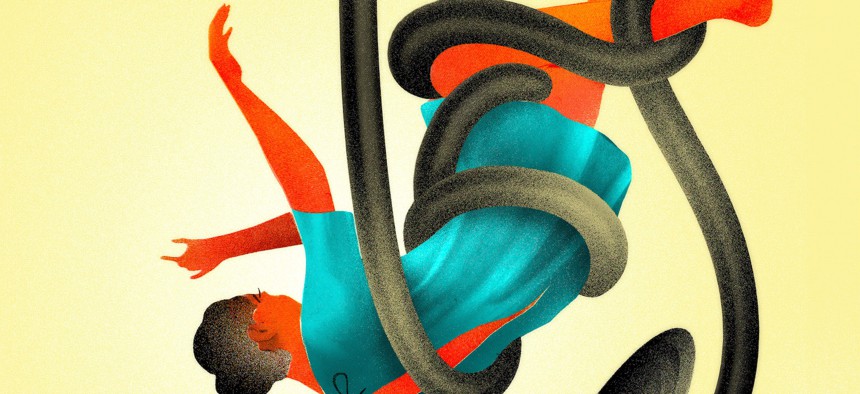 Editor's note: This story contains graphic descriptions of sexual assault.
This article was reported in partnership with Type Investigations.
Around 2009, a 16-year-old girl went to a clinic in New York City for her first gynecology exam. The doctor, a middle-aged man, disarmed her with awkward, self-deprecating jokes. Dr. Robert Hadden had delivered the girl years earlier. He allegedly instructed her to undress, climb onto the table and "get on all fours," according to court documents related to a lawsuit that was filed in April 2019. After a prolonged exam, Hadden "proceeded to rub both of his ungloved hands up and down her body," according to the suit, which claims that Hadden penetrated the girl with his hands during two appointments. Neither Hadden nor his lawyer responded to questions for this story.
In 2016, Hadden was convicted in a separate case of a criminal sexual act in the third degree, a low-level felony, and forcible touching, a misdemeanor. He served no jail time but he surrendered his license as part of the plea deal. A group of 25 women, including the former patient who says he assaulted her at age 16, is suing Columbia University and affiliated hospitals for allegedly covering up Hadden's abuse of dozens of women and girls over two decades. More than 140 additional women have come forward with their own Hadden stories, according to Anthony DiPietro, the plaintiffs' attorney. (The university said in a statement that "nothing is more important" than the safety of patients, and NewYork-Presbyterian Hospital called Hadden's actions "abhorrent" and "horrific.")
But the lawsuit, while focused on the university and hospitals, also points to another key issue: New York state's shortcomings when it comes to complaints against doctors and the role of a little-known investigative branch of the New York state Department of Health: the Office of Professional Medical Conduct (OPMC). City & State and Type Investigations spent more than a year investigating long-standing concerns about the agency and how it handles such complaints. We spoke with former agency employees, reviewed hundreds of documents, and analyzed data on doctor disciplinary actions. These interviews and materials depict an agency slow to hold doctors accountable. 
The attorney for the women accusing Hadden said that between 2012 and 2014, years before Hadden lost his license, at least two of the alleged victims complained to the OPMC, which is required to investigate complaints against doctors and physician assistants; in Hadden's case, records show that he remained undisciplined until he surrendered his license. 
The OPMC did not respond to questions about how it handled the complaints. Speaking more generally, Jonah Bruno, the Department of Health's director of communications, said, "Any notion that OPMC does not consistently act in the interests of patient safety and the integrity of the medical profession is baseless and ridiculous." 
In September 2020, a federal prosecutor brought new charges against Hadden for enticing victims to cross state lines for sexual abuse. 
One plaintiff, Marissa Hoechstetter, testified at a joint hearing of state Senate and Assembly committees on sexual harassment in the workplace in May 2019. "I know now that what happened to me was allowed to transpire because of a lack of action by his employers and a lack of oversight by regulators," she said.
Critics say that the OPMC's structure is flawed: that it relies too much on peer review of complaints, that it is overly deferential to doctors' testimony, and that investigators are overworked and offices are understaffed. Former employees say that the agency's Manhattan office has struggled to retain investigators. Data from the Federation of State Medical Boards show that the number of investigative staff across the agency's offices dwindled between 2014 and 2018, but increased significantly in 2020.
Last year the governor's state budget proposal included a handful of OPMC reforms, which would have allowed the commissioner of health to publicly disclose some investigations and lowered the bar for summarily suspending a doctor's license in cases where the doctor "presents a risk to the health of the public," among other changes. The executive branch also proposed requiring all New York hospitals with emergency rooms to have a sexual assault forensic exam program.
"The first responsibility of any medical professional is do no harm, and when someone violates that oath they must be held appropriately accountable," Gov. Andrew Cuomo said at the time. These reforms "give state health regulators more tools to investigate and penalize providers for dangerous, unethical or illegal behavior."
But after public opposition from the Medical Society of the State of New York, which represents 30,000 doctors and physicians in training, the Legislature rejected all these reforms. In October 2020, the governor signed a separate law that requires medical offices to post information about how to file a complaint with the OPMC. It also requires the agency to post information on its website detailing patients' reporting rights regarding sexual misconduct. The governor's 2021 proposal includes similar OPMC reforms as last year. The Legislature will vote on the budget this spring.
Staffers speak out
Concerns about OPMC's oversight go back a long time. In 2009 alarmed OPMC investigators wrote a memo, obtained by City & State and Type Investigations, which asserted that the system was "skewed toward the physician" and that many alleged sexual offenders "walk away with little or no impact." It described a "revolving door" of repeat offenders.
The 2009 memo, penned by a team of five investigators and a secretary – and revealed here for the first time – was sent to the OPMC director and other members of the management team, former employees said. It included a 1996 report that the New York State Board for Professional Medical Conduct commissioned to address the rising number of sexual abuse and harassment complaints. That earlier report noted a "favorable bias toward physicians" that "can lead to overlooking, minimizing or excusing physician sexual misconduct and to a reluctance to impose appropriate discipline." It recommended a broad range of reforms, from a legislative overhaul of state laws to training for investigators, intake staff and the board itself. 
As of 2009, the new memo asserted these reforms "either were not implemented at all, or not implemented to a degree that changed the Agency process significantly." In interviews conducted between 2016 and 2021, five former OPMC staff said that the agency's approach to sexual misconduct cases often fell short. Together, the reports and interviews with former OPMC employees paint a picture of an office culture that placed more weight on testimony from doctors than from patients and prioritized closing cases rather than conducting thorough investigations. 
(All the OPMC sources we spoke with used to work as investigators or supervisors within the OPMC's Manhattan office but no longer do so. They spoke on condition of anonymity; they said they had signed confidentiality agreements and feared lawsuits.)
Four of the former investigators and supervisors we spoke with said OPMC leadership seemed to care less about protecting patients than boosting the agency's public image by closing cases, often prematurely. "It's all about the numbers," said a former investigator. "It wasn't about the victims, it wasn't about the patients. It was about closing cases."
Of the 3,755 penalties the board issued from 2007 to 2018 for all complaints, almost three-quarters were negotiated agreements without hearings, according to our analysis of annual reports. In years past, doctors' attorneys often were able to convince the board not to mention the sexual nature of misconduct in public records, said Michael Kelton, an attorney who defends physicians. He said that the board's position has evolved, though, and that consent agreements now reference sexual misconduct more openly.
Most questions posed to the OPMC for this story went unanswered – about accusations that bosses protect doctors, disregard patients' claims and routinely close sexual misconduct cases prematurely. "OPMC institutes a formalized staff training program to ensure that investigators fully understand the extensive review process that is necessary to protect patients," Bruno said, "while still affording due process for physicians as is their right under the law." Later Erin Silk, another Health Department spokesperson, added, "The Department does not comment on matters that appear to be unsubstantiated hearsay from former and/or current employees." 
'Go/no go'
To understand how investigations reach their conclusion, it's important to know how the process works. The OPMC investigates complaints and the board adjudicates its findings. The OPMC acts like the police and prosecutor for doctors accused of professional misconduct, while the board is more like the judge and jury.
There are various points at which people in the chain can recommend advancing or closing the case, or "go/no go" points, in the terminology of an undated OPMC operational manual we obtained. 
At the central OPMC office in Albany, intake staff review incoming complaints from across the state. Complaints cover a range of misconduct, from bad record keeping to negligence. They dismiss roughly half of an average 8,500 complaints each year, sending the rest to one of OPMC's six regional offices. There, the complaint, along with a list of previous investigations into the doctor, is assigned to an investigator, who conducts interviews, gathers medical records, and sometimes speaks with the accused's co-workers. 
In OPMC's downstate office on Church Street in lower Manhattan, former employees recalled, managers' offices faced cubicles for investigators and clerical staff. Around 2009, a Superman logo hung above one desk with an A instead of an S, referring to the tongue-in-cheek nickname of a six-woman unit of investigators: the A-team. The moniker was invented because they handled sexual misconduct cases, which management deemed "priority A."
There were three units in the Manhattan office in the late aughts, former employees said. The A-team was the only unit run by a woman, a former nurse practitioner who worked at the OPMC for 17 years. Co-workers described her as a spitfire who took the mission to protect the public personally. She visited hospitals to give presentations about the OPMC and was frequently reprimanded for refusing to rush investigations. "(The) supervisor felt very strongly about the sex cases, and that nothing was being done about them," said a former investigator.
The A-team supervisor requested that her unit handle sexual misconduct cases because they had heard insensitive comments from male counterparts, said former employees. Once a male supervisor asked a complainant what color underwear she was wearing at the time of the abuse, according to two former OPMC employees. "Sometimes these male investigators were perverts and they liked to ask these questions," said a former investigator. "That's why we pushed for the women to get the sex allegations. We felt like the guys didn't get it, didn't take them seriously."We reached out to the OPMC as well as the investigator who allegedly asked a complainant this question, but our questions went unanswered.
Despite the A-team's efforts, the majority of sexual misconduct cases ended without punishment, said three former employees. On average the agency received about 8,500 complaints per year between 2007 and 2018, the latest data available. However, the number of complaints related to sexual misconduct remains unknown; in response to a public records request, the agency said sexual misconduct complaints data are not stored in a way that allows for "practical retrieval." The agency has punished 279 doctors for sexual misconduct in this period, an average of 23 per year.
The process of evaluating cases involves input from physicians at every step: Doctors review complaints, assist investigators and hear cases. "Peer-review is the cornerstone of this process," explained then-OPMC Deputy Director Paula Breen in a 2015 presentation on doctor discipline at the University at Albany School of Public Health.
At almost every go/no go stage, considerableweight is given to the opinion of a consulting doctor, called a medical coordinator, according to the OPMC operational manual and former employees. These physicians, who are from the same specialty as the accused, help determine the litmus test of misconduct: deviation from standard medical care. 
The medical coordinator reviews the investigator's notes to help determine whether the accused met a minimal standard of care. His or her opinion is included in the case file, which goes to the unit supervisor or program director and then up to the OPMC leadership, which decides with a legal team whether to close the case or advance it to the board. 
One former medical coordinator we spoke with said that if a coordinator knows the accused doctor, they "don't pass judgment." Medical coordinators don't protect the accused, he said. 
But some of the former staff we interviewed described an old boys' club mentality in the OPMC, with medical coordinators and the accused sometimes on friendly terms: In interviews, we heard about coordinators reminiscing with the accused doctor about their shared alma mater, or defending a psychiatrist who did a breast exam by pointing out that the psychiatrist was technically an M.D. "You find that the medical consultant ... is really looking to rescue the physician," one of the former investigators said.A doctor who had served on the board and had been a medical coordinator disagreed with this characterization."I found over the course of 25 years, by and large sex cases were adjudicated appropriately," said Dr. Alvin Rudorfer.
Two former investigators said the OPMC's leadership rarely passed sex cases on to the board without a written record or other witnesses to back up the patient's account. In 2015, Keith Servis, who was OPMC director from 2007 until 2019, emphasized the importance of written notes and third-party witnesses in proving misconduct. "While I wouldn't go so far as to say, 'if it was not written down, it didn't occur,' absent any other evidence, that's all that we have," Servis said during a presentation to doctors and medical students about the medical disciplinary process. He has since retired and did not respond to requests to be interviewed.
About 4% of complaints ended in board actions between 2007 and 2018, according to our analysis of publicly available annual reports. Sexual misconduct complaints are not broken out in the data, but sources said those cases were very hard to prove and that the vast majority were closed without discipline. 
Escaping discipline
When physicians are disciplined in New York, it's often after a medical board in another statehas disciplined them first. Of the 122,000 physicians and physician assistants licensed in New York, roughly 24% live in other states. Roughly half of OPMC's sexual misconduct punishments from 2007 to 2018 began after a doctor licensed in New York but practicing elsewhere was disciplined by another state's medical board, according to our analysis of disciplinary action records. "There's an old joke in the office: 'The only doctors that are disciplined are doctors in other states,'" said a former supervisor. "It skews our numbers to the public." Other sanctions are triggered by criminal convictions. In 2014, about a third of all board disciplinary actions were the result of OPMC-initiated investigations, Breen explained at the 2015 presentation. 
During the same presentation, Servis said the board sometimes deemed an investigation itself enough of a punishment when evaluating sexual abuse cases in which it was the patient's word against the doctor's. "Sometimes we'll see dismissal in a situation where a physician is clearly guilty, if you want to use that term, of misconduct," he said in a presentation to a group of doctors. "But the physician has already, in the eyes of the (board's) hearing committee, suffered enough." 
In a 2014 report, the New York Public Interest Research Group Fund, a watchdog nonprofit, looked at what happened to doctors disciplined for negligence, which can sometimes include sexual misconduct. Roughly three-quarters of doctors disciplined in the prior decade kept seeing patients, the report found. 
Bruno defended his agency's record on disciplining physicians. In 2016, "79% of final actions taken against doctors found to have committed misconduct resulted in serious sanctions, including the revocation, surrender or suspension of a physician's medical license, or a limitation or restriction placed on the doctor's license." But critics say grouping those sanctions as "serious" obscures the fact that many of them are suspensions, some of which are stayed, rather than license revocations or surrenders.
In the past, former employees say, some sexual misconduct cases were closed with relatively quiet sanctions. These might include "two-call closures," in which the doctor is contacted by OPMC but the patient agrees to drop the complaint, or PIMV letters – which stands for Physician Informed of Minor Violation. "We used it to tell them, 'Boy, you did something wrong, don't do it again," said a former OPMC manager. Former employees also said that some cases involving sexual abuse or harassment were closed through administrative warnings, which are issued by the board. 
Articles written by board members and OPMC staff published in a medical discipline journal in 2004 and 2006 shed additional light on administrative warnings and closures. Two-call closures, one article stated, could be used when allegations "do not rise to the level of professional medical misconduct," including "crude" behavior or "minor boundary violations" by a physician. Administrative warnings were described as appropriate in cases in which there was "substantial evidence" of wrongdoing, but a doctor's actions did not meet the legal standard for misconduct. Such cases, the article stated, could include "inappropriate physical examinations (perceptions)" or a "minor violation of boundaries."
While the board includes the number of administrative warnings on annual reports, the actual warnings and related misconduct remain private. PIMVs and two-call closures are not included in the OPMC's annual reports or the agency's public database of board disciplinary actions.
The agency did not respond to questions about whether PIMV letters were ever sent to perpetrators of alleged sexual misconduct or whether two-call closures were ever used in such cases. "'Warnings' are not issued in cases of alleged sexual misconduct," Bruno wrote. "If sufficient evidence of misconduct exists, then the matter is referred to the Board for further administrative action, and if there is a reasonable belief that criminal conduct occurred, then the case is also immediately referred to law enforcement for criminal prosecution." 
'Trauma in silence'
By 2009, the A-team was sick of being ordered to close cases by superiors. The team supervisor gathered her unit in a windowless conference room where they had heard countless women describe alleged abuse. There was the graduate student whose doctor allegedly abused her when she was 13 years old, the 56-year-old banker who was so angry after realizing she "essentially paid to get sexually abused," the woman who said her doctor turned off the lights and probed her upper vulva and rectum with his fingers, saying "everything feels OK," and the domestic abuse victim whose psychiatrist wanted to work on trust issues by blindfolding the woman and instructing her to open her mouth. 
Something had to be done, the supervisor said. The supervisor laid out her plan to write a memo, an analysis of policy failures. At least one investigator resisted because it wasn't their job to reform a failing system, and they were already overworked. Former employees remember having 35-60 cases each. But the supervisor felt compelled to alert management. 
Each woman took one area of research and worked during lunch hours and nights to keep up with their caseloads. Some read reports from medical societies. Some reviewed materials from a workshop held by a rape crisis center to learn about victims' typical reactions to trauma. Others gathered case files and handwritten complaints from the past few years, collecting snippets or whole complaints that had stayed with them for months or even years. An intern conducted a statewide survey to gather investigators' experiences on sexual misconduct cases. After about six weeks, the investigator who initially resisted the assignment took all the findings home. On a Sunday, she formatted them; later, on a workday, she printed copies at an office supply store.
Their resulting memo was unapologetic in laying blame at the agency's door: "Our system is skewed toward the physician," it read. "The physician gets a slap on the wrist while the victim suffers a lifelong trauma in silence. It is almost like the victim receives the sentence." 
The memo collected excerpts of 14 patient complaints, ranging from inappropriate comments to groping to penetration. Patients said these violations shattered their trust in the whole medical field, the memo stated. "'I didn't want to believe that this doctor was touching me like that, but he was rubbing my clitoris as if he was looking for my vagina,'" one patient wrote.
The memo noted that the recommendations from the 1996 report had been largely ignored and outcomes hadn't changed. "A repeat offender simply goes through our revolving door with the empirical expectation of low or meaningless consequences." 
The OPMC did not respond to specific questions based on the findings in the 1996 report and 2009 memo, which admonished the agency for failing to meet standards detailed in its own policy statement on physician sexual misconduct. That statement had been posted on the DOH website, and declared that the board would not tolerate physician sexual misconduct, that allegations would be dealt with effectively, and that, by definition, patients cannot give consent to sexual contact with their own doctor. Sometime between 2015 and 2017, the OPMC removed the policy statement from its website. The agency did not respond to a request for comment on that decision.
The A-team sent their memo around to a handful of key people at the DOH. Servis made a rare trip down to the city to meet with them, along with Breen, the DOH's associate commissioner, and the OPMC's regional director. The investigators waited on one side of a large conference room table for the executives to arrive, according to a source who attended the meeting. The team members felt apprehensive but proud of what they had produced: an extensive report showing the agency's systemic failure to punish sexual predators. 
When everyone showed up, according to sources in attendance, Servis congratulated the authors on an excellent white paper, and repeatedly asked two questions: Why had they written it and who had they shown it to? The team members responded that they were concerned sexual offenders weren't being punished adequately, and they hadn't shared it outside the health department. 
Three of the former employees we spoke with said Servis committed to sending the memo to then-Gov. David Paterson. The A-team left elated. They joked about getting awards for outstanding public service. But no reforms or public service awards came. They never heard about their memo from leadership again. "It was all fluff," said a former investigator.
In early November 2009, after the memo's presentation, orders came down from management that investigators needed to close more than 200 cases by New Year's Eve, and they should focus only on closure paperwork, according to meeting notes. Servis was pushing staff to close cases; his colleagues took to calling him "the bean counter." He did not respond to requests for an interview for this story. 
The following year, the A-team's supervisor retired. Four former managers and investigators said that as Servis' demands trickled down, the Manhattan office grew more and more hostile. One manager kept a scoreboard of investigators' case closures on a whiteboard. Investigators said he'd berate them in the open office if they fell to the bottom of his scoreboard. We reached out to the supervisor, who's now retired, but he did not respond to requests for comment.
In 2007, Servis took over the OPMC with a manage-by-the-numbers approach, a matrix of case milestones, ambitious caseload targets and closure goals, according to interviews and old meeting notes. But former investigators said it was not a fit for investigative work. According to our analysis of annual reports, the average time it took to close cases increased by nearly 40% during Servis' tenure, from seven months when he arrived to 10 months by the time he left. 
However, that longer time doesn't seem to indicate deeper investigations. The agency continued to close roughly the same number of cases per year, on average, but the number of full field investigations being closed has plummeted. In 2018 (Servis' last full year before retirement), there were 30% fewer full field investigations closed than in 2011, the first year annual reports included this metric. "The mission is a farce," one former investigator said. "Management single-handedly ruined that agency."
OPMC did not respond to a request for comment about Servis' track record at OPMC.
Another chance at reform
Some 24 years after the 1996 report on the agency's handling of sexual misconduct complaints recommended a slew of reforms, Cuomo included substantial ones in his 2020 budget. They included changes to public health law to strengthen disciplinary actions, eliminate lifetime licensure, and to make some investigations and private warnings public.
A few weeks after Cuomo's announcement, Breen and the state commissioner of health met with the Medical Society of the State of New York (MSSNY), the physician advocacy group, according to a public newsletter from February 2020. The organization's president at that time, Arthur Fougner, voiced due process concerns, and he wrote in the newsletter that Breen had reassured him that the "concerns were largely unfounded." The group then urged members to write state lawmakers and attend its upcoming meeting with legislators in Albany. 
Though only the requirement to post information passed last year, then-Assembly Member Aravella Simotas, who sponsored the bill, said she's confident other reforms will eventually be enacted. "Look, any organization can improve itself," she said, "and I look forward to when the reforms are actually implemented." Simotas, however, lost in the Democratic primary in 2020 to Zohran Mamdani. The issue will need a new champion in Albany. 
In January 2021, the governor reintroduced the same OPMC reforms that failed last year. MSSNY then echoed similar concerns as last year, and organized a virtual meeting with legislators in early March. The Legislature will approve or once again reject these reforms by April 1.
As things stand now, however, one former investigator said if they were abused they would not trust the OPMC to serve justice. "If I were a person who was violated and I knew that system, I would never go in and tell my story," said the former investigator. "Never, never."
Research assistance by Nina Zweig.