Andrew Cuomo
Health care executives involved in vaccine planning have close ties to Cuomo
This isn't the first time the governor has turned to or listened to old friends and allies.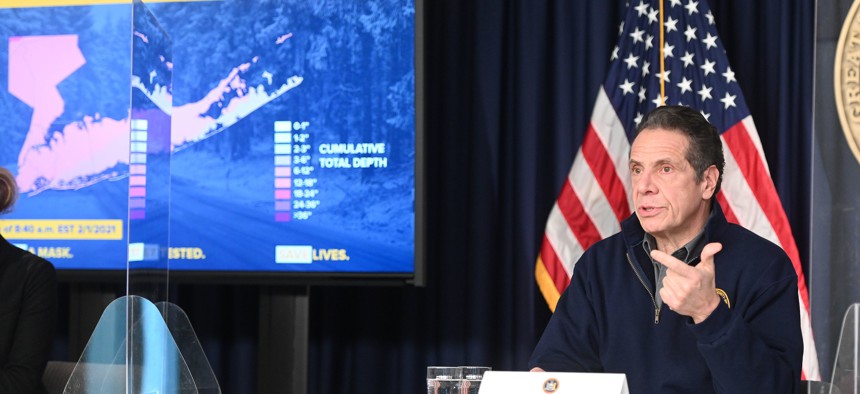 A Monday report from The New York Times describing a growing rift between Gov. Andrew Cuomo and state public health officials is the latest evidence of the governor's close relationship with the state's health care industry and hospitals. According to the article, Cuomo relied more heavily on private hospital executives than on state officials, such as Michael Dowling, CEO of Northwell Health, in making plans for COVID-19 vaccine distribution. This, the Times reports, contributed to at least nine top health officials resigning, retiring or otherwise leaving the state Department of Health in recent months.
This is not the first time that Cuomo has listened to or relied on the politically connected health care industry leaders. When Cuomo announced his 14-person COVID-19 vaccine task force in September, it did not include a single epidemiologist and few public health experts. The task force did, however, include several influential leaders in the hospital industry, including Kenneth Raske, president of the Greater New York Hospital Association, Michael Dowling, CEO of Northwell Health, a large hospital system, and George Gresham, president of the health care workers union 1199SEIU. While not personally experts in infectious disease control, each leader is politically connected in Albany, and to Cuomo. The in-house lobbyist for Northwell, Dennis Whalen, was also heavily in planning for the vaccine rollout, according to the Times.
The governor's relationship with Dowling dates back to his father's era, when Dowling served in former Gov. Mario Cuomo's administration. He has since remained a close friend and adviser to the younger Cuomo, frequently appointed to commissions and panels created by the governor. Last year, Dowling served as co-chair of Cuomo's Medicaid Redesign Team II after having been a member of the first redesign team Cuomo assembled in 2011. Since the pandemic began, Dowling has appeared alongside the governor at a number of different press conferences, particularly those held at Northwell facilities. In addition to the vaccination task force, Cuomo also appointed Dowling to a panel meant to "reimagine" New York's future after COVID-19 in May – criticized for the many billionaires it included – as well as a multi-state council focused on regional economic recovery back in April. Both Raske and Dowling additionally were tapped to lead hospital efforts to increase capacity back in March. Once the vaccine rollout began, a Northwell nurse became the first person in New York – and the country – to get the shot.
Dowling is also on the board of directors of the Greater New York Hospital Foundation, the non-profit arm of the hospital trade group Greater New York Hospital Association, headed by Raske. The group has been incredibly influential in Albany since long before the pandemic, and it and its surrogates have donated heavily to politicians. "They have been a powerhouse in Albany for a couple of decades now," Bill Hammond, senior fellow for health policy at the Empire Center, a conservative think tank, said. "And they owe part of their influence to an alliance with the big union for healthcare workers, 1199(SEIU)." That union, led by Gresham, is one of the most politically influential labor groups in the state whose endorsement is sought after and has traditionally backed Cuomo. 
Hammond made note of an unusually large donation – over $1 million – made by the Greater New York Hospital Association to the state Democratic Party's housekeeping account in 2018, shortly before Cuomo's reelection. Not long after that, the state approved increased Medicaid reimbursement rates for hospitals, something the hospitals and 1199 were promoting. Money from that rate increase was then used to pay for new employee contracts. At the time, Cuomo's aides denied that there was any connection between the large donation and the Medicaid rate change. 
Raske himself also enjoys a close relationship with Cuomo, often accompanying the governor on trips to Puerto Rico. When Cuomo visited Puerto Rico in the wake of a devastating earthquake early last year, Rakse was in tow as well. Soon after, he was a part of the governor's deployment of mental health professionals to the territory to aid in recovery. Raske previously traveled with Cuomo in 2018, along with several elected officials, on one of his trips following Hurricane Maria.
And earlier in the pandemic, Raske told The Wall Street Journal that he got in touch with Cuomo's team, asking for help with nursing home patients, as many facilities would not accept COVID-19-positive residents but hospitals needed to discharge them to free up beds. Not long after, the Department of Health issued its controversial directive to nursing homes, telling them they were required to accept COVID-19 positive residents from hospitals. Cuomo and his aides have repeatedly said the directive was based on CDC guidelines and public health recommendations at the time.
Cuomo has relied on friends, allies and a close-knit group of aides, both present and past, throughout the pandemic. In addition to familiar names like Dowling getting appointed on numerous committees and panels, he brought back three former secretaries to work on coronavirus response and recovery. Larry Schwartz, one of those former secretaries, has been heavily involved in the state's response, reportedly applying pressure on hospitals to comply with state directives and more recently serving as a key member of Cuomo's vaccine planning team. Gareth Rhodes, a former Cuomo communications staffer who now works for the state Department of Financial Services, has also been a mainstay at the governor's coronavirus press conferences. "The governor trusts these people," Hammond said in reference to Dowling and Raske. "So I don't think it should be anybody's surprise that he consults them on really important things."
But Cuomo's ultimate decision not to rely on existing mass vaccination plans developed by county health departments, instead tasking hospital systems with distribution, was met with frustration by local officials and surprise by some public health experts. "It doesn't make sense, it still doesn't make sense. I don't understand it," Dr. Robyn Gershon, a professor of epidemiologist at the New York University School of Global Public Health who in particular focuses on disaster preparedness, said. "(Health departments) absolutely know how to roll out a vaccine and vaccinate a lot of people in a short amount of time. They know their community, they know what it takes to get them vaccinated and treated."
Once the state got his first shipment of vaccines, the governor announced that hospital systems would coordinate regional vaccination hubs for the second phase of rollout, which included members of the general public. The Greater New York Hospital Association was put in charge of New York City, while Northwell would oversee Long Island. 
Cuomo and aides said hospital systems would be capable of taking a region-wide approach, rather than individual counties each implementing their own plans. And in an interview with the Times, the governor said that the scale of the pandemic overwhelmed existing plans. After an initially sluggish start and remaining racial disparities in distribution, the state has sped up the pace of vaccinations and now is performing about average among states when it comes to getting vaccines in arms. 
When asked by the Times about criticism of the state's management , Cuomo said he is "a fighter for the people of New York" and believes he is "saving lives."
Cuomo also has said that putting hospitals in charge of vaccinations would keep politics out of the equation and placing vaccinations squarely in the hands of medical professionals. Hammond said he found such rationale interesting. On the one hand, working with hospital systems enabled Cuomo to go around county governments run by Republicans who have been frequent critics. "To me, though, there was a heavy dose of politics involved with working with the hospitals, because they have a huge stake in state government and their major donors and the political side," Hammond said.
In response, Cuomo's senior adviser Rich Azzopardi pointed out to City & State that Dowling is a former deputy secretary for health during Mario Cuomo's time as governor, and that Whalen, the Northwell lobbyist, is a former deputy health commissioner in the state. He called the implication that Cuomo relied too heavily on influential healthcare industry leaders "wrong and insulting." He added that hospitals made sense for vaccine distribution, and that the state now just needs an adequate supply from the federal government to keep up with the state's vaccination capabilities. 
But even with members of the healthcare industry among those advising Cuomo on vaccine rollout, it did not save them from the governor's ire when the initial rollout was sluggish. Cuomo threatened to fine hospitals that did not use their vaccine supplies, or else they would lose out on future allocations. He has called out hospitals by names whose vaccination rate and pace were not up to par. "(Cuomo) has been known at times to be rough on hospitals," Hammond said, suggesting that, despite their role in planning and rollout, hospital executives may not have explicitly asked the governor for the responsibility. "And it may be that they go along with the rough treatment, and they muffle their complaints, because they know in the long run that's going to benefit them to be on his good side."