Housing
Rent hardship declarations spike
The number of renters suffering hardships due to COVID-19 and seeking moratoriums on their rent through May 1, has more than tripled.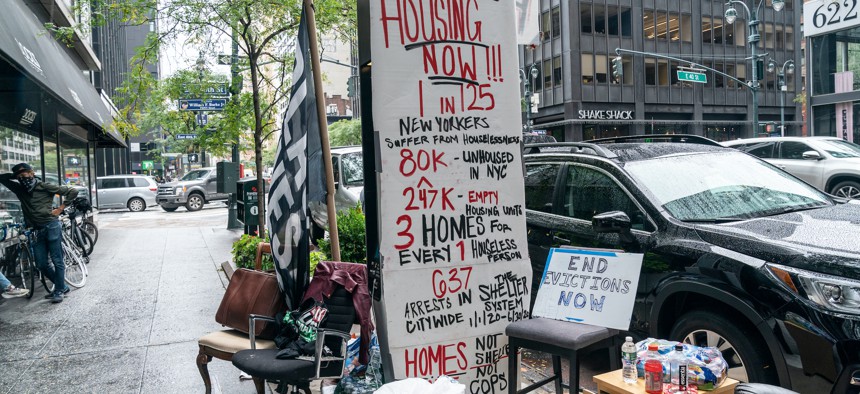 On the one-month anniversary after New York's rent moratorium protections ended, things are still in limbo for renters who are fast seeking moratoriums on their rent through May 1.
After the state Legislature passed a 60-day pause on just about all eviction proceedings in late January, pending and new cases started moving again in courts on Feb 26. There's a general state moratorium still on the books until May 1, but that one's not automatic for all – which can be a little confusing.
If someone is suffering hardship due to the COVID-19 pandemic, they can avoid being evicted by seeking a moratorium. And in order to have the moratorium apply up until May 1, tenants have to fill out a hardship declaration, which they mail to the courts or their landlord.
Once they do so, tenants cannot be evicted for nonpayment of rent or for staying in an apartment or home past the expiration of their lease – but they can still get the boot if they're creating an unsafe environment for other tenants. A hardship declaration can be made, even when eviction proceedings have begun.
According to The City, 6,817 people statewide filed hardship declarations with the courts before the moratorium expired in late February. More recently, according to the Office of Public Information for the New York State Unified Court System, the number jumped to 25,507 filings in New York City alone as of March 22. Among the filings, 21,178 are related to pending cases.
Over one-third of those filings are in the Bronx. Among the 10 ZIP codes with the highest rates of evictions, eight hail from the borough. Taking the top spot is 10468, which includes parts of Jerome Park, Kingsbridge Heights and Fordham Manor, with 51 out of every 1,000 residential units involved in an eviction case.
Some relief is on the way. U.S. Sen. Chuck Schumer announced earlier this week that New York can expect over $1 billion heading its way in emergency rental assistance, recently passed within the American Rescue Plan. 
The state's share comprises about 5% of the entire $20 billion available for the nation at large. And New York City is getting a hefty chunk of that, too – about $196 million for renters.
That is, of course, if the state manages to actually get the cash to constituents to begin with. The first round of rent relief distributed $40 million to 15,000 households. But in the second round, only $7 million of the available $60 million went out to tenants, leaving $53 million in the bank. The unspent money is slated to head back to the state Division of Budget, while only 16% of rental assistance applications saw any aid to begin with.
New York isn't alone, either. In neighboring Pennsylvania an unspent $108 million in emergency rental aid wound up being rerouted to the Department of Corrections after their spending deadline had passed. The money was then voted on by the state's legislature to go to funding payroll expenses for public safety and healthcare employees.
Both states saw similar issues plaguing the lack of spending – a narrow applications process that resulted in many not qualifying. New York, for example, required applicants to show they lost income between April and July of 2020 to receive cash for those months. Unemployed people who'd received weekly federal $600 payments along with state aid wound up being disqualified.
What's more, the first round required applicants to show they made less than 80% of their area median income and contributed more than 30% of it towards rent before April 2020. That rule was later reversed after Gov. Andrew Cuomo signed legislation in Dec 2020 that no longer required applicants to show they were rent burdened prior to the pandemic.
In late February, it was also revealed the state sat on $1.3 billion in federal emergency assistance for nearly two weeks, while five other states opened up their emergency rental assistance programs in the meantime. 
For local businesses, there was reprieve earlier this month. Cuomo signed the COVID-19 Emergency Protect Our Small Businesses Act, which provides small businesses of 50 employees or less eviction protections. Those businesses and landlords alike can fill out their own hardship declarations to qualify.
But some New Yorkers remain wary as the situation moves forward, despite new money on the way. As an organizer at Housing Justice for All told Gothamist, "I don't trust that they'll get it right when they haven't in the past."
Powered By
NEXT STORY: NYC's initiative covering nonprofit overhead will fund less this year