Health Care
The pandemic revealed the pros and cons of New York's health care system
New York's hospitals proved resilient, while health care disparities remained.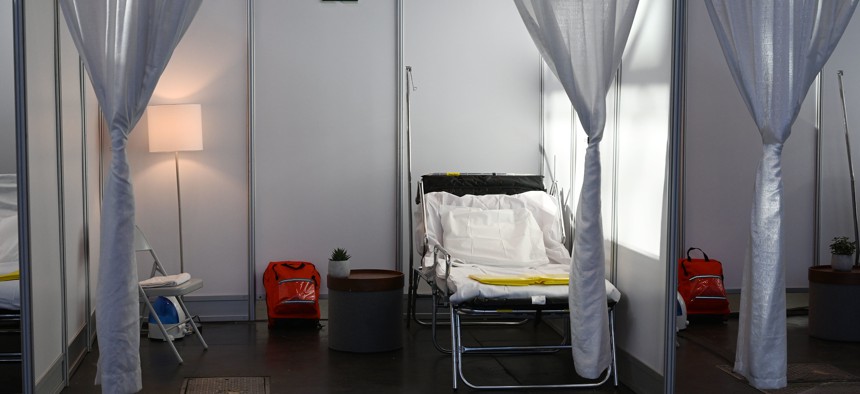 In the year that has passed since New York confirmed its first case, COVID-19 has taken the lives of more than 38,000 people in the state, a once-in-a-century crisis that will shape policy and public debate for years to come. In the eyes of many, the pandemic has served as a reality check, exposing deep-rooted inequities in care. But a health emergency of this magnitude has also functioned as a stress test, one that New York's hospital system did well to withstand.
The state confirmed its first COVID-19 case – a Manhattan woman who had recently returned from Iran – on March 1, 2020. By March 24, New York City was registering more daily per capita cases than Italy, where reports of hospitals buckling amid a surge in critically ill patients rattled policymakers around the world.
Under an emergency order from the governor, hospitals across the state were already scaling up capacity. The Javits Center in Midtown Manhattan was converted into a field hospital, and the federal government dispatched a Navy hospital ship. But initial fears that the hospital infrastructure – and even its financing – might collapse under the crush of a patient influx were never borne out. At the peak of the first wave, 799 New Yorkers died on April 8, but most of the newly assembled surge capacity went unused.
The system, to be sure, came under considerable strain. At the end of March, it was reported that Elmhurst Hospital Center in Queens was operating at 125% of its capacity. But while that facility was struggling to deal with the surge in patients, not far away others had vacant beds. One of the first things that the pandemic exposed, in fact, was the atomization of the state's health system. A more coordinated system, one operating under central management, like the National Health Service in the United Kingdom, could have served the city better at the peak of the crisis.
"You could have told people who work in upstate hospitals, 'Please report to duty in Queens,'" said Bill Hammond, a senior fellow for health policy at the Empire Center for Public Policy. "You could have told people in Manhattan, 'Please report to duty in Queens.' You could have told ambulances to stop going to Queens, go to Manhattan."
But what the system lacked in coordination it made up for in spare capacity. Before the pandemic, New York City had around 30 intensive care unit beds per 100,000 inhabitants – below the national average of 36, but much higher than peer countries like the United Kingdom (8) and France (11). Over the past year, European governments have cited overburdened ICUs as a factor in imposing lockdowns, which in many cases have lasted longer and been more stringent than those in the United States.
"If you look at England, if you look at Italy – even France, in some cases – the hospitals have just run up against capacity, and that hasn't really been such a huge crisis here," said Chris Pope, a senior fellow at the Manhattan Institute, a conservative think tank. "In a sense, this is the flipside of our usually very high hospital costs."
"What the system lacked in coordination it made up for in spare capacity."
The United States spends much more on health care than any other country: $7,164 per capita, compared with $3,867 in Canada and $3,222 in the United Kingdom. While many would argue that health care in the United States is too expensive – and hospital costs inflated – that slack in the system proved to be a silver lining during the pandemic.
"It is known that single-payer systems tend to lean out the health care system to its bare minimum and there is not enough economic elasticity to deal with emergencies," said Kenneth Raske, president of the Greater New York Hospital Association.
According to Raske, the major hospital networks in the New York metropolitan area, which are often maligned by critics of the privatized system, handled 80% of COVID-19 patients during the peak of the pandemic. They were able to do so, he said, by drawing on their financial cushion to cover additional personnel and equipment expenses.
But if the private model contributed to the ability of hospitals to flex their capacity during the pandemic, it also bears some blame for the inequitable distribution of that capability.
Over the past 20 years, more than 40 community hospitals have closed across New York state, the majority in low-income neighborhoods. Reimbursements to providers are lower for Medicaid and uninsured patients, and advocates for equity in health care blame the uneven allocation of resources – and the long-term trends towards downsizing and consolidation – on market forces taking precedence over government planning.
"If you are a hospital executive trying to make sure that your system doesn't lose money – in fact, maybe even makes some money – your incentive is to locate the beds in the places where revenues will be higher," said Lois Uttley, the women's health program director at Community Catalyst, a national advocacy organization.
Disparities in health care, moreover, are not limited to the distribution of ICU beds, and the ability of hospitals to rise to the challenge of a rare mass casualty event is only one measure of a system's overall strength. Because the coronavirus poses a graver threat to those with preexisting conditions, population health is a critical factor in assessing how well a system has acquitted itself during a pandemic.
The relative dearth of investment in primary and preventative care in poor neighborhoods raises questions about the way New York's health care system is organized, irrespective of the payment model under which it functions. "I think the pandemic proved that New York needs community doctors who know the patients, are from their neighborhoods and speak their language," said Dr. Ramon Tallaj, chair of the board of Somos Community Care, a network of health clinics.
Barriers to primary care, which disproportionately impact communities of color, can lead to disparate health outcomes. Higher rates of chronic disease, such as obesity, hypertension and diabetes, have likely contributed to the greater toll that the pandemic has exacted on those communities.
"I think the pandemic proved that New York needs community doctors who know the patients, are from their neighborhoods and speak their language." – Dr. Ramon Tallaj, chair of the board, Somos Community Care.
According to the Centers for Disease Control and Prevention, between March 1, 2020 and Jan. 23, 2021, the rate of hospitalization per 100,000 people for COVID-19 in the United States was 775.2 for Hispanics, 689.1 for non-Hispanic Blacks, and 239 for non-Hispanic whites.
"Let's follow the data and put resources into these areas to make care more accessible," said C. Virginia Fields, the founder and CEO of National Black Leadership Commission on Health. "If, for example, you have a large number of people in a given zip code known to have preexisting conditions, such as diabetes, are there specialists there or do they have to go so far out of their community to see doctors?"
Fields, who served as Manhattan borough president from 1998 to 2005, said that medical facilities could be lured to underserved areas through incentives, similar to the way empowerment zones attract businesses to communities suffering from disinvestment.
Some advocates argue that the government should be more forceful in compelling networks to expand their footprint into underserved areas. "The private health systems in New York provide a lot of really excellent care, and in some cases have been among the leaders in providing care to COVID-19 patients, but we need better regulation and oversight of those systems to help encourage their investment in communities that are underserved," Uttley said.
But large networks have been reluctant to take on the financial risk of extending into areas where the payer mix includes fewer people with commercial insurance, and consolidation in recent years has increased their leverage.
Richard Gottfried, chair of the Assembly Health Committee, told City & State it was a "constant uphill fight" getting the major hospital systems to take on more low-income patients. "We would not have to fight that fight – or certainly nowhere near as much – if the poor person's gallbladder was worth as much as the rich person's gallbladder," Gottfried said. "If the plan that covers rich people also covered low-income people, then the doctors and hospitals that take care of low-income people would not need special funding."
"Federal and state policy must provide adequate reimbursement for inner city hospitals, as well as hospitals that are in challenged communities, and it is because of the lack of adequate reimbursement that we have the problems with those institutions." – Kenneth Raske, president, Greater New York Hospital Association.
Gottfried is known for being the Legislature's leading proponent of the New York Health Act, which would establish a single-payer system in the state. Gov. Andrew Cuomo has opposed the bill, but Gottfried expressed optimism that a new class of progressive legislators in Albany was "going to be an enormous boost" for his cause.
New York City Council Member Carlina Rivera, who chairs the Committee on Hospitals and supports the bill, told City & State that "systemic racism and injustice" have "been allowed to fester in our state's health care system."
"I do think it's New York's responsibility to lead the way on this," she said. "I think there are big systemic problems that will take a lot of time to fix."
Raske, for his part, acknowledged the need to invest more resources in underserved areas, but cautioned that it would be a mistake to "throw out the good aspects of our health care system."
"Federal and state policy must provide adequate reimbursement for inner city hospitals, as well as hospitals that are in challenged communities, and it is because of the lack of adequate reimbursement that we have the problems with those institutions," he said.
Since U.S. Sen. Bernie Sanders built a progressive grassroots movement during the 2016 presidential campaign, support for a single-payer health system has grown on the left. Racial inequities laid bare by the pandemic, moreover, have galvanized social justice activists in New York and across the country. At the same time, appreciation for health care workers – and hospitals in general – has also risen in the country.
"Sometimes in the past, hospitals were not necessarily viewed as well as they are now – as not only a community resource, but the baseline defense for public health," Raske said. "So, our political stock has been raised enormously, and I think all elected officials across the United States are recognizing that."