Budget
Three issues to watch in state budget negotiations
Taxes, public school funding and COVID-19 relief will test state lawmakers before the April 1 state budget deadline.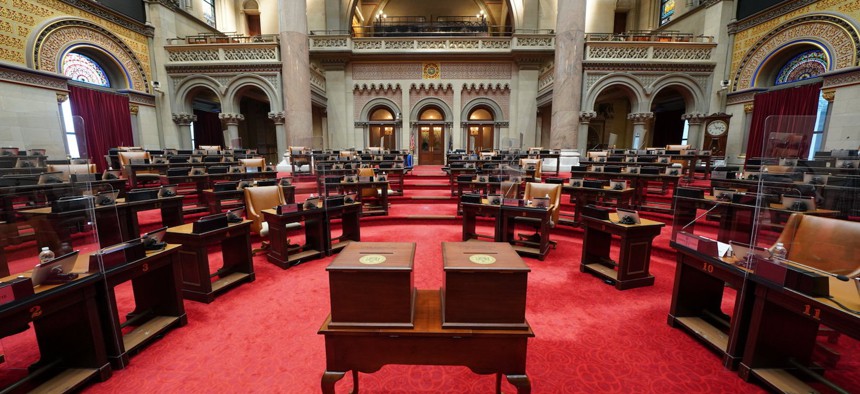 Democrats have supermajorities in both chambers of the state Legislature. The federal government has just approved more than $12 billion in new funding for New York. Gov. Andrew Cuomo is politically weakened like never before by ongoing scandals over alleged sexual misconduct and a reported cover-up of COVID-19 nursing home deaths. Simply put, legislators have a real chance to dominate the state budget process this year.
Both the state Senate and Assembly are slated to pass one-house budget resolutions Monday that are not too dissimilar from the $193 billion spending plan proposed by Cuomo in January. If Democratic legislators remain united against the governor – who has formidable constitutional powers over state spending – then they could score big political victories that have eluded them in previous years.
State lawmakers are looking to increase taxes on the wealthy much more than the governor, which could allow for increased spending on contentious issues like COVID-19 relief and funding for public schools. "We have a very good shot at getting this done," state Senate Education Committee Chair Shelley Mayer said of winning a final victory this year in a yearslong fight with Cuomo over billions in funding for public schools after the 2006 Campaign for Fiscal Equity ruling."We need to get paid."
City & State took a look at each of the one-house budget proposals and the reactions from advocates and state lawmakers. Here is a breakdown of the top issues.
Taxes
Both chambers are looking to raise taxes on the wealthy more than Cuomo, who proposed a three-year increase on high-earners that would raise about $1.5 billion per year. Democratic lawmakers are pushing back on his proposal to postpone a middle-class tax cut, with state Senate Democrats also looking to raise $8.2 billion through a variety of proposals including higher personal income taxes on wealthy people, with new brackets for people earning above $5 million and $25 million per year. That is more or less the same as the Assembly, though there are some differences between the two chambers on other tax proposals. State senators are looking to increase the estate tax rate by 2 percentage points while the Assembly is pushing for a 4 percentage point increase as well as a new pied-à-terre tax. "It's good that the Legislature is taking some meaningful steps to build out long-term revenues," Charles Khan, organizing director for the Strong Economy for All Coalition, which advocates for new taxes on the wealthy, said in an interview. "(But) it's a half-measure and may be even more so if concessions to Gov. Cuomo are made."
School funding
The budget proposed by Cuomo included $31.7 billion in state support for local school districts, including the same allocations as last year in Foundation Aid, the primary state funding source for public schools. Both chambers are proposing a $1.4 billion increase in Foundation Aid as well as adding billions in additional money over three years to fulfill the Campaign for Fiscal Equity ruling. "Every school district is guaranteed a minimum 2.0% increase in Foundation Aid and every district is allocated at least 60% of their full Foundation Aid funding for the 2021-22 school year," reads a press release from Senate Democrats. Both chambers are also looking to increase funding for public colleges above what the governor proposed as well as a litany of additional spending, including $500 million to fully fund 4-year-old full-day prekindergarten statewide and a $1,000 per student increase in the Tuition Assistance Program.
COVID-19 relief
Both chambers want $2.1 billion in funding to help workers who did not qualify for previous COVID-19 relief programs, including undocumented people and the recently incarcerated, though activists are pushing for up to $3.5 billion to establish a new fund. Assembly Democrats are also proposing to use $3.125 billion in combined federal and state funding to provide rent relief to tenants, landlords and homeowners. The state Senate bill includes similar provisions, including hundreds of millions of dollars in new aid for the New York City Housing Authority.
The bottom line
This is by no means an exhaustive list of all the different proposals in these gigantic fiscal plans, but taxes, schools funding and COVID-19 relief do highlight where some of the biggest differences are in the Legislature's respective proposals compared to the governor. The one-house budgets represent a starting point in negotiations that are expected to culminate in a new state budget by April 1. While the governor has typically gotten his way with budgetary matters in recent years, the political winds are blowing in the favor of legislators like never before, though a final fiscal victory depends on what happens in budget negotiations over the next two weeks.
Correction: A previous version of this article misspelled the name of state Senate Education Committee Chair Shelley Mayer.