Housing
Lawmakers are extending eviction moratorium the easy way
A quick deal gives Democratic lawmakers four more months to figure out how to avoid a potential tidal wave of residential and commercial evictions.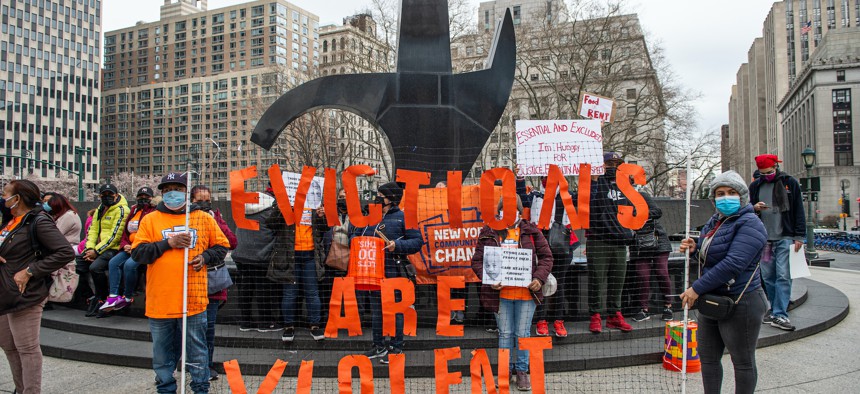 Existing state moratoriums on residential and commercial evictions expire in just a few days. State lawmakers are taking a relatively simple approach to extending them. They took two old bills, combined them, and replaced "May 1" with "Aug. 31" about three dozen times. They are now planning to get this combined legislative extension through the state Senate and Assembly this week. "We have to do this extension," said Assembly Member Jeffrey Dinowitz of the Bronx, who is sponsoring the bill with state Senate Housing Committee Chair Brian Kavanagh of Manhattan and Brooklyn. "Otherwise, we're going to have massive evictions – and that is not good for anybody, including landlords." Legislative committees in both chambers will consider the bill Tuesday. 
Getting a bill done this week and signed into law by Gov. Andrew Cuomo – whose spokesperson did not reply to a request for comment by publication time – means struggling tenants, homeowners and businesses would get four more months to access a $2.4 billion housing relief fund established in the state budget. A straightforward extension of the moratoriums, however, also means legislators, activists and the real estate industry will have to fight another day on a number of contentious housing issues.
Extending these moratoriums is not so controversial by itself, but the details of the residential and commercial moratoriums do reflect wider tensions between tenants and landlords that could erupt in the remaining weeks of the legislative session. "They need to pass this eviction moratorium," said Cea Weaver, campaign coordinator of the tenant advocacy group Housing Justice for All. "Then we need permanent rent relief and permanent eviction protections." She and other housing advocates rallied in Manhattan this morning in support of legislation that would establish a housing voucher program for homeless people as well as a "Good Cause eviction" bill that would expand tenant protections statewide. 
"The moratorium is a public health measure," Kavanagh told City & State, citing guidance from the Centers for Disease Control and Prevention about how homelessness can contribute to the spread of the coronavirus. Legislation passed in December allows tenants to avoid eviction if they fill out a form outlining how their financial hardship stems from the pandemic. Homeowners and landlords with ten or fewer units are also protected from foreclosure. Another bill passed in March bars evictions for small businesses. "Just like any other legislation, the moratorium could be modified by the Legislature over time," Kavanagh added. 
Democratic lawmakers are also considering tweaks to the moratoriums, according to Kavanagh and Dinowitz. This includes raising the maximum number of units that a landlord can own and still qualify for foreclosure relief. "Maybe it's 20, maybe it's 25," Dinowitz said in an interview. "I do sympathize greatly with the plight that many (landlords) are facing right now." Activists on the political left meanwhile say they will be watching the implementation of the extended eviction moratorium and the rent relief fund carefully to see whether it is covering as many New Yorkers as lawmakers have said it could. "One hundred percent that is the name of the game right now," added Weaver.
A "tidal wave" of evictions has been predicted ever since the pandemic began in New York state. The ultimate success of the moratoriums and the relief fund will become better known in the upcoming months – Cuomo signed the budget into law last week – but the Real Estate Board of New York, which represents the powerful New York City real estate industry, is already declaring the extended residential and commercial eviction moratoriums failures in the making. "It's ironic that state lawmakers are extending the moratorium – which still permits those who can pay rent to inappropriately use it to evade their obligations – simply because state officials can't launch a rent relief program in a timely manner for tenants and owners in need," REBNY President James Whelan said in a statement. 
Powered By
NEXT STORY: Climate bill would tax carbon in New York