New York State
Vaccine passports raise equity, privacy concerns
New York's Excelsior Pass can't be equitable until vaccinations are equitable, some advocates say.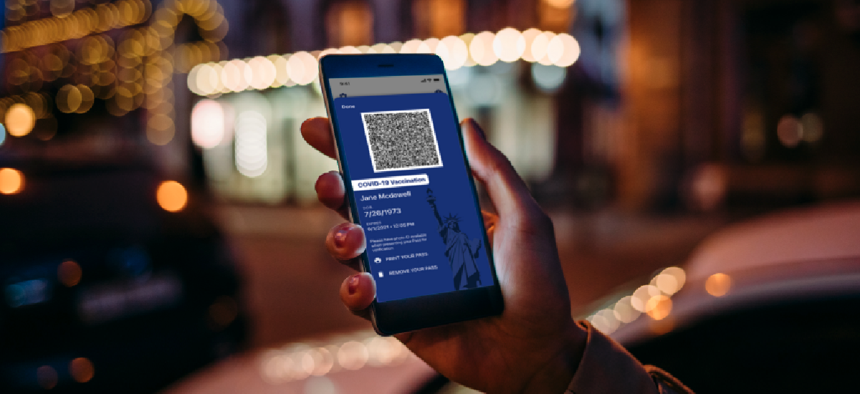 Despite New York's fight against COVID-19 reaching a frustrating point of stagnation, the state is ramping up vaccinations and charging forward with reopenings of stadiums, theaters, event venues and more long-shuttered businesses. But the brave new, post-pandemic world requires a special key for entry, and not everyone will be allowed in.
Last month, New York launched Excelsior Pass, its version of a vaccine passport program, which requires people to display proof of either COVID-19 vaccination or a recent negative COVID-19 test before entering participating venues such as baseball stadiums or concert halls. (Madison Square Garden and the Times Union Center in Albany were announced as participating establishments when Excelsior Pass first launched, but the state has opened the door for smaller entertainment and events venues to use the pass as well.)
Excelsior Pass uses a smartphone app that businesses scan to confirm your vaccination or recent negative test, but users can also register their vaccination or recent test online and print out a piece of paper with a QR code to scan. Participating businesses are also required to accept other forms of proof of vaccination or negative COVID-19 status, such as a printout of a recent test result or your Centers for Disease Control and Prevention vaccination card. 
The idea of vaccine passports has been batted around by the federal government in recent months for travel purposes, and the passport approach has historical roots in the country's fight against smallpox. But in this pandemic, the concept of vaccine passports has already become controversial, with several states banning mandated vaccine passports, and politicians on the right characterizing them as infringing on civil liberties and personal freedoms. 
While it may not be a surprise that vaccine passports invite conservative ire – it's a logical next step from those who rebelled against mask mandates – the approach to reopening the economy is also drawing criticism from civil rights groups who say that, in addition to raising privacy concerns, vaccine passports risk disadvantaging those who have a harder time accessing the COVID-19 vaccine. "Any prerequisite for a vaccine passport has to be universal access to vaccines," said Allie Bohm, policy counsel at the New York Civil Liberties Union.
The fact that New York's Excelsior Pass doesn't just accept proof of vaccination but also proof of a recent negative COVID-19 test may mitigate some of that concern, but it's still not a perfect solution, Bohm said, noting that it could still disadvantage people who don't have easy access to COVID-19 tests. 
While New York City and New York state have made an effort to distribute the COVID-19 vaccine to the people hit hardest by the pandemic and least likely to be able to access it, which includes low-income New Yorkers and people of color, current data still shows a troubling disparity in vaccinations. As of Friday, citywide data shows that white people account for roughly 36% of those who have received at least one vaccine dose, while Asian Americans account for 20%, Latinos for 19% and Black people for 14%. Statewide data also displays a large gap, with white people being vaccinated at higher rates than people of color. 
While Black and Latino New Yorkers account for a disproportionately low number of vaccinations, they are also the communities with the highest rates of COVID-19, and they include people who have developed some degree of immunity from having been infected and recovered. While people who fall into that category are still encouraged to get the vaccine, it's notable that one can't use naturally acquired immunity to obtain Excelsior Pass. Representatives for Gov. Andrew Cuomo did not respond to requests for comment for this story, including about whether Excelsior Pass would accept positive results from antibody tests.
Wafaa El-Sadr, a professor of epidemiology at Columbia University's Mailman School of Public Health, said that New York's reopening of large public venues is premature, and not only because of remaining inequities in vaccinations. "Fundamentally, the challenge is that this vaccine passport (is) now enabling some people to access some venues that are considered higher risk, e.g. indoor restaurants, sporting events, etc," El-Sadr wrote over email. "Overall, I believe that this is the wrong time to facilitate access to such venues, with current case rates in the city and (the) threat of new variants."
The idea of vaccine passports being used for travel has drawn similar concerns about equity, and the World Health Organization has not endorsed their use yet, citing concerns about discrimination against those who haven't accessed the vaccine.
There are also equity and security concerns about the pass itself. While a smartphone isn't required to use Excelsior Pass, internet access and digital literacy is still required for the first step of registering their vaccination or test status online. And then there are worries about fraudulent use of the app.Geoffrey Fowler, technology columnist at The Washington Post, found that it was fairly easy to copy a QR code generated from a vaccination record or negative test result to other phones. Businesses can require that users present an ID along with their Excelsior Pass to help fight potential fraud, but that then raises questions about people who don't have IDs or who are wary of showing their ID anywhere they go.
But while it's not hard to find flaws with the vaccine passport program, there aren't any clearly better alternatives.Bohm said that while vaccine passports may end up becoming part of New York's reopening, the state should focus first on ensuring universal vaccine access and distribution, and then tackle other concerns to improve Excelsior Pass, including creating a robust privacy policy and sufficient analog alternatives.
Arthur Caplan, a bioethicist at New York University's Grossman School of Medicine, said that vaccine passports are the right approach for New York's reopening. "I think more and more people are going to expect when they go to a sports event or Broadway or a cruise ship, that the workforce is vaccinated and the people they're there with are vaccinated, or at least that they're not sitting next to people who aren't," Caplan said. The Excelsior Pass shouldn't be a pass for loosening other precautions, like distancing and mask wearing though, Caplan said, noting that those are steps to consider closer to when we've achieved herd immunity. 
New York City Mayor Bill de Blasio acknowledged privacy concerns surrounding Excelsior Pass this week, but said that the passport program is a good idea.
It's still not clear just how widely Excelsior Pass will be used. While it's currently discussed for entry to places like sports arenas, theaters and wedding venues, the state has left open the possibility that other businesses can opt-in too. Advocates are also eager to see limits placed on how long Excelsior Pass will be used. "The other piece is making sure that this isn't a thing that stays with us for all time," Bohm said. Representatives for Cuomo did not respond to a request for comment on what types of businesses may eventually be using Excelsior Pass or how long they envision the passport program being used. 
Powered By
NEXT STORY: Budget vote exposes Democratic divisions