Budget
De Blasio spending big on NYC's recovery
But will the city's coffers be empty for the mayor's successor?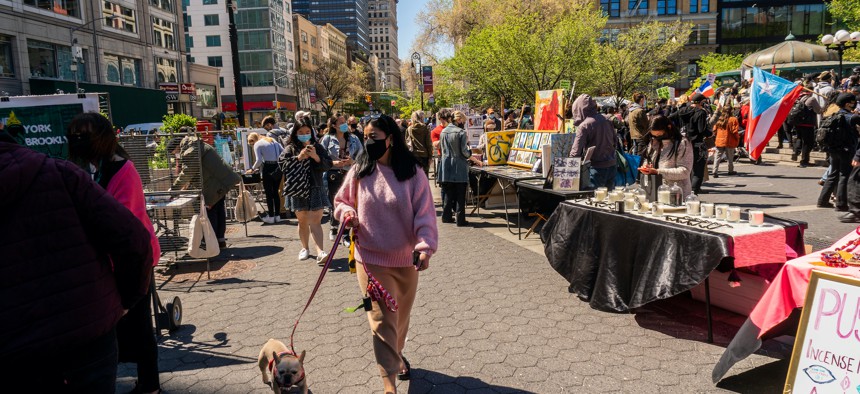 With billions of dollars in federal COVID-19 aid flowing into New York City, Mayor Bill de Blasio proposed a "recovery budget" with record-high spending for his final months in office. But even with the mayor's optimistic outlook for the city, his plan includes a degree of uncertainty for the next administration, and some outstanding problems like budget gaps, one-time funding for ongoing programs and labor costs that de Blasio's successor will have to reckon with.
De Blasio has proposed a $98.6 billion budget, the largest in the city's history and $10 billion more than the adopted budget for fiscal year 2021. The mayor painted an optimistic picture for the future when he presented his spending plan in April, including fully funding his universal 3K initiative and creating a 10,000 person "City Cleanup Corps" to create new jobs while working to beautify the city. "Sometimes you have to spend money to make money," de Blasio said at the time, noting that if the Office of Management and Budget's estimates were correct, the investments would aid the creation of hundreds of thousands of new jobs. "We need to come back strong."
But the massive spending plan has been met with skepticism by some. Despite some $15 billion in federal funds the city is slated to receive, including $6 billion in unrestricted aid, de Blasio still leaves estimated budget gaps of nearly $4 billion per year for fiscal years 2023 through 2025. Realistically, those gaps are even higher, since they don't include $1 billion in unspecified recurring labor savings de Blasio baselined into future years. "You look at the current year and you look at the proposed budget for next year, things are obviously balanced," said Citizens Budget Commission President Andrew Rein. "But bam, that cliff happens really quickly, because there's nothing being done to rectify the cliff." Rein added that despite the influx of federal cash, the projected budget gaps remained virtually unchanged compared to de Blasio's preliminary budget in January, before much of that federal aid materialized.
The roughly $4 billion gaps for the next three fiscal years, while large, are not unprecedentedly high. But Rein said that de Blasio is missing an opportunity to restructure the city's budget to continue saving efforts that began with the pandemic. For example, the city reduced the municipal workforce by about 13,000 people to save money, but de Blasio is now looking to hire more than 5,000 new city employees. "We should be finding efficiencies, decreasing the recurring spending base over time so it's affordable," Rein said. "And this plan does literally almost nothing on that."
Another source of concern is the fact that de Blasio is funding recurring programs with nonrecurring federal funds, meaning that once that money expires, the next administration will have to figure out where to find the revenue to keep funding at those levels. Perhaps the most notable example is de Blasio's plan to fully fund universal 3K with nearly $400 million in federal funds. The city's Independent Budget Office estimated in a recent report that about a third of the federal aid the city is set to receive – $4.2 billion – is being allocated to projects that will continue past the next fiscal year and beyond the expiration of the money. "It's typically hard to defund a program once it starts," said Ronnie Lowenstein, director of the Independent Budget Office. She said that reimbursements for city-supported nonprofits, restoring litter basket collection – which had been reduced by 60% last year – and the partial restoration of citywide hiring after a freeze all rely on money that will run out during the next administration. "All of that stuff is going to be a big question mark," Lowenstein said. 
De Blasio is also leaving relatively little money in the labor reserve for his successor to pay for new labor contracts and the raises that will come with them. By next year, nearly all municipal employees will be working without a contract and the new administration will have to find revenue to pay while negotiating. "The labor situation is going to be pressing, maybe not quite as pressing as what de Blasio inherited," Lowenstein said. When Bloomberg left office, many city employees were working without a contract, but Lowenstein said the fact that de Blasio is leaving the same kind of "headache" he inherited is still notable. "It almost looks like business as usual," Lowenstein said of the projected budget gaps. "Except for the fact that we have all these city workers without contracts, and almost no money in the labor reserve for them."
James Parrott, director of economic and fiscal policies at The New School's Center for New York City Affairs, found the labor negotiations less pressing than either Lowenstein or Rein. "It's not unusual to have little set aside for new labor negotiations, since that can sometimes complicate the city's bargaining position by essentially creating a floor for labor demands," Parrott said. When Bloomberg left office, most city employees were working without contracts for several years, leaving de Blasio with a fraught fiscal situation and a $7 billion price tag for retroactive pay. "With regard to labor negotiations, de Blasio is leaving office with things in infinitely better shape than when he walked in the door."
There are also some differing opinions about how much money the city will have to work with in future years. The IBO estimates that while the current fiscal year will end with a very slight, $17 million deficit, fiscal year 2022 will actually end in a $1.3 billion surplus, thanks to higher revenue projections than what the OMB estimated. Lowenstein said that the surplus could help to address the future budget gaps, which her agency estimated to be $4.1 billion in fiscal year 2023, and $3.5 billion and $3.6 billion in each of the next two years. She added that those following years have $1.25 billion in unallocated reserve funds, which could help with the budget gaps, so long as that money is not needed for another unforeseen emergency or new economic downturn. "The city's in a much stronger position on reserves than it was last time there was a mayoral transition," de Blasio said when he presented his budget in April.
Parrott said he considered de Blasio's proposed budget fairly balanced in how he is choosing to spend the federal aid the city is receiving. He pointed to de Blasio's decision to replenish with federal dollars the city's reserves he dipped into to help balance his budgets during the pandemic. A total of $1.8 billion is going back into the city's various reserve funds – $1.6 billion into the Retiree Health Benefits Fund, from which the mayor drew $1 billion to balance the fiscal year 2020 budget, and $200 million into the general reserve, from which de Blasio drew $900 million to help balance the fiscal year 2021 budget.
That means for fiscal year 2022, de Blasio is proposing reserve funds totalling $4.6 billion, an investment that even a critic like Rein commended. "All things considered, there are substantial reserves in the city's proposed (fiscal year 2022) budget and four-year financial plan, and the city's fiscal situation is in reasonably good shape," Parrott said, adding that he expects, like the IBO, that revenue will be higher than the city is currently projecting. He said that he agrees with de Blasio's mantra that spending big will help lead to a big recovery. "The city really needs to have programs to help businesses to help employ workers," Parrott said.
However, the city's recovery has been, and will likely continue to be, slow and uncertain. A new crisis, an unexpected downturn due to the coronavirus pandemic, or even just slower-than-expected growth could throw the current fiscal plans out the window, which are already somewhat tenuous. The amount of uncertainty facing the next administration is perhaps the most notable thing about the situation de Blasio is leaving for the next mayor. "It is really hard to tell what the city's going to look like in a few years," Lowenstein said.