Education
How did New York colleges use federal coronavirus relief money?
Some schools cut tuition and others reimbursed students for on-campus housing.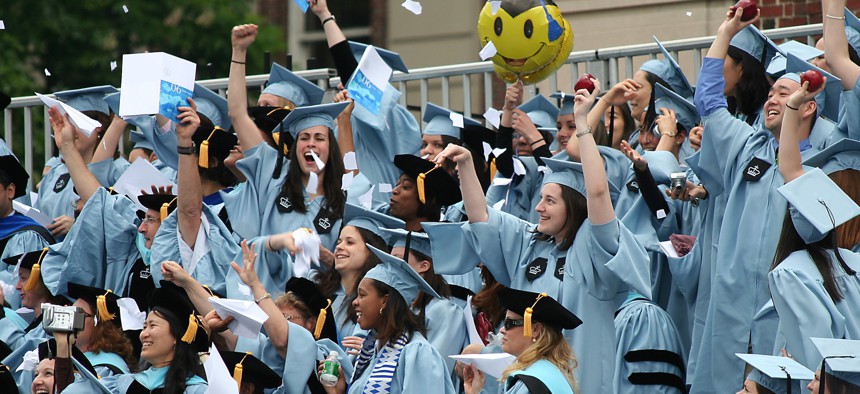 As universities and college students struggled during the COVID-19 pandemic, the federal government disbursed billions of dollars to these institutions. Included in the CARES Act, which was passed by Congress at the onset of the pandemic, was $14 billion to fund the Higher Education Emergency Relief Fund. It was not only supposed to help colleges and universities cover expenses related to the "disruption of campus operations" due to the coronavirus pandemic, but also drive at least half of every dollar to financial aid grants for students. This money could be used by students to cover the cost of housing, food or books – all the things that might've impacted by the cancellation of in-person instruction and campus life.
In New York City, the money felt particularly necessary. The city has some of the country's most expensive schools, a high cost of living and many low-income students who stay in the city for college. It was also the epicenter of the nation's COVID-19 outbreak in March and April of last year. So when the federal money came around, many students considered it a godsend, especially when Congress required that a majority of the funding wind up with them.
Whether that actually happens, though, remains to be seen. For the first round of funding, passed in March 2020, at least 50% of funds had to go to direct emergency financial aid for students – basically, deposits right into students' bank accounts. The rest can be allocated into college or university accounts, although schools can choose to give out additional money to students. For the second round, passed in December 2020, the same minimum had to go out to students. And in the third round, passed March 2021, there were similar minimums for getting money to students.
Filings for the first round of funding have been released, but for rounds two and three there's still ample time for institutions that haven't spent everything to decide what they want to do with the money. And the first round showed differences in how New York schools like Columbia University, New York University, and the CUNY and SUNY systems allocated and spent their federal cash. Columbia University received about $12.8 million, as did the state's other Ivy League school, Cornell University. NYU received $25.6 million. CUNY as a whole received almost $237 million. And the SUNY campuses altogether received over $297 million.
According to a Columbia University spokesperson, the school distributed its $6.4 million student allotment earlier this year to more than 4,000 students. Columbia also launched a student relief fund in April 2020 for students in their visual arts programs, funded by donations from program graduates. Columbia Business School and the Graduate School of Architecture, Planning and Preservation did the same.
The university is unique because it has the highest tuition in the country, which means it relies less on its endowment – which went up $310 million in the fiscal year that ended June 30, 2020 – and other sources of funding to keep its programs afloat. About 10% fewer students receive financial aid compared to 30 years ago, and the school's tuition has shot up 50% over the past 15 years. Despite recent strikes to have tuition decreased during the pandemic, the school hasn't shown any signs of budging. Peer institutions like Princeton University, Johns Hopkins University, and Georgetown University reduced tuition by 10% in light of COVID-19.
NYU, however, did follow a similar tack to Columbia when it came to tuition – it raised its prices 2.95% from 2019.
NYU spokesperson John Beckman said in a statement to City & State that NYU has had a "sustained focus" on restraining increases in tuition, and pointed to the school dropping over 40 spots since 2016 on the Chronicle of Higher Education's list of most expensive colleges.
Beckman said that despite massive losses due to coronavirus-related costs, "(NYU) has managed to avoid the kind of universitywide programs of layoffs, mandatory furloughs or suspension of retirement pay that many other universities had to enact, keeping virtually all its employees working and whole even as we expanded financial assistance for students."
NYU directly allocated the federally mandated minimum in direct aid to students. However, it utilized its institutional portion in the first round of federal funding on housing refunds – which meant that all of the money effectively went back to students one way or another. NYU also has a student relief fund and courtesy meals for students struggling with food.
The university also committed to allocating all money from the second round of federal funding to students. Although it said it was going to the "full equivalent of these funds" to support students financially, as opposed to directly handing over the federal cash.
Beckman said the structure of the federal program had a lot to do with redirecting the funds internally, while providing an equivalent amount of NYU resources provides the school "with some additional flexibility in providing the aid to students." He noted that undocumented and international students were excluded from the federal money, and school funds could, for example, then be used to assist them.
SUNY press secretary Holly Liapis said some CARES Act funding went to coronavirus-related expenses for the school that helped students: $135 million to refund students in room and other unused expenses during the transition to remote learning, along with spending money on COVID-19 testing and personal protective equipment.
Liapis said SUNY also provided emergency aid through its foundation, resources for students to study remotely like laptops and internet access, and expanding mental health resources. The total spending on those programs, which included both institutional and CARES Act funding, totaled $236 million as of late March.
When it came to individual SUNY campuses, federal filings showed school spent money intended for the institution on students. Binghamton University, University at Albany, University at Buffalo, SUNY New Paltz and others spent money meant for the schools on housing refunds.
"COVID has caused considerable disruption to our students, many struggling financially due to job loss in the family or for themselves," Liapis said in a statement to City & State. "Federal aid is significant, as is New York State's ongoing commitment to our students; and Chancellor (Jim) Malatras and campus leadership will continue to work closely with the Executive, State Senate and Assembly on advocating for SUNY in the State Budget."