New York City
Is NY reopening too quickly?
It all depends on how well the city can adhere to COVID-19 restrictions.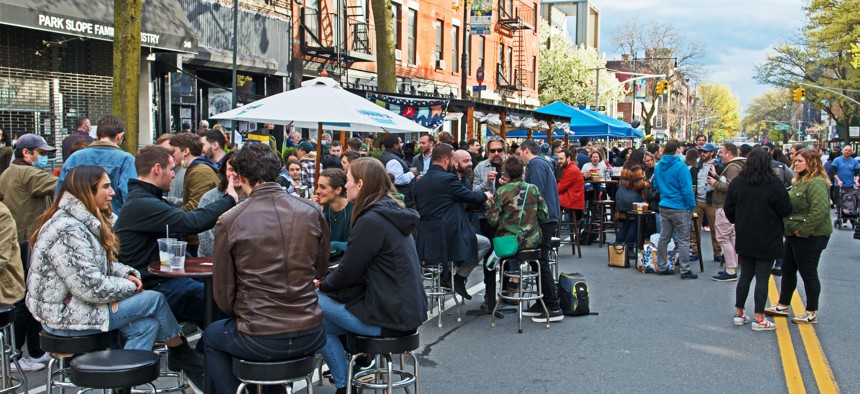 On April 30, Gov. Andrew Cuomo announced that indoor capacity for restaurants and hair and nail salons in New York City would be allowed to increase to 75% on May 7 and that gyms and fitness centers could increase capacity to 50% starting on May 15. 
Cuomo's announcement came just one day after New York City Mayor Bill de Blasio notified the public that the city would be fully reopened by July 1. "This is going to be the summer of New York City," the mayor said during a press conference. "We're all going to get to enjoy the city again, and people are going to flock here from all over the country to be a part of this amazing moment."
While the city's reopening would be a major boon to its economy, which has been severely damaged by the COVID-19 pandemic, some health experts are unsure if reopening the city so quickly is a wise decision, considering the disparities in vaccination rates and new COVID-19 variants that have yet to be fully analyzed. Many of the city's residents who have lived through the worst of the pandemic, which has resulted in 32,760 deaths as of May 6, are also feeling anxious and apprehensive about whether or not a summer reopening is the best course of action – and several elected officials, public health experts and epidemiologists have similar reservations.
New York City Public Advocate Jumaane Williams slammed both the governor and mayor's announcements that COVID-19 restrictions would be rolled back, arguing that they have not given enough justification for doing so. "Enacting complicated new ordinances on short notice, without clear health data presented as justification, undermines confidence that these decisions are being guided by public health and not politics," Williams said in a statement published on May 3. "When the science indicates safety – such as finally restarting 24/7 subway service – these reopenings can be celebrated. But when it does not – such as bringing city workers back in-person or lifting most capacity restrictions in just over two weeks – those decisions should be scrutinized and leadership questioned." 
De Blasio's rationale for reopening the city is based on vaccination projections, which indicate that a large majority of the city's residents will be vaccinated by July 1.
"It just seems poorly thought through and almost a little reckless," Dr. Denis Nash, an epidemiologist at the City University of New York, told The New York Times, arguing that the city's vaccination rates do not currently justify the reopening and could result in a rise of new cases.
Vaccination rates among New Yorkers have also begun to lag, with Black and Latino residents vaccinated at much lower rates than others. As the Times recently noted, "In one ZIP code that includes Canarsie (in Brooklyn)... 35 percent of adults have received at least one dose. In some areas of the Upper West Side and Hell's Kitchen, (in Manhattan) the total is over 75 percent." In hard-hit neighborhoods such as Corona, Queens residents still struggle to get the time away from work needed to get vaccinated. 
"I think that the timing is odd, given the serious decline in the rate of vaccinations," Nash said. "Why would you want to push toward opening up when your public health situation is going in the opposite direction?"
Regardless of health concerns, the city feels confident that it will be able to continue to make progress as long as residents continue to comply with the current COVID-19 restrictions in place.
"I'm feeling some cautious optimism based on where the numbers are headed right now, particularly with respect to cases, but also hospitalizations and deaths," city Health Commissioner Dr. Dave Chokshi said during an appearance on "Inside City Hall."
Chokshi urged New Yorkers to continue to adhere to safety protocols, get vaccinated and not let their guard down as the city inches closer to a full reopening. "We can't mistake progress for victory," said Chokshi.
Dr. Danielle Ompad, an associate professor of epidemiology at New York University's School of Global Public Health, told City & State that she also feels that the city could be successful in reopening as long as New Yorkers continue to take precautions such as wearing masks and social distancing, especially if they are not vaccinated. However, Ompad says that many people may not be willing to continue following guidelines due to pandemic fatigue. "I wish more people were vaccinated before we (decided to) open up," Ompad said.
Recently discovered mutations of the COVID-19 virus, which are still being studied by epidemiologists, are also a concern as the city moves toward reopening. "We don't know very much about new variants," Dr. Wafaa el-Sadr, an epidemiologist at Columbia University's Mailman School of Public Health, told the Times. "Yes, there needs to be expanded sequencing in N.Y.C. on random sample of positives in order to avoid jumping to conclusions based on limited data."
Ompad agreed that much more research needs to be done to further assess the existing variants and any new ones that might emerge. "This virus is still evolving," Ompad said. "Right now, the vaccines are relatively protective against the variants but that could change. And we also anticipate that we are going to need boosters. So that means that we're going to have to go through vaccination all over again."
Despite the city's push to return to its pre-pandemic state, Ompad says that New Yorkers don't need to be so quick to skirt safety protocols they've adopted over the past year. "When the policy changes, it doesn't mean that you have to change your behavior to be more risky," she said. "You, as an individual, can say, 'I am not comfortable with that, there's still transmission going on and I am going to still do certain things to protect myself.'"