New York State
Savino to introduce bill allowing gig workers to unionize
While some lawmakers approve of the compromise legislation, there's not much time left in the session to pass it.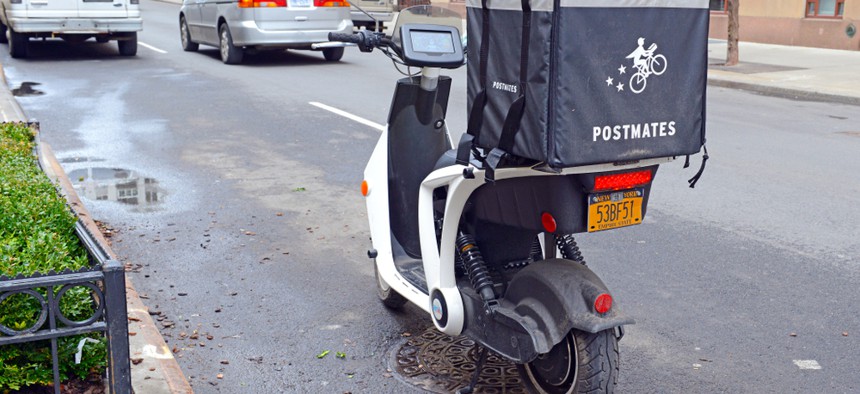 Two years ago, at the eleventh hour of the state Legislature's session in June, state Sen. Diane Savino and then-Assembly Member Marcos Crespo introduced a bill that would allow gig workers like Uber drivers and Postmates delivery workers to unionize, creating a new employment category that wasn't quite "employee" or "independent contractor." The proposal, introduced just days before the end of the session, drew the ire of both labor and the tech companies and failed to advance.
It may not quite be the eleventh hour of this legislative session, but it's definitely past twilight and Savino is ready to introduce another approach to granting gig workers more rights that she and major labor groups, such as the Transport Workers Union, hope to pass by the end of the session on June 10. Savino confirmed to City & State that she will sponsor the proposal that was first reported by Bloomberg earlier this week, and which would not reclassify gig workers as employees, but grant them the right to collectively bargain. As of Thursday night, bill language had not been made public, but Savino said the bill is set to be available for review as soon as Friday.
Assembly Member Latoya Joyner, who chairs the Labor Committee, declined to comment on whether she would carry the bill in her own chamber, but said that she's optimistic about the discussions taking place. "Providing New York's growing gig workforce with essential protections is an important priority and the Assembly Majority has been having productive discussions with a wide range of interested parties as we seek to develop legislation that strikes an appropriate balance," she said in an emailed comment on Thursday. "These discussions have not been finalized but I am optimistic that these efforts will ultimately result in legislation that makes New York a better place to live, work, and raise a family." A spokesperson for Assembly Speaker Carl Heastie did not respond to a request for comment.
Those discussions have included Savino, the Transport Workers Union, the International Association of Machinists and Aerospace Workers, and the New York State AFL-CIO, as well as tech companies that operate in the gig economy. A spokesperson for the New York for Coalition for Independent Work, which represents the interests of companies including Uber, Lyft and Instacart and has fought against reclassification efforts in New York, did not respond to a request for comment.
Savino said that the proposed deal would not cover all workers but would focus largely on those "most vulnerable" in the gig economy, including ride-hailing drivers and delivery workers. The proposal would provide those workers with the right to unionize, the right to unemployment insurance and to workers' compensation. Critics of the proposal have raised concerns that securing unemployment insurance and workers' compensation would be won as part of the bargaining process – causing some workers, like ride-hailing drivers and delivery workers, who are already guaranteed unemployment insurance in New York, to have to negotiate for benefits they're already entitled to. But Savino said the bill would grant unemployment insurance and workers' compensation automatically, and the companies employing workers would be required to pay into those benefits.
The effort to grant gig workers more protections and possibly reclassify them as employees had until recently seemed to languish in Albany, despite the hardships of operating without labor protections becoming clear during the COVID-19 pandemic. Savino noted that the new proposal would also guarantee that undocumented gig workers could access unemployment insurance by creating a separate fund that tech companies would have to contribute to.
But as The City reported earlier this week, some labor advocates have doubts that this proposal is the best that workers can get, and say it may end up jeopardizing benefits already won at the local level, like minimum pay rules for ride-hailing drivers in New York City. Some said it could discourage the pursuit of more drastic reforms, such as reclassifying gig workers at the state level or pursuing the Protecting the Right to Organize Act, known as the PRO Act, in Congress. The bill, a major piece of labor reform legislation that would classify gig workers as employees under the National Labor Relations Act for the purposes of union organizing, has passed the House of Representatives but still lacks the necessary support in the U.S. Senate.
And some state lawmakers who have introduced legislation on the gig worker issue in recent years have not been a part of the negotiations on this new proposal. That includes Assembly Member Deborah Glick, who is sponsoring a bill that would apply a stricter employment classification standard called the "ABC test" and reclassify many independent contractors as employees. "There were reports in the media that they are close to or have reached a deal," Glick said on Thursday afternoon. "But beyond that, I am unaware of the details of what that might look like." Glick said that it's impossible for her to say whether she supports the proposal, having not been involved in the discussions or seen the bill language as of Thursday.
State Sen. Robert Jackson, who sponsors Glick's gig worker legislation in the Senate, said that he will support this new proposal, despite it not covering the classification issue, not just for app-based workers, but for other workers he said are misclassified, like home health care and child care providers. "This proposed compromise is a step in the right direction – all workers deserve the right to bargain over their conditions of employment," he said in an emailed comment. "Unfortunately, it stops short of getting to the root of the problem: worker misclassification."
While Savino said she hopes it will pass in the few weeks left before this session ends, state Sen. Jessica Ramos, who chairs the Labor Committee, said in an interview earlier this week that she expected the gig worker issue to be kicked to the next session. It's not clear where Ramos stands on Savino's bill or whether she was involved in any of the negotiations as labor chair; she did not respond to a request for comment.
First-term Assembly Member Zohran Mamdani, who campaigned on his support for reclassifying gig workers as employees, said he will vigorously oppose the bill. "I think that it's a horrific idea," Mamdani said, citing concerns about it creating a carveout for gig companies and discouraging efforts to eventually reclassify workers. "We have, at this point, less than two weeks left of legislative days. We have not discussed this issue at any juncture. It has not been brought up in conference. I have not heard about it from any other colleague. I've only read a Bloomberg article about it."
Other labor groups are still waiting for the bill text too. 32BJ SEIU President Kyle Bragg said the union has always supported gig workers getting the same rights, benefits and protections that other employees receive under the state's labor and employment laws. But the union hasn't seen the bill or been in discussions with tech companies about it. "We remain concerned about what we are hearing about this bill proposal with regard to how it treats gains already made at the local level and with regard to existing state protections. We strongly support the PRO Act and believe that any state bill must be consistent with it," he said in an emailed statement.
One of the unions supporting the bill said that it would be a kind of interim solution on the way to the larger goal of amending gig workers' current classification as independent contractors. "The goal is to create a bridge to the passage of the PRO Act, or some other regulatory or legislative reclassification, or correction of the existing classification," said John Samuelsen, the Transport Workers Union's international president.
But opponents said that passing this bill in New York state would cause companies like Uber and Lyft to advocate for this type of legislation in other states, not in addition to the PRO Act, but in place of it. "To be able to say, 'Well, look, we got this carveout at the state level. So we don't really need federal legislation on this,'" said Bhairavi Desai, executive director of the New York Taxi Workers Alliance. Tech companies, including Uber, Lyft and Doordash, and the coalition that represents them, did not respond to requests for interviews on this proposal.
Desai added that the new proposal in New York could face legal challenges because of antitrust law that restricts independent contractors' ability to collectively bargain, and could risk stripping the proposal of its most significant aspect. Savino said the text of the bill is being carefully crafted in consideration of that law.
Opponents also asked why, if this proposal was so great for workers, would tech companies that have spent hundreds of millions of dollars to block attempts to grant gig workers more employment protections go along with it? One answer Savino offered was that those companies see stricter regulation of their industry as inevitable, and may want to avoid spending millions more fighting it. "At the end of the day, I think they realize that they're going to have to do something," she said.
Powered By
NEXT STORY: Police funding returns as issue in NYC budget