Energy & Environment
Legislative progress on climate change divides political left
Groups like the New York City chapter of the Democratic Socialists of America say Albany Democrats are not doing enough to promote renewable energy.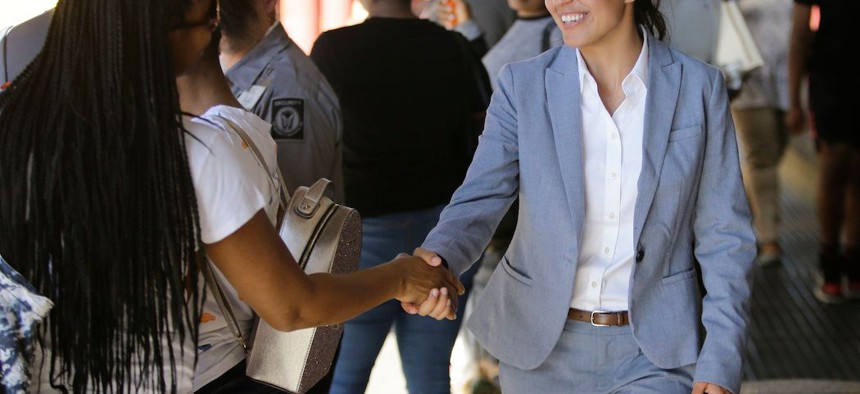 There are two weeks left in the official 2021 legislative session, and environmentalists cannot agree on how best to use that time. Some lawmakers are focusing on a bill that would make it easier for manufacturers to sell electric vehicles. Advocacy groups are rallying Thursday outside the state Capitol in a last-ditch push to pass a proposed carbon tax this year. With the June 22 primary approaching, Democratic socialists are even making a city campaign issue out of the idea of making the New York Power Authority a bigger player in renewable energy. 
The legislative language states that the New York State Build Public Renewables Act would encourage the quasi-public agency to build new renewable projects and require it to be "the sole provider of energy to all state owned and municipal properties" by 2025. "When we talk about all the things we want to do on a city level, a lot of it is predicated on our partners at a state level stepping up and making this possible," said Tiffany Cabán, a City Council candidate from western Queens. "It always comes down to Democratic leadership, right?" She will be among the six candidates backed by the New York City chapter of the Democratic Socialists of America who will speak at a June 2 rally outside City Hall.
Democratic socialists are not the only people on the political left who say Democratic state lawmakers are not pushing hard enough on climate change, but they are arguably the most vocal with plenty of political muscle to boot. That is irking some mainstream Democrats on the public power bill, including some legislators who are key to it ever becoming law. 
The upcoming rally will highlight the lack of progress on climate change legislation since 2019 and draw attention to the political donations some Democratic leaders have received from companies that currently make money off fossil fuels, according to a media advisory. The June 2 rally is being organized by a coalition of environmental and democratic socialist groups called Public Power NY. Left-leaning activists say they are holding powerful legislative leaders accountable while their critics accuse them of bullying them on a complicated bill in order to boost their political brand before city elections.
Campaign finance records compiled by Public Power NY do show Assembly Speaker Carl Heastie of the Bronx, state Senate Majority Leader Andrea Stewart-Cousins of Westchester and other legislative leaders have received thousands of dollars each in donations in recent years from energy companies that use fossil fuels like National Fuel and Con Edison. The implication is that the donations represent a conflict of interest with legislative duties. "The speaker is always guided by the members of our conference," a spokesperson for Heastie said in an email. "We don't care about any conspiracies anyone wants to peddle. Ever." A spokesperson for Stewart-Cousins did not respond by publication time to requests for comment. 
State Senate Energy and Telecommunications Committee Chair Kevin Parker of Brooklyn, who is sponsoring the public power bill and the legislation that would enact a carbon tax, said the thousands he has received in campaign donations in recent years from companies that benefit from fossil fuels simply reflect his willingness to meet with anyone concerned with energy policy. He added that passing the public power bill requires addressing concerns from a wide variety of interests including consumers, environmentalists and the business community. "Anybody who knows me knows that you probably should not be trying to bully Kevin Parker," Parker said in an interview. "This is simply a bunch of overzealous advocates who frankly don't understand the legislative process." 
Similar sentiments were expressed by Assembly Member Amy Paulin of Westchester, who has accepted thousands in political donations in recent years from companies like Con Edison. Paulin is chair of the Committee on Corporations, Authorities and Commissions where the public power bill has sat in recent weeks. "If they think they are somehow going to pressure me into putting a bill on the agenda, you know those kinds of tactics don't work," Paulin said in an interview. "I'm very independent minded." The bill, however, is currently being reassigned to the Energy Committee chaired by Michael Cusick of Staten Island for technical reasons, according to Paulin. Cusick, who campaign finance records show has taken thousands from companies that benefit from fossil fuels in recent years, could not be reached for comment by publication time. 
At this point, chances are that the public power bill and the proposed carbon tax will fall short of the legislative finish line this year. "We are just weeks away from the close of this legislative session, and climate funding legislation languishes in committee," a spokesperson for NY Renews, a coalition of labor unions and advocacy groups backing the proposed carbon tax, said in a statement. The bill aimed at loosening state rules on the sales of electric vehicles also faces long odds. "If we don't do it this year, I think you will see a huge push next year," Assembly Member Patricia Fahy of Albany said in a text. Fahy is sponsoring the bill with state Sen. Todd Kaminsky of Long Island, who did not respond to a request for comment. 
The same could be said for the public power bill that has become a new point of contention between the political left and mainstream Democrats. Parker and Assembly Member Robert Carroll of Brooklyn, who is sponsoring the bill in his chamber, say they are still pushing to build support for the public power bill before the official session ends on June 10, but complicated bills take time to get done in Albany. "Rome wasn't built in a day, and big, difficult legislation takes a while," Carroll said in an interview. "It's a big state." The bill that became the Climate Leadership and Community Protection Act was first introduced years before it passed in 2019. A bill to set up a single-payer health care system at the state level has yet to pass despite decades of effort.
Some democratic socialists say that given the impending dangers of climate change, their calls for action on the public power bill are justified no matter the political hubbub that it causes. "We haven't passed any major climate legislation this session," said Assembly Member Zohran Mamdani of Queens, who was backed by the city chapter of the Democratic Socialists of America in his 2020 election. "We have to pass this legislation. We have to catch up with what's actually happening because if we don't, it's not even alarmist to say so, but it's our lives, it's the lives of everyone on this earth that's at stake."