Health Care
With business picking up again, what's the fate of pandemic dining rules?
Customers and business owners want some measures, like outdoor dining, to stay.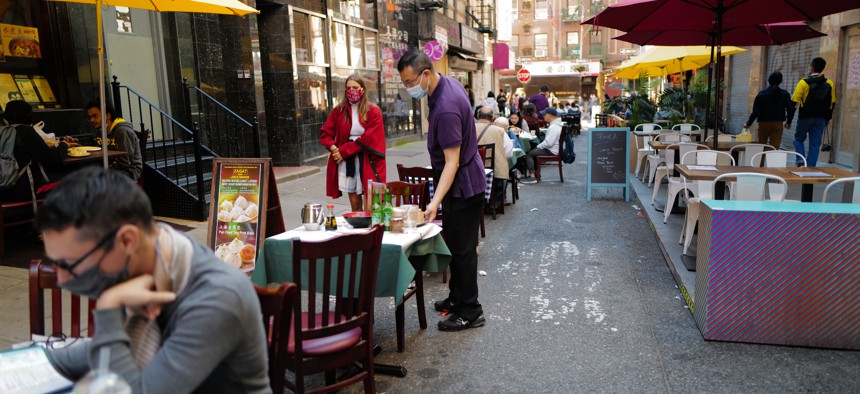 Two summers ago, months before the COVID-19 virus swept across New York City, restaurants operated in a very different landscape than they do today. Delivery services were an afterthought at many establishments, and the majority of businesses were entirely indoors. Today, nearly a year and a half since the city shut down dining for the first time, delivery sales have skyrocketed and the streets are lined with elaborate outdoor eating structures. 
Although restaurants were able to return to 100% indoor capacity in late May, more than 1,000 restaurants in New York City have permanently closed their doors since March 2020, and it will likely take years to assess the full extent of the damage to the industry. 
"We have a changing landscape," said New York City Council Member Mark Gjonaj, chair of the Committee on Small Business. "No business more than the restaurant business has felt this crisis …  as they try to reinvent business models to accommodate the changing times of consumer behavior changes, commerce through third-party delivery apps and big box store competitions." 
The council Committee on Small Business enacted many of the measures that have protected restaurants over the past 16 months, as restaurant owners adapted quickly as their businesses were shut down and reopened, transitioned in and out of solely offering outdoor dining, expanded delivery and to-go services, and recently, eased back into a semblance of normalcy as COVID-19 cases decreased and the city lifted restrictions like masking and contract tracing.
Gjonaj said the council has tried to alleviate some of the burden by giving restaurants the ability to expand their dining outside and allowing measures like alcohol to go and capping third-party delivery fees, but the challenges restaurants face remain even as the dining industry is revitalized. 
With all of the change that occurred within the restaurant industry since March 2020, City & State looked into the status of the dining measures that originated throughout the pandemic to get an idea where things stand and what is to come. 
Third-party delivery apps
At the beginning of the pandemic, third-party delivery services like Grubhub and UberEats charged restaurants fees as high as 33% in some instances, which translated into a net loss for some restaurants, Gjonaj said. 
To address this, the City Council put a temporary cap in place that prevented third-party delivery services from charging restaurants more than 15% per order delivery and 5% for marketing and nondelivery fees. The cap is currently set to expire on Aug. 17, but the City Council is considering legislation that would extend it. The decision to do so would not be unprecedented – San Francisco passed a similar measure in June – though Grubhub and Doordash have since sued citing unconstitutionality, according to Restaurant Business. 
Legislation co-sponsor New York City Council Member Francisco Moya said he requested to make a cap permanent prior to the pandemic. 
"The pandemic further highlighted how these third-party apps were taking advantage of mom and pop shops including those that didn't have the resources to pivot to a digital operation during the shutdown," Moya said. "To allow the temporary cap to expire would completely handicap the recovery of so many businesses that are just starting to get back on their feet."
With its likely approval, the measure will continue to enforce a $1,000 per day fine on third-party delivery apps that violate the law. Enforcement of the cap would go through the city Department of Consumer and Worker Protection, according to Moya.  
Grubhub has said that fee caps shift revenues from one class of business to another and violate lawful contracts between private businesses. "Fee caps are arbitrary price controls and exactly the wrong thing to do right now," said Grubhub spokesperson Grant Klinzman. 
According to DoorDash, price controls like caps are typically reserved for entities that provide civic necessities like water and electricity and can lead to price increases for consumers which could result in fewer orders for a restaurant and less opportunities for dashers. 
Gjonaj, who is also sponsoring the legislation, said the City Council wants to make sure it doesn't upset the free market trade or overstep their powers. "We don't want to control markets, we just want to protect the stakeholders – that would mean customers, restaurant owners and platforms," he said. 
The City Council is also considering other measures to protect the restaurant industry such as legislation that would prohibit delivery companies from listing a restaurant without its written consent and another that would require delivery companies to be more transparent about how they display restaurants' phone numbers. 
Outdoor dining 
Outdoor dining allowed under the emergency Open Restaurants Program will continue for at least another year due to Gov. Andrew Cuomo's extension of the policy. 
"By extending the much-needed lifeline that allowed restaurants to use outdoor public spaces for seating during the pandemic, New York is ensuring that these small businesses will be able to continue to use these spaces as they work to rebuild and support the revitalization of the Empire State," Cuomo said in a statement.
New York City Hospitality Alliance Executive Director Andrew Rigie said outdoor dining helped save countless restaurants throughout the city and was responsible for hiring back about 100,000 workers. 
Outdoor dining has been so popular with the public too that the city is working on making the Open Restaurants Program permanent after the yearlong extension expires next summer. The city Department of Transportation will be managing the program and will continue to allow restaurants to use the sidewalk adjacent and curbside roadway space in front of the establishment for outdoor dining, but the laws that are temporarily in place under the emergency order will change. 
Rigie said the city is going to go through the process of creating new standards, rules and legislation that results in a more sustainable outdoor dining program to allay concerns about eyesore structures and safety hazards.  
"There are many different uses of the public space, outdoor dining being one of them," Rigie said. "We want an outdoor dining program that's going to be sustainable and that's going to be beloved, and that all needs to be considered as they develop the permanent guidelines." 
According to the city Department of Transportation's estimated timeframe, the zoning and other legal actions will take place fall 2021 to fall 2022, while applications for restaurants will open in winter 2022. 
Alcohol to-go 
To-go cocktails, another popular pandemic-era dining measure, are no more and haven't been for a little over a month now after Cuomo lifted the state of emergency on June 23. 
The measure, which allowed bars, restaurants and drink manufacturers to sell and deliver to-go alcohol, was hailed as a lifeline by many during the pandemic. The measure was so popular within the restaurant industry and many members of the public that several New York lawmakers proposed bills during the 2021 legislative session to extend to-go cocktails for up to one and two years. 
Despite the media buzz surrounding the measures, none of the bills passed before the legislative session ended on June 10, meaning bars and restaurants are no longer legally allowed to serve to-go alcohol. Still, there's a possibility the measure could be revitalized. 
Business owners and several lawmakers are calling for the Legislature to reopen the issue during a special session this summer.