Politics
What happened to to-go alcohol and how it could come back
Bills to extend the pandemic accommodation haven't passed.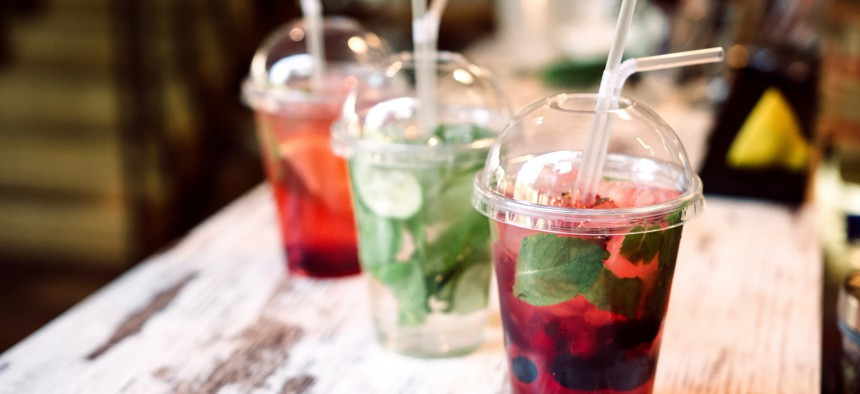 New York bid farewell to cocktails to-go on June 23, after Gov. Andrew Cuomo announced that the state disaster emergency would end a day later. The emergency order's end meant associated executive orders, including the measure that allowed to-go and delivery alcohol sales by bars, restaurants and drink manufacturers would also come to an immediate halt.
The abrupt end of alcohol to-go, which had been hailed as a pandemic-era lifeline by many restaurants and bars, was met with a swift outcry from the restaurant industry and some consumers. Many people left angry comments on the New York State Liquor Authority's tweet that was posted later that day confirming the news and condemning the short notice of the announcement.
Notice about the lifted state of emergency was given just one day before it took effect, meaning some businesses were left with containers and supplies they'd purchased that they no longer had any use for.
Alcohol to-go was such a popular measure over the last year that several New York lawmakers proposed bills during the 2021 legislative session that could have extended to-go cocktails for up to one and two years, but none were passed before the legislative session ended on June 10.
Various alcohol-serving and delivering businesses have been promoting these changes for years. Matt Jager, the owner of Yankee Distillers, a whiskey distillery in Saratoga County, said he was especially disappointed by the Legislature's failure to extend to-go alcohol because groups including the New York State Distillers Guild had lobbied for an extension.
"We have been voicing our, you know our desire, to do these things for a long time and working through the right channels. And we've always thought that we have a good relationship with our lawmakers," Jager said.
He said the lack of passage felt like a slap in the face after distillers worked so hard to produce hand sanitizer for their communities, often with no prior knowledge of the process.
Why did legislation to extend the provisions not pass?
Democratic Assembly members Steven Cymbrowitz, who represents a section of southern Brooklyn, and Patricia Fahy, who represents parts of Albany County,both introduced legislation during the session to extend to-go alcohol and blame the lobbying of liquor stores against the measure as the main reason the bills failed to get the traction they needed to pass.
"The liquor store industry was using a fear campaign that you are going to have people in the streets and they are going to be hanging out causing havoc and dirt and drinking on the sidewalk and destroying neighborhoods," Cymbrowitz said. The Assembly member said that this wasn't a real risk because the bill only allowed for small quantities of alcohol like a glass of wine or a margarita. "These are not things that people are going to be destroying neighborhoods with, but the liquor industry was instilling fear to the elected officials who did not want to be responsible for creating that kind of problem in their neighborhoods."
The New York State Liquor Store Association did not make anyone available for an interview for this story.
Cymbrowitz's bill would have granted a one-year extension from the date of its enactment and would have limited bars and restaurants to only serving two servings of alcohol for to-go or delivery alongside a meal. Similarly, Fahy's bill would have granted a two-year extension.
How does the end of the state of emergency affect businesses that serve alcohol?
Fahy said she's heard from many restaurant owners upstate that "(to-go alcohol) is the single biggest thing that has kept their doors open" during the COVID-19 pandemic.
The abruptness of the governor's announcement that to-go alcohol would no longer be allowed caught a lot of restaurants off-guard, frustrating many, according to Fahy. "All of a sudden, overnight they were told 'oops, no more alcohol to go,'" Fahy said. "Really restaurant after restaurant has said it has been the financial lifeline – I say it all the time because almost to a person the restaurants have said it has kept their doors open."
Jager said his sales went down 20% last weekend with the end of the emergency, a number he expects to reach upward of 30%.
Dominick Purnomo, wine director and co-owner of Yono's Fine Dining in Albany, estimated that his alcohol sales were down about 5% to 10%, and also remarked that he had purchased containers that are now less likely to be used.
Did the governor's office lift the state of emergency too soon?
Cuomo spokesperson Richard Azzopardi implied that the fault for the industry's predicament lies with the Legislature, rather than the governor.
"We know this was a lifeline for this industry during the last 15 months and if the Legislature seeks to continue this practice now that the emergency has been lifted we'll certainly engage with them," Azzopardi said.
He also pointed out that the governor's office has supported serving alcohol in movie theaters – another effort that has churned out multiple failed legislation.
What does this mean going forward?
During a press conference two weeks ago, multiple business owners expressed their anger toward the Legislature and called for a reopening of the issue during a special summer session.
Spokespersons for Assembly Speaker Carl Heastie and state Senate Majority Leader Andrea Stewart-Cousins, both Democrats, did not reply to requests for comment about whether the Legislature plans to reopen these issues, but both Fahy and Cymbrowitz said they intend to reintroduce their proposals if the Legislature convenes this year.
Powered By
NEXT STORY: Eric Adams had to wait for it