Health Care
Why is the Bronx's COVID-19 vaccination rate so low?
Experts said a mistrust of doctors, a lack of access to vaccination sites and online conspiracy theories were contributing factors.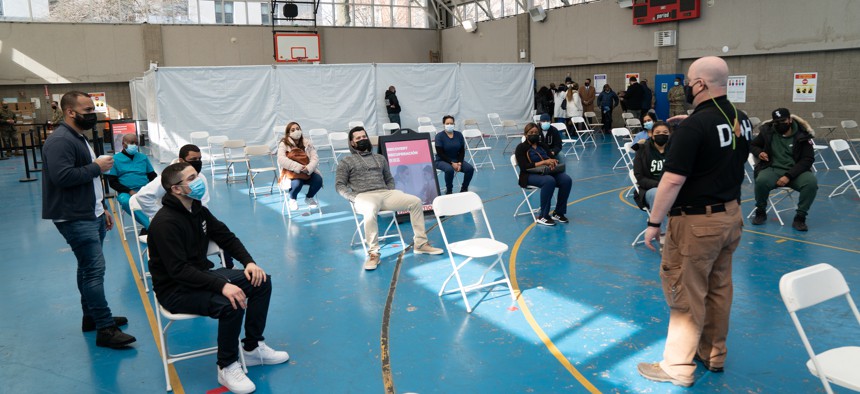 Terence Franklin is 62 years old, unvaccinated and lives in the Bronx, which had some of the hardest-hit neighborhoods in New York City during the height of the COVID-19 pandemic last year. With highly effective COVID-19 vaccines now widely available, health experts are reexamining how to convince people who are reluctant or opposed to the vaccine – especially because the highly contagious delta variant is causing infection rates to soar, overwhelmingly among the unvaccinated. President Joe Biden said recently, "The only pandemic we have is among the unvaccinated."
But Franklin has chosen not to get vaccinated due to his concerns about its safety and efficacy. He told City & State in a phone conversation that he heard the virus isn't real and that there was a link with the pandemic to 5G cellular network technology. During the height of the pandemic, the conspiracy theory that COVID-19 was caused by 5G became widespread online. "I've always been of the thought process (that you should) question medicine," Franklin said. "(People feel that if) the doctor says something it's gospel. That's not true. It's not gospel. Ask questions."
Franklin's hesitancy is hardly unique in his home borough, as the Bronx's vaccination rates are the lowest among New York City's boroughs. As of July 16, among Bronx residents ages 18 and older, 56% have been fully vaccinated against COVID-19 and 62% have received at least one vaccine dose, according to the city. The numbers are almost as low in Brooklyn and on Staten Island, but are somewhat higher in Manhattan and Queens. Citywide, 65% of adults have been fully vaccinated and 70% have received at least one dose.
Public health experts have renewed their urgent efforts to get unvaccinated people vaccinated now, in light of the spread of the delta variant. States with low vaccination rates, such as Missouri, are already seeing a surge in COVID-19 cases caused almost exclusively by the delta variant. In Los Angeles, residents must, once again, wear masks inside and outside, regardless of their vaccination status.
New York City has made plenty of perks available to those who waited to get a COVID-19 vaccine, such as free tickets to popular attractions, giveaways from places like Krispy Kreme and Shake Shack, and the opportunity to be entered into a raffle for a "staycation" in one of the city's best hotels or $2,500 in cash. While the incentives might've gotten some people to sign up for the vaccine, large swaths of people still remain reluctant.
In interviewing academics, public health experts, Bronx community board leaders and residents of the borough, City & State identified a few key reasons why the Bronx continues to fall behind when it comes to vaccinations: a lack of trust in medical health care professionals, messaging issues, COVID-19 disinformation campaigns and a lack of access to vaccination sites.
A lack of trust
The Tuskegee syphilis study, which lasted from 1932 through 1972 in Tuskegee, Alabama, involved 600 Black men who were told that they were receiving free treatment for syphilis from the federal government. Instead, researchers did nothing to treat the participants – despite the cure, penicillin, being available in the '40s – in order to observe the disease's progression. By the end of the study, over 100 men had died.
The legacy of the unethical experiment is often cited as the reason why many people of color feel suspicious of medical health professionals and may not want to take the vaccine. However, Dr. Mauvareen Beverly, a patient engagement and cultural competence specialist who previously worked for New York City Health + Hospitals, said younger people are less likely to be influenced by the memory of Tuskegee.
In February, NPR published a story about Tuskegee's continuing impact, but most of the people cited in the story were 60 and older. In the Bronx, adults 65 and older have higher vaccination rates than the overall adult population, with 72% of the population fully vaccinated and 76% having received at least one vaccine dose.
"(A lot of news outlets have said) people don't want to take (the vaccine) because of the Tuskegee study," Beverly said. "Is that important? Absolutely. But my question is, was that an age-related reason? For a 19-year-old who is not thinking of taking the vaccine, would it be because of Tuskegee? How do we identify the reality and the reason why before we make an assumption?"
Dr. Damara Gutnick, senior director of Montefiore Health System's Office of Community and Population Health, who has been running what she refers to as "communication circles" with Bronx residents, doctors and public health experts regarding vaccine hesitancy, has noted that many younger people have been interested in getting vaccinated but have been thwarted from getting inoculated due to their parents' concerns.
"The last circle we did was with a group of 18- to 29-year-olds, and we had these younger people talking about how they wanted to get vaccinated, but their parents weren't allowing them to because their parents were worried," Gutnick said.
So far, 42.4% of young people between the ages of 18 and 24 have been fully vaccinated across the country as of July 19, according to the Centers for Disease Control and Prevention. In addition to hesitancy over the vaccine's safety and concerns over whether it could make them infertile, which have been debunked, reports have indicated that younger people don't feel rushed to get the vaccine because they tend to have less severe symptoms and lower risk of death or hospitalization than older people.
The federal government has begun to ramp up its efforts to encourage young people to get vaccinated. On July 14, teen pop sensation and singer Olivia Rodrigo visited Biden at the White House in an effort to encourage more young people to get vaccinated. The city has also begun to shift its focus to young people, who have been stalling getting vaccinated.
Limited access to health care 
The more relevant cause for lack of trust among New Yorkers today is ongoing systemic racism in the health care system. "If you say Tuskegee, then you don't have to acknowledge things like pharmacy deserts, things like poverty and unemployment," Karen Lincoln, a sociologist at the University of Southern California, told NPR in March. "You can just say, 'That happened then … and there's nothing we can do about it.'"
Dr. Bruce Y. Lee, a professor of health policy and management at the CUNY Graduate School of Public Health and Health Policy, said there tends to be less access to health care in lower-income neighborhoods, areas with more people of color, immigrants and people whose first language is not English. "Vaccination programs, as with many things in life, are all about relationships," Lee said. "If you're going to unveil a rollout of vaccines and a vaccination program and you haven't established the relationships already, that can make it more difficult to get vaccinations completed … in many places, the map of vaccination coverage is mirroring health care access, not just now but historically."
Vaccination programs, as with many things in life, are all about relationships.
– Bruce Y. Lee, professor of health policy and management at the CUNY School of Public Health
Some people of color have also expressed skepticism of health care systems due to medical racism, which has resulted in the discriminatory treatment of people of color, specifically Black people, by doctors. For example, Black women are three to four times more likely than white women to die from pregnancy-related issues. A nationwide poll conducted by The Undefeated and the Kaiser Family Foundation last year, found that 7 in 10 African Americans feel that doctors treat them unfairly when seeking medical care.
Matt Cruz, the district manager for Bronx Community Board 10, which includes neighborhoods such as Co-op City, Throggs Neck and Pelham Bay, said that pharmacies and vaccination sites aren't easily accessible to everyone in the district.
"My district could benefit from having a, I won't say full-time, but as often as needed, vaccine bus traveling down (the) main thoroughfares and avenues," Cruz said. "We don't often get that, and that's a way to catch people locally, who are walking, going grocery shopping, or just on the avenue."
Dr. Donna Shelley, professor of public health policy and management at New York University's School of Global Public Health, said that it's not enough to have vaccination sites, those sites also need to be able to provide 24/7 service for people in blue-collar jobs who work long hours.
Messaging issues
Some people in the Bronx feel that public health experts have failed to answer all of their questions about the COVID-19 vaccines, such as why people who have contracted COVID-19 need to be vaccinated even though they have COVID-19 antibodies, according to Cruz.
Lee believes that much of this confusion stems from the fact that there wasn't a concrete strategy put in place prior to the vaccine rollout to explain how it works and address those concerns.
The Johnson & Johnson fallout really helped heighten the fears of vaccines.
– Matt Cruz, the district manager of Bronx Community Board 10
And as things continue to change, so does the messaging, which can come across as dubious to those already hesitant about the vaccine. A prime example of this was when the use of the COVID-19 vaccine made by Johnson & Johnson was briefly paused after six recipients out of 6.8 million developed blood clots. "The Johnson & Johnson fallout really helped heighten the fears of vaccines," Cruz said. "To those who were on the sidelines, it confirmed (that the vaccine was unsafe)."
And then there are people who have refused to get vaccinated due to an overwhelming flow of misinformation. Conspiracy theories have suggested that COVID-19 isn't real, that it has been caused by 5G and that COVID-19 vaccines can make you magnetic. Unfortunately, due to a lack of trust in medical professionals, these kinds of conspiracy theories, when spread by trusted community members, can be very convincing.
What now?
How does the city fix these problems? Experts say that, aside from providing greater access to vaccines, the city must first fully understand the pressing questions that Bronx residents have about the virus and vaccinations, and then come up with strategies accordingly. "I think we still need to do more work to try to understand what the beliefs, the attitudes and the knowledge is (in communities with low vaccination rates)," Shelley said.
Shelley also said key community leaders, such as City Council members and community organizations, will be most trusted by others, especially those feeling skeptical of the vaccine. "Who's delivering (vaccination) information makes a difference," she said. ...