Health Care
Calls for NY Hero Act's implementation lack follow up
There has been no action on requests to Gov. Kathy Hochul to enact the law which aims to lessen the risks of coronavirus infection to frontline, essential workers.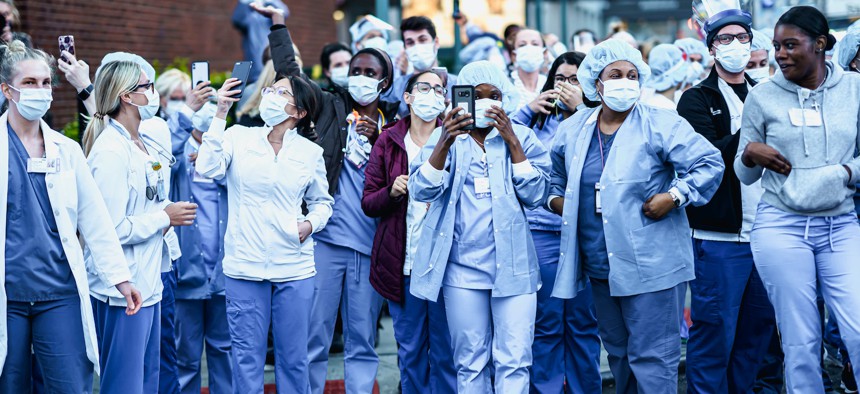 Gov. Kathy Hochul has already confronted COVID-19 in a number of ways since taking office. She has moved fast to make good on a promise to mandate mask-wearing in public schools this fall. Indebted tenants await legislative changes that will make it easier for them to stay in their homes and avoid the coronavirus. "As the delta variant makes its way through communities across the country, it's crucial we keep doing everything we can to keep each other safe from the COVID virus," she said in an Aug. 29 press release. 
While she has done some things that she says will keep New Yorkers safe, Hochul has yet to follow up on the New York Health and Essential Rights Act (NY HERO Act), which supporters have been calling on her to implement. The law aims to lessen the risks to essential, frontline workers by implementing a range of new workplace rules against "airborne infectious diseases" that endanger public health. The bill was signed into law months ago, but it will not take effect until the state Department of Health declares that COVID-19 is dangerous enough to trigger the implementation of provisions that include new regulations on things like PPE and social distancing.
"Andrew Cuomo's administration failed to certify COVID-19 as a serious threat to public health so that the safety provisions of the NY HERO Act could take effect," state Senate Deputy Majority Leader Michael Gianaris of Queens, who sponsored the bill in his chamber, said in a Monday statement. "Workers are suffering the consequences. Every day the Department of Health neglects to issue this certification, essential workers are put at unnecessary risk of serious illness. This needs to happen immediately."
Essential workers remain vulnerable to COVID-19 because of how their jobs put them into contact with other people, whether they are co-workers or the general public. But the newly-installed governor has yet to discuss the issue with Health Commissioner Howard Zucker more than a week after state legislators raised the issue with her in an Aug. 20 letter. She told told City & State on Aug. 29 that her current focus is on speeding up the disbursement of relief programs for tenants, landlords and excluded workers like undocumented immigrants. "That is my highest priority because the citizens of New York have been through enough," she added while speaking to reporters in Albany. "I'm talking to a lot of people in the various agencies to identify where the pots of money are and why they're not out." A spokesperson for the DOH said in an email that the "department is actively working on a designation for implementation of the NY HERO Act," but did not offer any timeline for when any action might be officially taken.
This focus on the economic side effects of COVID-19, however, could delay efforts to limit its spread among the people hit hardest by the pandemic. COVID-19 rates have been surging across the state in recent months, with infection rates in New York City and the rest of the state now exceeding the threshold above which the Centers for Disease Control and Prevention recommends people wear masks indoors. "With surging variants continuing to wreak havoc, the NY HERO Act is more essential than ever," reads the Aug. 10 letter to Hochul from Gianaris and Assembly Member Karines Reyes of the Bronx, who sponsored the bill in her chamber. The new law, supported by more than 100 labor and advocacy organizations, mandates that the state departments of health and labor develop regulations on "how businesses should provide things like PPE, social distancing, disinfection schedules and quarantine protocols," City & State wrote earlier this year. 
Implementing the law also has received pushback from people in the business community who claim that it would hurt their bottom line. Their grievances include the claim that the bill is so complicated that many small businesses would struggle to meet its requirements, especially as they try to recover from disruptions caused by public health restrictions imposed last year. "Triggering the Hero Act through an emergency declaration at this time would pose yet another burden on New York's struggling small businesses," reads an Aug. 25 letter from two dozen groups including the New York State Restaurant Association, the New York State Hospitality and Tourism Association, and the Food Industry Alliance of New York State.
There is good evidence that any increase in COVID-19 cases, as well as the associated rise in deaths and hospitalizations, will disproportionately fall on people working in places like restaurants, stores and other businesses where they interact with lots of other people. That is exactly what happened earlier in the pandemic, with people of color getting hit the hardest compared to white essential workers. 
Widespread vaccinations at this point mean that the latest wave of cases will be less severe than past ones in terms of the sheer numbers. Daily deaths and statewide hospitalizations are just small fractions of what they were last winter, but they have risen significantly in recent weeks. Hospitalizations have gone from a few hundred to more than 2,000 people and daily deaths are once again in the double digits. This all reflects renewed dangers to working people across the state. 
And while the new governor has only been in office for less than a week, not providing a more immediate follow up to the NY HERO Act doesn't appear to respond to the urgency expressed by supporters of the new law's implementation.
"More and more New Yorkers are returning to work and they deserve to be able to do their jobs without being exposed to COVID-19," reads a recent letter to Hochul from advocacy groups like Align-NY, the New York Immigration Coalition and the New York Civil Liberties Union. "With school reopenings around the corner it is crucial that the common sense basic safety standards promised under the NY HERO Act be implemented in order to avoid unnecessary illness and death and another statewide shutdown."