Education
New York City Council considering legislation to lower class sizes
Supporters say the measure would boost the quality of education for students and help mitigate the effects of future health crises.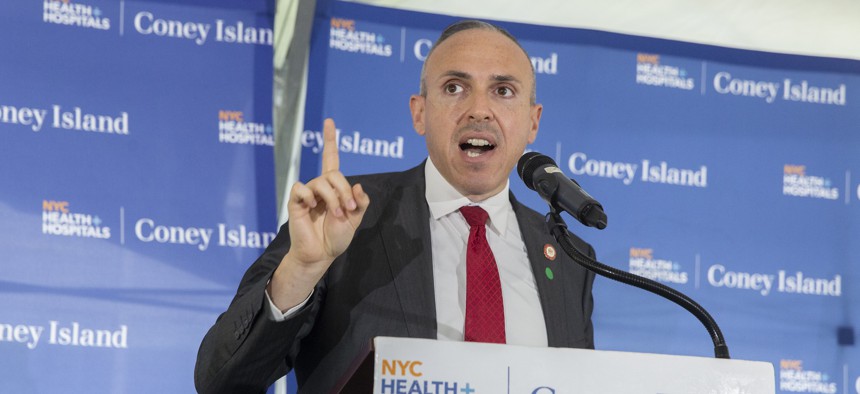 The New York City Council is considering legislation that would lower classroom sizes over the next three years – a long-sought measure that supporters are touting as both a public health policy and a way to improve the quality of education. The city Department of Education says classroom sizes are safe as they are.
Given research that shows smaller class sizes improve discipline, boost motivation and improve test scores and grades, parents, teachers and education advocates have called for smaller class sizes for decades. But while much of the conversation around the measures tends to center on the educational benefits, the COVID-19 pandemic has highlighted how having fewer people in a classroom at a time is also a matter of public health. 
The legislation's supporters say it would address both, but the public health benefit is particularly important at this time given what the city has learned over the course of the past year and half about the importance of adequate ventilation and social distancing in classrooms. With a full return to school this fall looming and the number of cases beginning to creep up again in the city, the topic of lower class sizes is particularly relevant. 
"The more people you put into a room, the greater the ventilation challenges are," said United Federation of Teachers President Michael Mulgrew, who supports the legislation. "It's that simple. Less people in a room equals a safer room, and that's the main push we are doing right now. … I don't believe that this will be the last health crisis that we have. I don't think anybody believes that at this point."
The legislation would update the city's administrative code and raise the current ratio of around 20 square feet per student in first through 12th grade classrooms to 35 square feet starting in fall 2022. Depending on the size of the room, this would translate into an average classroom ranging from 14 to 21 students. According to the Department of Education, average class sizes ranged from 28 in some high schools to 22 in kindergarten in 2019. 
The new rules wouldn't just apply to traditional classrooms. They'd also translate to larger school spaces like art, theater and music rooms. 
The bill's sponsors, Education Committee Chair Mark Treyger and City Council Speaker Corey Johnson unveiled the legislation last Thursday to a surge of public interest. 
Mulgrew said a swell of parents have been reaching out to the United Federation of Teachers in the days since asking what they can do to help get the legislation passed. 
"Prepandemic and after this pandemic, this is the issue. The fact that all the school districts around (the city) have low class sizes, it's so clear that there is an inequity for the students of New York City," Mulgrew said. 
If passed by the City Council, as Mulgrew said he believes is likely, the classroom cap would phase in over the course of three years. The Department of Education would be expected to move one third of classrooms into compliance by September 2022, another third by the following September and the final third by fall 2024. 
Treyger said the last time city code was updated to change the number of square feet per student was around 1938 – another time period in which public health took a front seat as the city grappled with concerns about tuberculosis.
 "We are dealing with another major health issue, but this one is even larger in scale and what we are hearing from health experts … is this is going to be an ongoing issue with additional coronaviruses, additional pandemics," Treyger said. "I think for New York City, we need a permanent solution and a permanent plan and not a piecemeal approach to the public health challenge of our time and what will be a public health challenge of the future as well."
While the legislation wouldn't take effect until September 2022, parents have immediate concerns about class sizes and whether they will be a safe place for their children this fall. Current Centers for Disease Control and Prevention guidance recommends students should be separated by 3 feet, but Treyger said not a week goes by where he doesn't hear from a New York City principal telling him they are unable to comply with the rule because there's just not enough space.
"I am under no illusion about what many of our schools will be having to deal with come fall. It's an issue that comes up repeatedly in my conversations," Treyger said. "This latest public health crisis really inspired us to take a deep look at our city's past, and it is way past time for us to update our city building code to meet the challenges of our time."
Changing the city's administrative code to allow for smaller class sizes would be costly as it would involve the hiring of more teachers and adding additional school seats, but according to Treyger, the city now has access to "a significant amount of federal and state aid," such as the 100% funding of Fair Student Funding that would better allow it to implement the phase-in plan if passed. Treyger said he doesn't have specifics yet as to how many more teachers or classrooms would be needed, but the City Council plans to iron out the details once hearings on the legislation begin this fall.
A push to spend $250 million in federal relief funds to hire 2,500 additional teachers fell short during this year's budget negotiations. An $18 million pilot program was introduced instead that will go toward the hiring of additional teachers at 72 schools with larger than average class sizes.
Over the summer, city officials have continued to assert that all students will be fully in-person this fall. Despite the challenges of the past year, Department of Education officials say there is enough space to safely accommodate all students in-person. 
"We follow a gold-standard approach approved by health experts, and class sizes are capped to ensure every student gets the individual attention and space they need," said Department of Education spokesperson Katie O'Hanlon in a statement. "We're making historic investments to hire more teachers, build new instructional space and support smaller class sizes – we will review this proposed legislation."