Health Care
New York City's COVID-19 vaccine mandate draws predictable 11th hour ire
City union leaders stage protests and warn of worker shortages ahead of the requirement going into effect on Friday.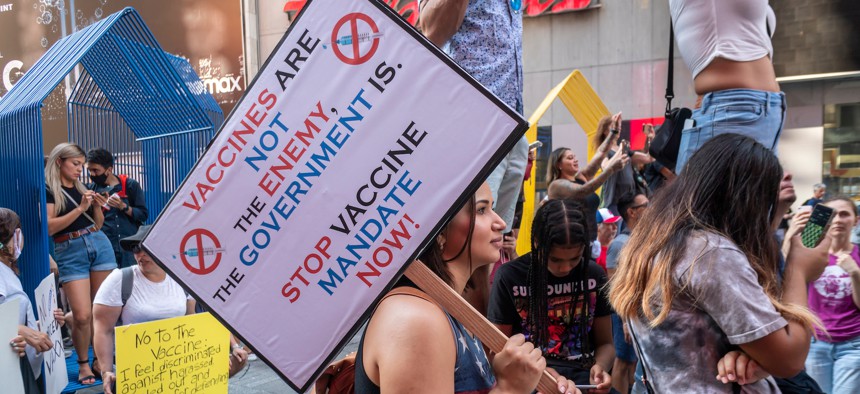 As Mayor Bill de Blasio celebrated New York City administering more than 12 million doses of the COVID-19 vaccine as of Thursday, the city's firefighters union stood outside Gracie Mansion, protesting the looming vaccine mandate for all municipal workers, including firefighters and cops. 
All municipal workers are required to have received at least one dose of the COVID-19 vaccine by 5 p.m. Friday or be placed on unpaid leave. The mandate follows an earlier requirement for New York City schools employees, which saw its own round of blowback and court challenges. As the city attempts to include the rest of its workforce in its COVID-19 vaccine mandate, strong opposition has come from law enforcement and first responder unions, whose membership has some of the lowest vaccination rates. They warn of worker shortages when their employees who refuse the vaccine start being placed on unpaid leave. Some of the city's sanitation workers are engaging in their own form of protest – a work slowdown – too. 
The New York City Fire Department said they could end up closing up to 20% of firehouses starting Monday because of staff shortages, and see a similar decline in the number of ambulances on the road. "They will be closing firehouses if you don't have enough firefighters to staff them and that's absolutely what's going to happen if you send 30% of the fire department home," Uniformed Firefighters Association President Andrew Ansbro said at the protest on Thursday. "This is really an absolutely unnecessary threat."
The firefighters' protest outside Gracie Mansion was just the latest of several demonstrations so far this week as municipal workers who oppose the vaccine mandate make last ditch efforts to stop the requirement from going into effect. Some union leaders are asking for the city to allow a COVID-19 testing alternative to the mandate, rather than require the vaccine. 
So far, legal avenues for challenging the vaccine mandate have run dry. On Wednesday, a Staten Island judge turned down a request from New York City's Police Benevolent Association to block the city from enforcing the mandate, saying it didn't provide enough religious exemptions. As of Thursday afternoon, the PBA was expected to appeal that ruling. A similar string of legal challenges were filed over the vaccine mandate for school employees, but all failed. 
While the vaccine mandate for school employees was also met with opposition, data from the city has shown that it's been successful in vaccinating more teachers and staff. A statewide mandate for hospital and nursing home workers similarly led to a boost in vaccinations. 
Vaccination rates vary across the municipal workforce. The city's Landmarks Preservation Commission and the Mayor's Office currently have the highest vaccination rates, at 100% and 96% having received at least one dose as of Wednesday. On the other end of the spectrum is the Department of Correction at 53%, the New York City Housing Authority at 62%, and the city's fire department at 64%.
De Blasio has brushed off concerns about a worker shortage after the vaccine mandate goes into effect on Friday evening. Asked about the possibility of a police and firefighter shortage come Monday, de Blasio told New Yorkers not to be alarmed. The NYPD, he noted, is almost at 75% having received at least one dose of the vaccine. "We have all of the typical tools of how you use staff, move them around, how you use overtime," de Blasio said. "We had a lot of times, in 2020, where we had huge shortages of personnel because people were out sick with COVID, and the NYPD kept things moving and they will again."