Health Care
All adult New Yorkers now eligible to receive COVID-19 booster shot
City health officials made the announcement Monday as cases have ticked up slightly and are expected to continue increasing over the holidays.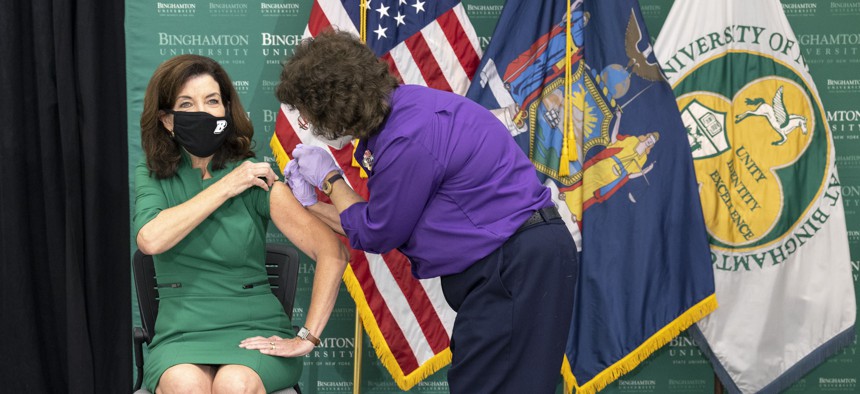 All New Yorkers, 18 and over, who received their second COVID-19 vaccination shot at least six months ago are now eligible for a booster, New York City health officials said on Monday. 
"Today I want to emphasize the protection of booster doses of COVID-19 vaccines. Over 630,000 New Yorkers have already received an additional dose. But even more can benefit from a booster ahead of winter and the holidays," New York City Health Commissioner Dave Chokshi tweeted as he made a live announcement at a joint press conference with Mayor Bill de Blasio in Brooklyn. 
"That's why today I'm issuing a Commissioner's Advisory to ALL health care providers emphasizing our guidance and ensuring there are no access barriers," he wrote.
The expanded eligibility comes as the city has seen an uptick in new COVID-19 cases in recent days, with 972 reported on Sunday, officials said. Chokshi said he expects a continued increase in positivity rates over the holiday season and as people spend more time indoors during the winter.
Previously, only New York City adults 65 and older or those who are immunocompromised were eligible for a booster. 
Chokshi issued the advisory Monday to all health care providers in the city, directing them not to turn away any adult patients for the booster. People who received the Pfizer and Moderna vaccinations are eligible to receive a third shot if their last dose was at least six months ago. Those who received the one-shot Johnson & Johnson vaccination have been eligible for a booster since October, as long as their initial dose was at least two months ago. 
Council Member Mark Levine, chair of the city's health committee and Manhattan borough president-elect, cheered the expanded rollout. 
"It would be much simpler and more effective to allow all adults to get the booster after enough time has passed since their first shot, so I'm excited and relieved that they've taken this step," Levine told City & State, adding that he received his booster shot at a Times Square vaccination site on Saturday night. 
"Vaccines ensure that this won't be a wave as deadly as last winter and certainly not as that of the spring of 2020. But we still have to take it seriously," Levine added.
Levine has intensified his calls for expanded eligibility in recent days. In a series of Tweets over the weekend, he shared an article from The Washington Post which highlights that New York's booster rate is behind all but one state, West Virginia. 
"Cases are rising fast in NY State (+35% in last two weeks)," Levine tweeted Saturday. "But we are 2nd-to-last nationally in rate of boosters (only about 9%) … One reason: people are confused by the booster eligibility rules ... NY should just open to all adults 6 mos past 2nd shot."
New York City announced its expanded eligibility after Colorado, California and New Mexico made the move in recent days.
Pfizer also asked the federal Food and Drug Administration last week to approve its booster shot for all U.S. adults, and the agency said the sign-off could come as early as Thanksgiving. Moderna is expected to follow suit.
The city's vaccination-scheduling website had yet to be updated to accommodate those eligible following the announcement, as of Monday afternoon. Levine said that all New Yorkers should be able to walk into city-run vaccination sites to receive their boosters. 
So far, the city has administered more than 12.2 million vaccination shots, de Blasio said. 
Ninety-three percent of city workers have met the city's requirement for all employees, except New York City Department of Correction workers, to be vaccinated by Oct. 29, de Blasio said Monday, including 86% of both the city Fire Department and Police Department members, 92% of EMS workers and 87% of Sanitation Department workers.
In the department of correction, which has a deadline of Dec. 1 to be vaccinated, 92% of non-uniformed employees have complied, and 57% of uniformed correction workers have received the jab, de Blasio said. In the hopes of compelling compliance, de Blasio said Monday, the city will reinstate its incentive program that awards $500 to all uniformed correction workers who get the shot.